Second Stimulus Check Update: 'No Realistic Path' To $2,000 Checks, McConnell Says
KEY POINTS
McConnell rejected a bill to boost direct payments to $2,000
The Republican senator from Kentucky accused Democrats of using the bill to hustle money
GOP aides say the 116th Congress will likely end without boosting personal checks
It may be unlikely that Americans will receive $2,000 stimulus checks following Senate Majority Leader Mitch McConnell's rejection on Wednesday of a bill to boost direct payments.
The Kentucky senator rejected the House-approved stand-alone measure to increase the amount of checks to $2,000 from $600. McConnell said the bill has "no realistic path" to pass the Senate and accused Democrats of trying to hustle money.
"The Senate is not going to be bullied into rushing out more borrowed money into the hands of Democrats' rich friends who don't need the help," he said.
McConnell's remarks from the Senate floor began with the Republican from Kentucky lashing out at Vermont Sen. Bernie Sanders for delaying an override vote on the president's veto of the National Defense Authorization Act.
"Today the Senate was supposed to finish legislation securing critical tools, training and support for America's armed forces. But the junior senator from Vermont had other ideas," McConnell said.
McConnell insisted that Republicans would only consider a bill that includes the higher payment amount, a probe into election fraud allegations, and the removal of liability protections for tech companies.
"The Senate is not going to split apart the three issues that President Trump linked together just because Democrats are afraid to address two of them" McConnell said.
Senate Minority Leader Chuck Schumer called for Republicans to bring the stand-alone bill to the floor and put it up for a vote.
"At the very least, the Senate deserves the opportunity for an up-or-down vote. There is no other game in town than the House bill," Schumer said.
As of Wednesday, Congress has yet to schedule votes on McConnell's proposal or the House-approved bill. The 116th Congress would probably end without a boost to the payments, Republican aides said.
On Tuesday, Trump took to Twitter to slam the $600 payment amount and to urge GOP lawmakers to nearly triple the stimulus sum that Americans would receive.
"Unless Republicans have a death wish, and it is also the right thing to do, they must approve the $2000 payments ASAP. $600 IS NOT ENOUGH!" Trump tweeted. "Also, get rid of Section 230 - Don't let Big Tech steal our Country, and don't let the Democrats steal the Presidential Election. Get tough!"
On Monday, the House approved the bill to substantially increase the payments to $2,000 as part of the $900 billion coronavirus relief package that Trump signed into law late Sunday. It passed in a 275-134 vote before Republicans blocked a unanimous vote request by Democrats.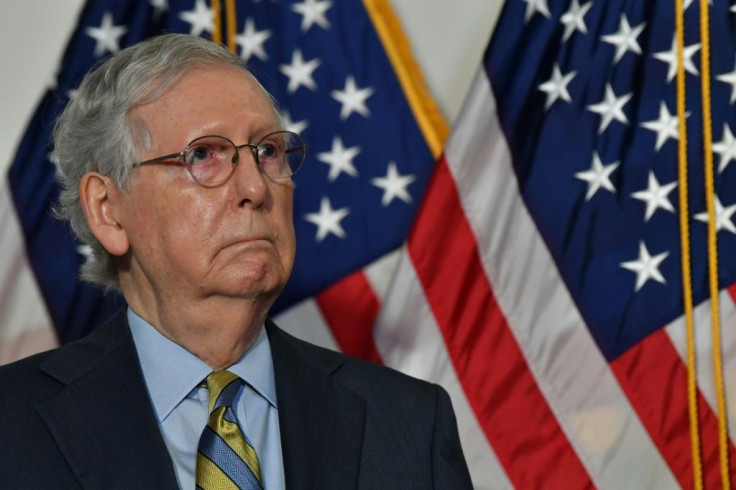 © Copyright IBTimes 2023. All rights reserved.