Aftermath Photos of China High-Speed Trains Collision
At least 35 people have died and 210 were injured following a collision between two high-speed bullet trains in China. The freak accident happened after lightning struck a train that lost power and was subsequently rear-ended by another train on an elevated track in Wenzhou.
A bullet-train, holding over 100 people per carriage, was struck by lightning, taking down systems and cutting off all electrical power. The train maintained its momentum however, and was subsequently rear-ended by another train, Xinhua News Agency reported.
The trains were running on a 20 metre-high bridge between Hangzhou, the prosperous capital city of Zhejiang province, and Fuzhou. The trains were carrying 1,300 to 1,400 passengers, officials said.
One of the trains involved in the crash was traveling between the provincial capital of Hangzhou and Fuzhou, the capital of Fujian province on the coast, and the other was heading from Beijing to Fuzhou, Xinhua said.
Information was not made available with regards to the speed, but the trains involved were first generation D models, capable of 150 km/ hour. Without control, it subsequently slammed into another train, killing nearly 35 confirmed passengers, and sending 210 to the hospital as two carriages fell of a bridge.
A rescue operation was under way. Some passengers told China's Xinhua that they had to smash windows to escape. Some 133 passengers have been rescued by 13:50 EST.
This isn't the first time that the bad weather happened to play its ploy. Just this month another storm caused power outages that lead to delays on the flagship Beijing to Shanghai line.
In addition, a total of 58 trains were suspended on Sunday due to the accident, the Railway authorities told Xinhua. Railway authorities have arranged ticket refunding for affected passengers. The damaged train tracks are under repair, with service expected to be resumed by 6 pm local time (1000 GMT) Sunday, Xinhua said.
Take a glimpse of the aftermath photos of high-speed trains collision in China as lightning struck: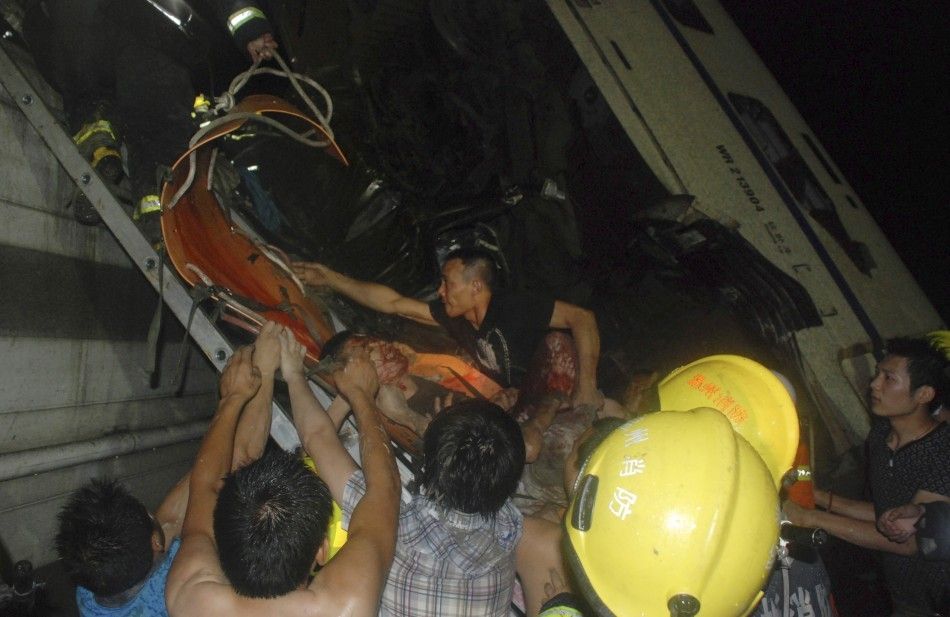 © Copyright IBTimes 2023. All rights reserved.