Alex Morgan, Hope Solo USA Women's Soccer Brightest Stars At World Cup 2015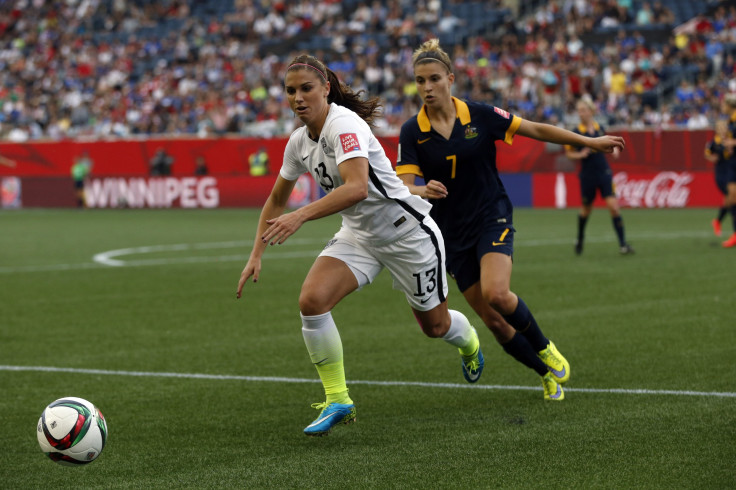 The United States women's soccer team struggled to victory in its opening 2015 World Cup match, but it proved a big night for two of the roster's most high-profile figures. Overcoming a first-half tying goal, the U.S. beat Australia 3-1 in Winnipeg on Monday, with Megan Rapinoe grabbing the headlines thanks to her two goals. Arguably more significant, though, were the performances of Alex Morgan and Hope Solo.
For both, in very different ways, the buildup to the Americans' attempt to win a first World Cup since 1999 has been a difficult one. And just seeing both out on the field with the tournament underway will have been of significant relief to Jill Ellis and her coaching staff.
For Solo, the recent problems have been away from the field, but controversy has long surrounded the 33-year-old goalkeeper. A veteran of two World Cups, it was in her first that she hit out publicly at the decision to bench her for a 2007 semifinal loss to Brazil. And five years later Solo again opted not to mince her words when getting involved in a public exchange with 1999 World Cup winner Brandi Chastain, after the then-analyst criticized the U.S. team.
More serious issues were to follow in the past year. In January it appeared Solo's very participation in the World Cup was in doubt when she was suspended by U.S. Soccer for being a passenger in a team van driven by her husband, who was arrested for driving under the influence of alcohol. Controversially she faced no sanctions for her own arrest on domestic violence charges last June. The charges were dismissed in January and Solo has since publicly portrayed herself as the victim on the night in question. However, an appeal has been filed by prosecutors and an ESPN report on the eve of the World Cup cast a very different light on Solo's interpretation of events.
It left U.S. team officials facing plenty of awkward questions and the team dealing with a hugely undesirable distraction. Everyone involved in the camp, then, will surely be hoping that continued performances of the quality Solo produced on Monday will help bring the attention back to on-field concerns. She certainly helped show why staff have deemed her worth the hassle. With two point-blank first-half saves, first tipping a shot onto the crossbar and then reacting superbly to deny a close-range volley, Solo single-handedly denied an Australia team that was on top. They were stops that very few goalkeepers in the history of women's soccer could have pulled off.
"Those first 45 minutes I think we had a little bit of jitters so it's my job to keep us in it," Solo said afterward to Fox Sports.
After Solo's saves allowed the U.S. to take the game with two second-half goals, more good news was to follow when Morgan made her reappearance with 11 minutes remaining. It was the star forward's first time back in competitive action for nearly two months after suffering a bone bruise in her left knee. She has certainly been missed. As against South Korea in a goalless final warm-up game, against Australia the U.S. for large periods lacked a penetrating threat up front, amid all too often resorting to long balls forward.
The U.S. front line has understandably been lauded for its impressive depth, and yet, while Sydney Leroux made a telling contribution on Monday night, Morgan offers a vital spark to the offense.
Having been a breakout star of the 2011 World Cup, coming off the bench to score in the semifinals and final, Morgan became a regular the following year when scoring an incredible 28 goals for her country and being voted third in the voting for FIFA Women's World Player of the Year. Sponsorship deals aplenty soon followed as she became a household name. Now coming into her prime, this was supposed to be her tournament, but the injury left Ellis admitting a week before the event that the 25-year-old would have to build her fitness during the competition.
With the U.S. being drawn into the "Group of Death," alongside Australia, Sweden and Nigeria, it is hardly an ideal scenario. But her appearance on Monday provides plenty of hope that she will get up to speed in time to make a significant impact for her team. If the U.S. is to end its 16-year wait and lift the trophy aloft in Vancouver on July 5 then Morgan's pace, skill and deadly finishing up front will surely be be as crucial as Solo's saves at the other end of the field.
© Copyright IBTimes 2023. All rights reserved.