All BTS '7' Tattoo Locations Finally Revealed After Suga Showed His Ink During Weverse Live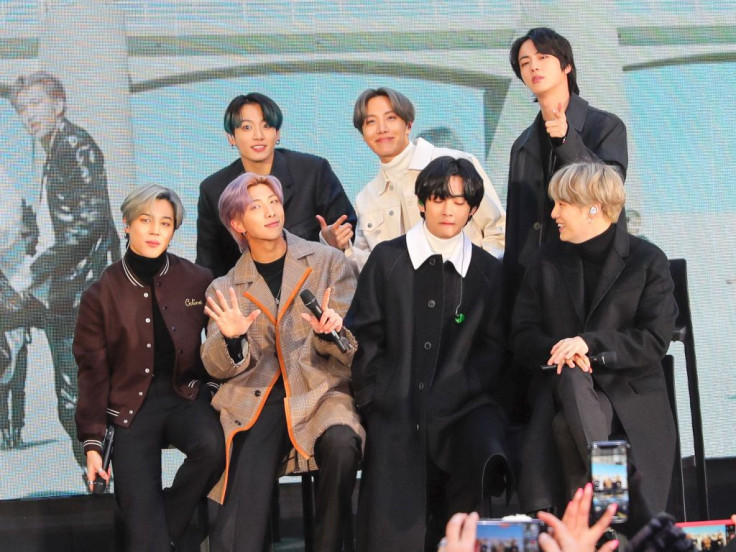 KEY POINTS
Suga recently surprised fans by revealing his "7" tattoo during a live broadcast
Suga's tattoo is on his left shoulder — the same one that got injured in 2019
All seven BTS members got matching "7" tattoos to celebrate their friendship
Fans are rejoicing on social media now that all seven BTS members have revealed where their matching "7" tattoos are.
Suga held the encore leg of his "D-Day" world tour at the KSPO Dome in Seoul, South Korea, over the weekend, where he performed most of his greatest solo hits under the moniker "Agust D" and sang alongside his bandmates Jungkook, Jimin and RM.
To celebrate the tour's success, the 30-year-old rapper surprised BTS fans by revealing where he put his "7" tattoo, which was apparently on his left shoulder — the same one that suffered an injury in 2019.
In a video uploaded by Twitter fan account @S_Lodeur, Suga was seen taking off his black jacket while saying it was "hot." The gesture instantly revealed the location of his ink, sparking excited cheers from the fans — known as ARMYs — who attended the final concert day Sunday.
He also went live on Weverse after the concert and gave in to the requests of fans to show off his "7" tattoo once again. Suga proudly lifted the sleeve of his shirt to flaunt the ink.
The revelation came a year after BTS revealed that they would get matching tattoos to celebrate their friendship. While the other six members flaunted their inks, Suga spent a long time hiding the location of his tattoo and even made fans guess where it was.
RM was the first member to reveal his tattoo, posting a photo on his Instagram Story in June 2022 that showed the "7" tattoo near his ankle. In the same month, J-Hope revealed his ink located near his ankle as well.
V put his tattoo right above his left knee; Jin's was placed on his left torso, and Jimin's could be found on his finger. Jungkook decided to get inked behind his ear.
The "7" tattoo was designed by South Korean tattoo artist Polyc — who is also responsible for most of Jungkook's body art. Most recently, the artist revealed that the tattoo was meant to represent all seven members, but the typeface was changed to make it more meaningful for them. The tattoo design is exclusively owned by the BTS members.
Following the OT7 revelation, fans shared their overjoyed reactions on social media. Some even noticed that the "hyung" line (the older members) and the "maknae" line (younger members) of BTS had matching "7" typefaces.
"Member's friendship tattoo '7.' Finally, all of BTS's friendship tattoos have been released. 'Hyung' line and 'maknae' line are paired one by one," one user observed, attaching a photo of each member's tattoo.
Another commented, "I can't believe the saga is finally over, and I can't believe none of us predicted where it would be."
"And we are complete now!" a third user added.
"It makes me cry that all the members cherish the 7-member group called BTS," a fourth user stated while getting emotional.
Another wrote, "I never thought we'd finally see the 7/7 on BTS tattoos."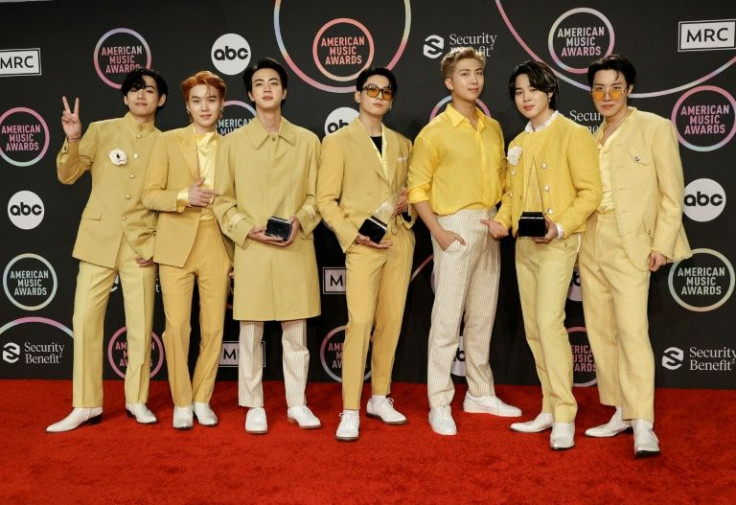 © Copyright IBTimes 2023. All rights reserved.