Along Came A Spider ... In Jewelry And Watches
Sponsored content from Modern Luxury
There is nothing inherently creepy about our arachnid friends, and those of us who grew up on Charlotte's Web and James and the Giant Peach have a soft spot in our hearts for the helpful little pest-eaters. However, as readers of J.R.R. Tolkien and Stephen King can agree, there can be something a little, well, unsettling about them, despite the beautiful and technically impressive architectural feats they construct (…in order to entrap and devour their prey). Jewelers and watchmakers have seized the symmetrical, alien glamour of the spider to create pieces that range from fanciful to frightening.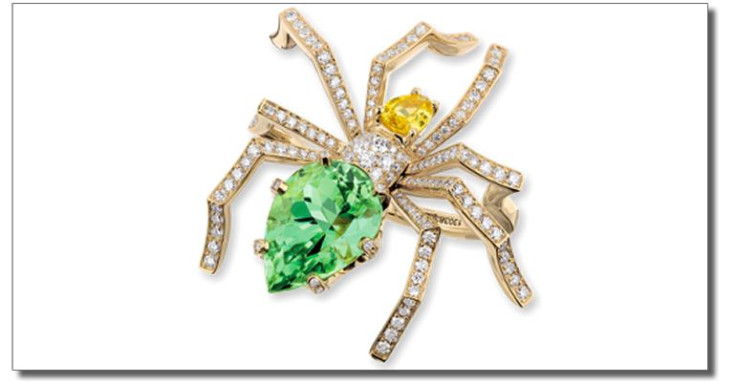 Chaumet comes down on the "friendly critter" end of the spectrum with its Jardins "Araignée" ring. The eight legs and thorax sparkle in white diamonds, with a yellow sapphire (0.61 carat) as the head, and a pear-shaped green tourmaline (5.26 carats) for the abdomen. (Technically, spiders have only two body parts—the abdomen and a cephalothorax that comprises both head and thorax—but they are also usually not in 18-karat yellow gold, so some poetic license is definitely permissible here.) The sunny colors and compact proportions reinforce the sweet harmlessness of this small beast.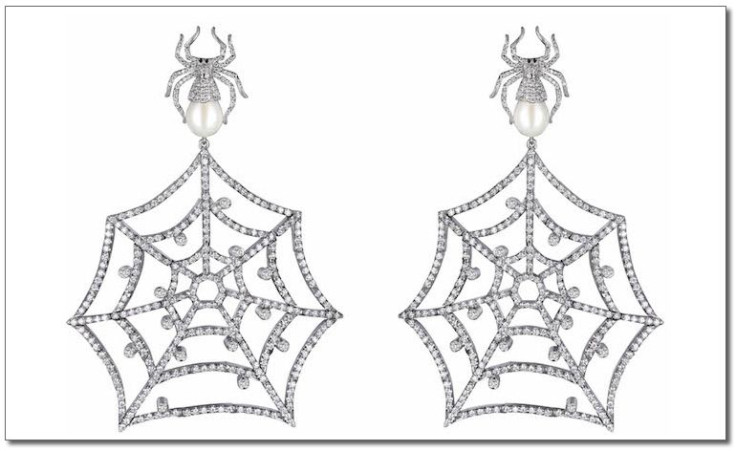 Jacob & Co. is known for its extravagant, bejeweled statement pieces, and the busy spiders on these Jacob's Web earrings have created a mini wonderland. Webs in black-rhodium-plated white gold descend from natural pearl spinnerets, with diamond raindrops clinging to the surprisingly strong silk. The pearls are 7.00-7.50mm each, and the ensemble is set with 752 brilliant-cut diamonds, totaling 3.62 carats. About 3 inches in length, these earrings provide a stunning way for a woman to declare a fondness for not so itsy-bitsy spiders.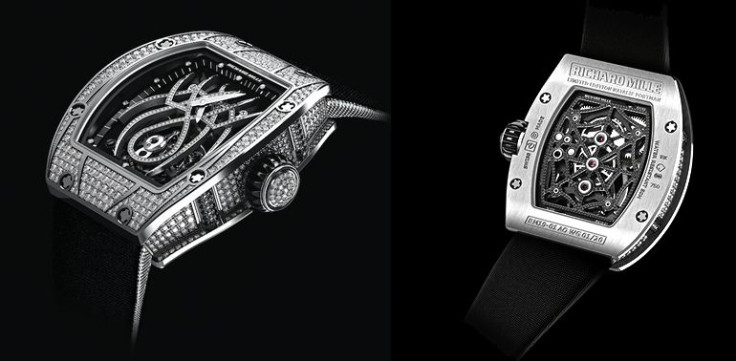 Designed in collaboration with star Natalie Portman, Richard Mille's RM 19-01 Tourbillon Spider captures some of that actress's steely grace (though the case and the spider are actually crafted in white gold). The stylized arachnid is set with white diamonds, and the curve of its abdomen encloses an even rarer prize: a whirling tourbillon. The transparent caseback reveals the spider's handiwork: an intricate web set with black sapphires, which doubles as the timepiece's baseplate. From the ergonomically curved case to the delicate gem-setting and tantalizing glimpse of the movement within, this spider sits in splendor on a masterwork.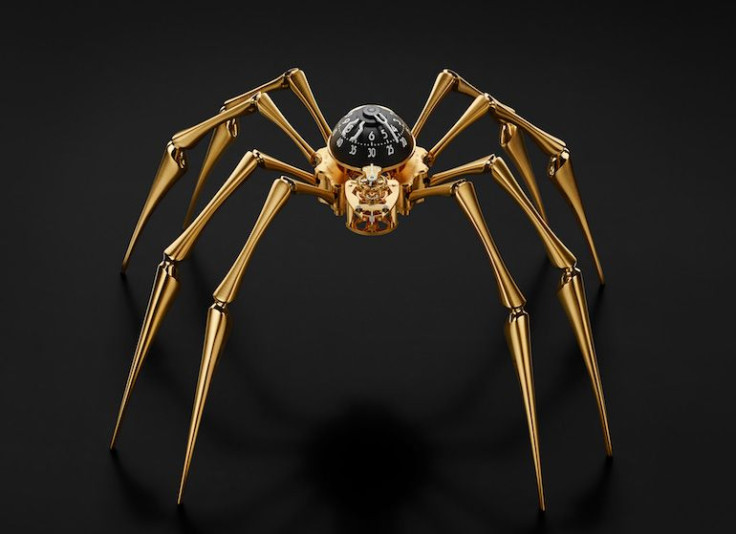 It's not quite a watch, but we couldn't resist adding the Arachnophobia Gold from MB&F. Inspired by Louise Bourgeois's monumental sculpture series "Maman," the Arachnophobia is a clock whose flexible legs allow it to sit on a table or hang on a wall, for those who enjoy tiny jolts of adrenaline while walking through dimly lit rooms. Fearless arachnophiles can even adjust the legs to recreate a real spider's attack pose. (Fun!) The clock itself, designed by Epée, uses curved hands to indicate the hours and minutes on the central dome of the spider's body, with MB&F's signature numerals on the dial. The owner winds this magnificent creature using a key on its underside, requiring a physical proximity that might be too close for comfort for some.