Amber Heard Accused Of 'Buying Fans' After Video Shows Her Receiving Flowers From Supporters
KEY POINTS
Amber Heard was seen stopping to receive a gift from a supporter waiting outside a Fairfax, Virginia, courthouse Friday
Some social media users alleged that the fan interaction was a PR stunt
Heard's fans said they tried to show as much support for the actress as they could throughout the trial
A video showing Amber Heard being handed flowers by fans outside the courthouse where she and Johnny Depp are fighting a defamation case is sparking debate on social media.
After six weeks of testimony from Depp and Heard's legal teams, both sides delivered closing arguments Friday, and jury deliberations began. The jury must now reach a verdict on whether Heard's domestic violence claims, which stem from her 2018 Washington Post op-ed, were defamatory toward the "Pirates of the Caribbean" star.
On the trial's final day, Heard was seen stopping to receive a gift from a supporter waiting outside the Fairfax, Virginia, courthouse before the actress left with her team.
In the clip shared by Joseph Morris on YouTube, Heard's car made a slow turn, and one of the passengers sitting in the back appeared to reach out to take a bouquet of flowers from one of the actress' fans. Then the vehicle came to a full stop, and the driver opened his window to reveal Heard in the front passenger seat.
The flowers were handed to Heard, who smiled and put a hand over her heart as she thanked the supporter. Her car left shortly after.
Another angle of the moment, captured from across the street, showed that the person who gave Heard the flowers was among a group holding up signs that said: "I stand with Amber."
The video received a mixed reaction, with some, including Morris, alleging that the fan interaction was "set up."
"This is really bad, the 'Aquaman' starlet has been caught buying fans," Morris alleged. "Look, she stops at the exact place that the flower is being handed to her. This is so set up."
"She definitely paid for this PR stunt. It's so obvious and fake because she literally has no fans outside the courtroom," he claimed, adding that he thinks it was orchestrated by Heard's PR rep David Shane "to make it look like she has supporters."
"Just when I thought I'd seen it all!! Looks so staged and cringy, just like all her testimonies!!" one Twitter user commented on the video.
Meanwhile, Heard's supporters on social media praised the fans who came to the courthouse and slammed those who refuse to believe that the actress has supporters.
"I have deep, utter respect for every person who comes to support @realamberheard in Fairfax these days, despite being harassed and abused by aggressive d*pp (sic) fans. #JusticeForAmberHeard #IStandWithAmber," one person tweeted.
"The only reason you don't believe [Heard] is because you choose NOT to. You have evidence, you have experts, but you choose not to because you hate women as we saw in your previous post," another supporter claimed.
Christina Taft, of Los Angeles, said this week that she and other supporters of Heard tried to show as much support for the actress as they could, The Washington Post reported.
"We're trying to give her support and cheer for her, so she can feel safe," Taft said, adding that one supporter managed to slip Heard a small gift through the window of her car.
Supporters of Depp and Heard clashed with one another outside the courthouse Friday, and the actress faced vitriol as she exited the courtroom and headed to her car, according to the outlet.
The jury is expected to resume deliberations Tuesday.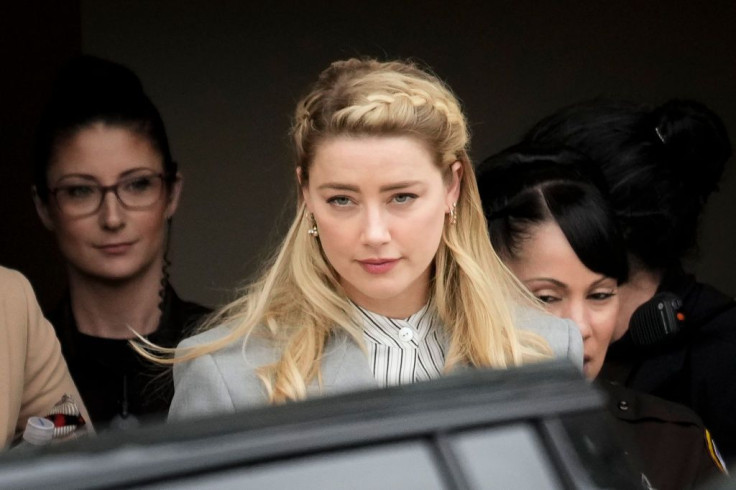 © Copyright IBTimes 2023. All rights reserved.