Amber Heard's Legal Team Confident Johnny Depp Won't Refute Domestic Violence Claims In Deposition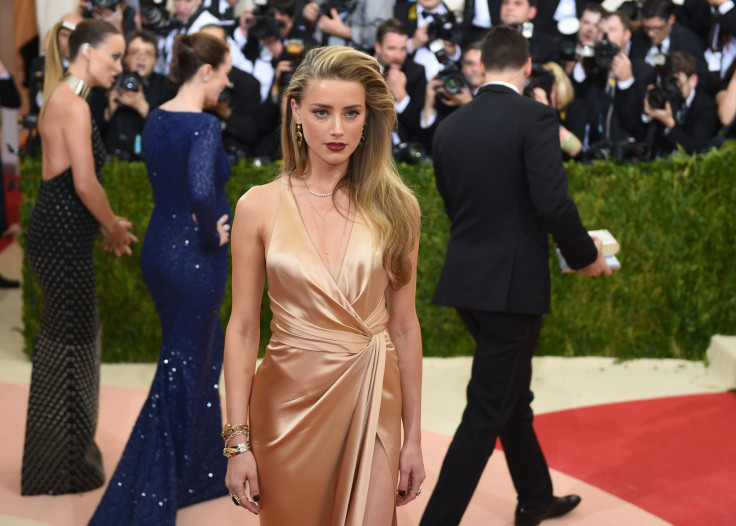 Amber Heard and her team of lawyers aren't backing down from their claims against Johnny Depp. The "Magic Mike XXL" actress maintains that she was physically assaulted numerous times by her husband — and now, more than ever, Heard believes she stands a chance at winning her restraining order case.
According to a report from TMZ, the Texas native and her attorneys are fairly confident that Depp, 53, will neither testify nor submit a written declaration denying the claims made against him. Sources tell the gossip site that doing so would be far too risky for the "Alice Through the Looking Glass" star. Heard and the many legal professionals backing her at this time feel certain a judge will grant her a restraining order, especially if Depp remains silent. Sources add that the Screen Actors Guild award-winner's silence should not be taken as a sure sign of guilt, telling TMZ it is common for people in this position to remain silent, even with evidence of their innocence.
This report provides a drastic contrast to earlier ones, which suggested Depp's lawyers were pushing Heard, 30, to stop bashing him in the media and take her claims before a judge. On Friday, TMZ published a story claiming that Depp and Heard had — with the help of their lawyers — come close to reaching an agreement in their long legal battle. Attorneys for the former couple had come together to discuss settling the restraining order case outside of court, pushing Depp and Heard to simply avoid one another. TMZ added that it was unclear how lawyers planned to handle Heard's $50,000 spousal support request. Their negotiations were said to be on hold at the time due to a lack of either availability or cooperation on Heard's part.
With the actress continually delaying, Depp's attorney Laura Wasser filed documents with the courts. In them, she detailed Heard's cancellations, revealing that she had initially agreed to answer questions under oath in a deposition only to later claim she had no availability before June 17. Wasser wrote that the deposition was initially scheduled for June 10, but those plans fell apart as the day approached. She called for Heard to stand before a judge and also requested that her phone records be examined in court. This request is, of course, in response to text messages released by Heard in which she allegedly recounts a violent incident with Depp to his assistant.
While Monday's reports suggest the chips are currently stacked in Heard's favor, Depp has had no shortage of backing. Bodyguards Jerry Judge and Sean Bett are believed to have agreed to testify in his favor. On May 31, a report surfaced on TMZ stating that the pair, who previously worked for both Heard and Depp, had an incident in particular that they wanted to discuss. The security duo was reportedly standing guard outside Heard and Depp's apartment while the couple argued inside. Upon hearing Heard claim that she'd been struck by Depp, Judge and Bett charged into the home where they found her in a living room and Depp standing some distance away in the kitchen. Sources say Judge and Bett feel that Heard was trying to set Depp up and added that she was physically violent with him on more than one occasion.
A date for the aforementioned hearing has yet to be made public.
© Copyright IBTimes 2022. All rights reserved.
FOLLOW MORE IBT NEWS ON THE BELOW CHANNELS