Amber Rose Slams Tyga And Beyoncé On Twitter; Was The Model Hacked?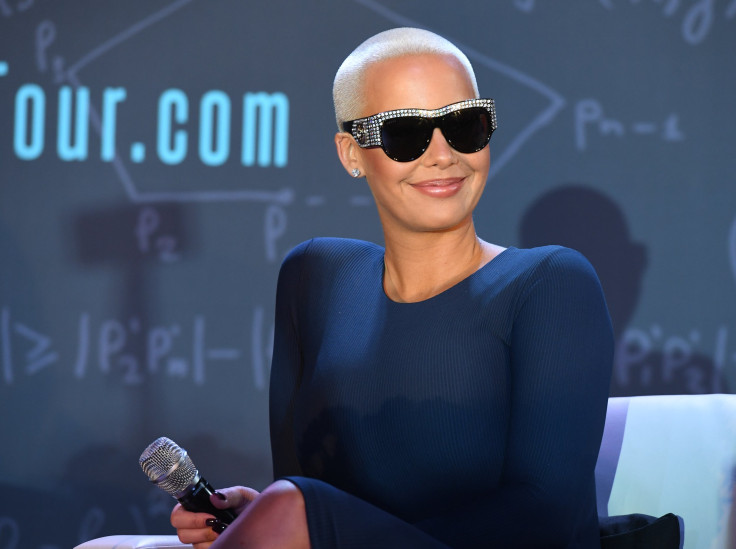 On Wednesday night, Amber Rose's Twitter account sent out two tweets slamming Tyga and Beyoncé. While the tweets came from Rose's official account, the model quickly followed them up with a tweet claiming she was hacked.
"We both got hacked," Rose tweeted at radio host Charlamagne Tha God, who was also the victim of an alleged hack. The first hacked tweet was directed at rapper Tyga and read, "Dear @Tyga ever since you left @BLACCHYNA your music has been [trash] it's always been trash just more than usual. #muva."
The second tweet was aimed at Beyoncé and alleged that Amber Rose was the woman the "Lemonade" singer was singing about on the song "Sorry." The tweet read, "Hey @Beyoncé I got a secret. I am Becky with the short hair. #iaintsorry #muvalemonade."
Rose also took to Instagram to post a video with Charlamagne Tha God, addressing the situation. "Damn I got my Twitter got hacked," Rose said in the video before Charlamagne stepped in. "I think mine got hacked too but I'ma tell you something, Tyga's music is trash," the radio host added.
While Rose's latest tweets were the results of a hack, the model has called out Tyga in the past. In 2015, after it was reported the rapper was dating Kylie Jenner, Rose dissed Tyga for dating someone so young.
"[Kylie's] a baby, she needs to go to bed at 7 o'clock and relax," she said. "That's ridiculous. [Tyga] should be ashamed of himself. That's how I feel for sure. He has a beautiful woman," she said of Tyga's ex-fiancée Blac Chyna, "and a baby and left that for a 16-year-old who just turned 17."
In a 2016 interview with BigBoyTV, Tyga opened up about his breakup with Jenner, saying, "When you're in a very public relationship like that, it's hard for other people to see you differently than that." According to the "Rack City" artist, the relationship "overshadowed" him. "Being in that, it took a lot, career wise, everything. It overshadowed a lot of my talents and a lot of things that I worked for," he said.
While Kylie has now moved on to rumored boyfriend Travis Scott, Tyga said there were no hard feelings between the two. "It got to the point where it was like, 'I respect you, you respect me,'" he said. "When something is so damaged or something is just not right, you can't fix it it in a moment. The only thing is time."
At the time of his interview with Big Boy, the rapper didn't rule out getting back with Kylie in the future. "Maybe later on in life, maybe we might come back. She's young. When you're young, you're going to make mistakes. All of those mistakes are going to be in the public eye, so that puts a lot of strain on the relationship. Right now, I want to focus on what I need to do. I just wanted to get back to just me. I think for her, as well."
© Copyright IBTimes 2023. All rights reserved.
FOLLOW MORE IBT NEWS ON THE BELOW CHANNELS