'American Horror Story' Season 4: Pepper From 'Asylum' To Join 'Freak Show'? New Photo Sparks Rumor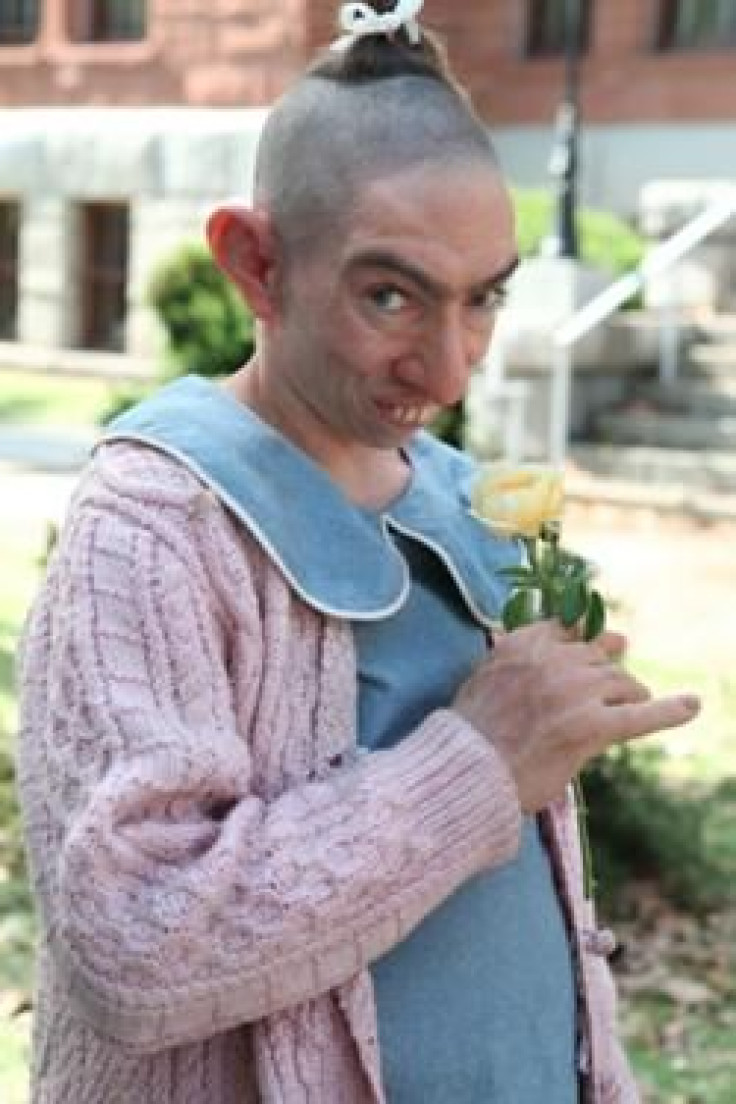 "American Horror Story" fans are well aware that each season means a completely different story line, and two "AHS" worlds might cross paths in Season 4, "Freak Show."
A fan of the hit FX miniseries posted a "leaked call sheet" from episode 1 of Season 4 on Twitter. The unconfirmed photo features cast members and characters names for "Freak Show."
The list includes four actors already familiar to "American Horror story" viewers: Jessica Lange, Kathy Bates, Sarah Paulson and Evan Peters. Paulson's characters, as the actress previously confirmed, is Bette/Dot Tattler. Meanwhile, Lange is reportedly playing a woman named Elsa Mars; Kathy Bates is Ethel Darling, and Evan Peters is Jimmy Darling.
However exciting the potential names of Lange, Bates and Peters characters may sound, there's a name a little further down the list that may cause "AHS" lovers to completely freak out over "Freak Show" -- Naomi Grossman.
Naomi Grossman is an actress that was featured in Season 2, "Asylum." If Grossman doesn't sound familiar, her character certainly will – "Pepper."
Pepper was an inmate at Briarcliff who suffered from microcephaly, a rare neurological condition in which a person's head is significantly smaller than normal for their age or sex based on standardized charts. We met Pepper in the premiere episode, "Asylum," when Lana Winters first arrived at the institution. While Pepper seemed innocent enough, while handing Lana a flower and asking her to play, Sister Mary Eunice warned the reporter that Pepper was dangerous (she drowned her sister's baby and cut off its ears).
Later in the season, Pepper was visited by the aliens that impregnated Grace, and took Alma. The aliens enhanced her intelligence, giving her the ability to finally talk about her alleged crime.
"You still see me as microcephalic," Pepper told Dr. Arden, during one of their final confrontations. "No one takes a pinhead seriously. When my sister's husband drowned her baby and sliced his ears off he told everyone I did it. They tied me up and paraded me in front of the judge. He took one look at the shape of my head and I was locked up for good. That's how it works for us freaks. We get blamed for everything."
Pepper's reference to "freaks" could just be coincidence, but the inclusion of the character in Season 4 wouldn't be that far-fetched. "Freak Show" is set in 1950, and "Asylum" in 1964. Season 4 could feature Pepper as one of the performers in the freak show run by Lange's character -- years before she was accused of killing her nephew and locked up in Briarcliff.
If Grossman reprises her role as Pepper in Season 4, it would be a first for the miniseries. No other characters from previous seasons have crossed over.
Do you think Naomi Grossman's Pepper will be reappearing on "American Horror Story: Freak Show"? Tweet your thoughts to @AmandaTVScoop.
© Copyright IBTimes 2023. All rights reserved.