Amy Schumer, Paul Rudd, Cara Delevingne And More Win At CinemaCon's 2015 Big Screen Achievement Awards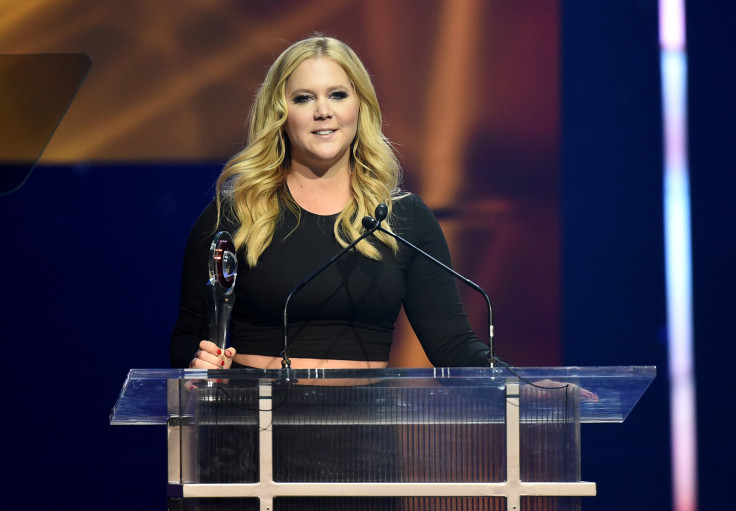 After four days of several studio slate presentations and celebrity panels, 16 A-listers walked away wins at CinemaCon's 2015 Big Screen Achievement Awards in Las Vegas Thursday night. With the help of host "Access Hollywood" star Billy Bush, Alan Arkin, Paul Rudd, Amy Schumer, Cara Delevinge and many more were gifted their wins at the official convention of the National Association of Theatre Owners. Below is the full list of the the 2015 winners and excerpts from their acceptance speeches.
Alan Arkin, Lifetime Achievement Award
With five decades in the entertainment industry under his belt, Arkin was awarded the Lifetime Achievement honor at this year's ceremony. "I'm going to call my agent immediately and ask for a raise," Arkin joked during his acceptance speech after watching a emotional reel of his best moments in film. "I'm deeply grateful for the acknowledgement," he later added before sharing one final quip. The 81-year-old said he was happy to win while he's "still alive." "I hate getting posthumous awards," he said.
Elizabeth Banks, Breakthrough Filmmaker of the Year
Following the premiere of her directorial debut "Pitch Perfect 2" at CinemaCon Monday, Banks was awarded the directing honor. "Directing a movie was a dream of mine… not enough woman get to do it," she said, adding that she hopes the "Pitch Perfect" sequel, and her award win, will inspire future female filmmakers. "I hope it encourages other ladies out there to go ahead and do it," she said.
Britt Robertson, 2015 Star of Tomorrow
The "Tomorrowland" actress kept her acceptance speech short and sweet. "It was a honor. I appreciate it," she said of the win, making sure to give a special thanks to Disney and Brad Bird, the director behind the upcoming epic.
Francis Lawrence, Director of the Year
Following the box office success of "The Hunger Games: Catching Fire" and "Mockingjay - Part 1," Lawrence chose to speak about the popular Jennifer Lawrence franchise. "It's been an amazing 3 1/2 years," he said. He also gave a special shoutout to two of the film's stars, Elizabeth Banks and Julianne Moore, both whom were in the audience at the event.
Amy Schumer, Breakthrough Performer of the Year
Schumer shocked audiences with her R-rated acceptance speech, dishing about everything from her sexual experiences in movie theaters, to her history of sneaking into film showings and her distaste for Kevin Hart. "Please, don't show any more Kevin Hart movies," she joked to the theater full of exhibitors. "I want to bring back our girls and give back Kevin Heart."
Nat Wolff and Cara Delevingne, Rising Stars of 2015
Ahead of the release of their romantic/comedy "Paper Towns," Wolff and Delevingne took the stage together to accept their wins. "You have no idea how much it means to us to be apart of this film," Delevingne, who was initially speechless after arriving onstage, said. "Movies are the most magical thing in the world," Wolff added.
"Fantastic Four" cast, CinemaCon Ensemble Award
Miles Teller, Kate Mara, Michael B. Jordan and Jamie Bell were present to accept the group honor at the 2015 show. "It feels good to come to Vegas and win something," Teller joked. The actor, who spoke on behalf of the cast, also dished about his love for his co-stars and their combined anticipation over the July 30 release of "Fantastic Four."
"We're really excited to bring it to you all," he said.
Paul Feig, Comedy Filmmaker of the Year
Unsurprisingly, Feig approached his acceptance speech with humor. "I believe this was formally called the 'he who will never win an Oscar award,'" the "Bridesmaids" and "Spy" director joked. Before heading offstage, he decided to participate in the ultimate comedic gag: allowing himself to be hit in the face with a pie.
Julianne Moore, CinemaCon Vanguard Award
After decades of award-winning storytelling on screen and her recent Oscar-winning role in "Still Alice," Moore walked away with the prestigious Vanguard Award, a prize which she said was a true honor. The actress used her time onstage to thank theater owners for providing diverse films. She also shared the story of how a small local theater near her childhood home Juno, Alaska, helped grow her love for film.
Kevin Hart, Comedy Star of the Year
Several box office hits resulted in Hart's big comedy win. "This is huge. This is nice," the "Get Hard" actor said onstage. After sharing a few quips from his comedy act with the audience, he reigned himself in, revealing he didn't want to delve too far into his routine for fear of ruining his life's work. "My career is doing nothing but going upwards. I don't want to jinx that," he said.
Paul Rudd, Male Star of the Year
Ant-Man himself made an appearance at CinemaCon's final event of 2015. While the actor said he was "truly touched" by the honor, he did include a dash of humor in his acceptance speech. "When I got the email that I [had won] there was no space between male and star," he dished, revealing he decided to Google "malestar" only to discover it translated to "upset stomach" in Spanish.
Rose Byrne, Female Star of the Year
Bryne used her acceptance speech to thank Feig, who directed her in the upcoming film "Spy," for bringing more woman onto the big screen. "He has done more for woman in cinema in awhile," she said. "He redefines the game."
© Copyright IBTimes 2023. All rights reserved.
FOLLOW MORE IBT NEWS ON THE BELOW CHANNELS