Amy Winehouse Funeral: Kelly Osbourne Dons Iconic Beehive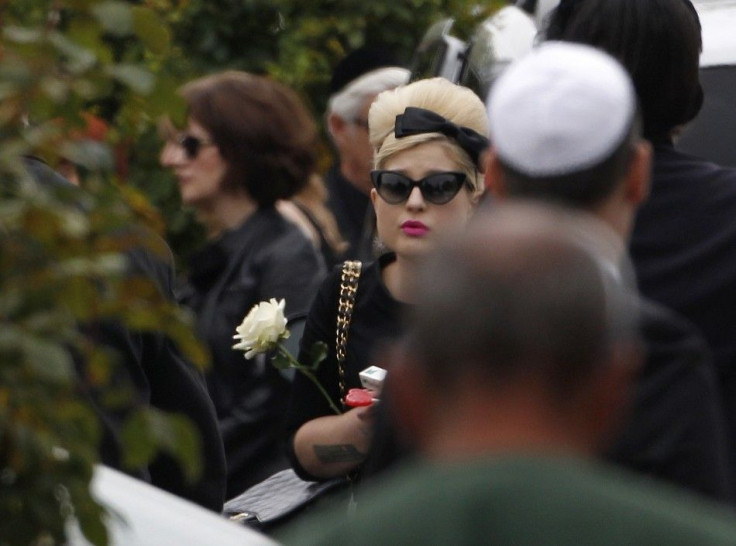 Just three days after her death, friends and family gathered in London on Tuesday morning to pay tribute to singer Amy Winehouse at a private funeral at the Edgwarebury Cemetery.
A convoy of vehicles, many with tinted windows, drew up to the north London cemetery ahead of the private service.
Friends such as Kelly Osbourne and "Back to Black" producer Mark Ronson were in attendance at the funeral, which will be followed by cremation in Golders Green, north London, and a family gathering at a local synagogue.
Osbourne, one of Winehouse's closest friends, wore her hair in a tall beehive, mimicking her pal's signature look while holding a white rose.
An estimated 200 people were expected to attend the funeral, led by a local rabbi. According to Jewish law, the funeral had to take place as soon as possible after the star's death.
Noticeably missing was Winehouse's ex-husband, Blake Fielder-Civil. He was denied a compassionate leave from jail, where he is serving a 32-month prison sentence for burglary and firearms offenses.
Monday's autopsy results were inconclusive and police caution that toxicology tests could take two to four weeks.
Sharon Duff, coroner's officer at St Pancras Coroner's Court, said during the two minute hearing on Monday: 'I bring before you the death of Amy Jade Winehouse who was aged 27 born on the 14th September 1983 in London.
"She was a divorced lady living at Camden Square, NW1. She was certified dead at her home on July 23 by a paramedic and a doctor. She was a singer/songwriter at the time of her death.
"She was identified by her family here at St Pancras this morning. A section 20 post mortem has been carried out today and samples have been taken for histology and toxicology to determine the cause of death.
"The scene has been examined by police who have deemed it non-suspicious."
Assistant Deputy Coroner Suzanne Greenaway said Winehouse's inquest would resume on October 26.
Yesterday, Winehouse's grieving parents made an emotional visit to her former home in Camden, north London, where she was found dead on Saturday. Winehouse's father Mitch said: "Amy was about one thing, and that was love. Her whole life was devoted to her family and her friends and to you guys as well.
"We're devastated and I'm speechless, but thanks for coming."
© Copyright IBTimes 2023. All rights reserved.