Andrew Cuomo GE Deal: NY Taxpayers to Subsidize General Electric As Critics Slam Company For Toxic Pollution, Unfinished Cleanup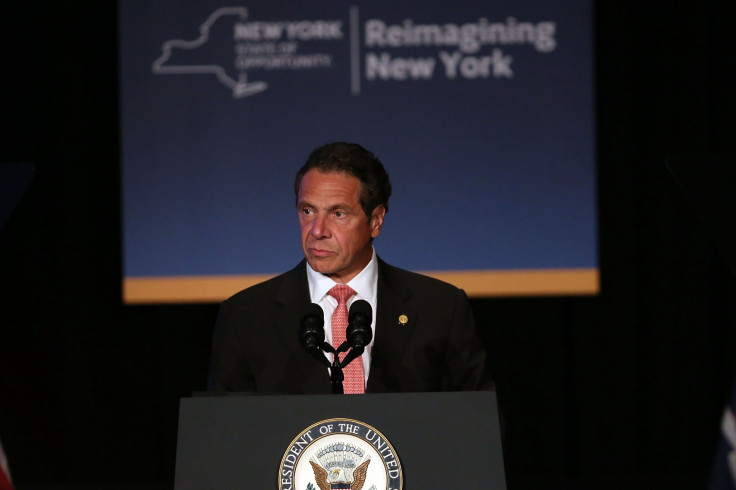 New York Gov. Andrew Cuomo last week proudly declared that he had successfully lured General Electric into "coming home." It took $50 million in taxpayer subsidies to convince the company to build a new manufacturing facility in upstate New York, but this was money well spent, Cuomo asserted, noting that GE used to be "such a big part of this community and provided so many jobs and was such a vital player in this community." Cuomo is now pushing to authorize an additional, undisclosed amount to entice GE to also relocate its corporate headquarters from Connecticut back to New York, some 40 years after it left.
The welcoming rhetoric from the New York governor, a Democrat, presents a stark change from recent years, in which GE was known throughout the state as a large-scale industrial polluter: During the mid-20th century, the company dumped more than one million pounds of chemicals linked to cancer into the Hudson River.
Since 2009, the technology and manufacturing conglomerate has contributed more than $466,000 to Cuomo's campaigns and political groups that have supported his bids for governor, according to state and federal campaign finance records.
New York state and federal authorities have for decades sparred with GE over the pace and extent of its promised cleanup of the Hudson from years of manufacturing-related chemical dumping, a battle that continues even as Cuomo now extends the state's largess. In the same week Cuomo was promoting his plans to subsidize GE, federal officials told New York authorities that the company had been underreporting the volume of toxic chemicals that are still in the river's ecosystem. Meanwhile, New York lawmakers, businesses and environmental groups have been raising concerns that the company is now moving to prematurely abandon the cleanup operations, while a report from federal government scientists said GE needs to conduct additional dredging to fully clean up the river.
Critics in Cuomo's own party argue that the subsidies the governor depicts as the key to unlocking an economic opportunity in fact constitute an inappropriate gift to a major political donor -- one they say is both hiding its mess and refusing to adequately fix it.
"You don't have a right to get tax breaks -- these are special benefits and incentives that you have to earn, and GE has not earned them," said Democrat Joel Tyner, a Dutchess County legislator whose constituents in the Village of Rhinebeck get their drinking water from the Hudson River. "GE has been touting this stuff about imagination [a reference to its tagline "Imagination at Work"] and 'We bring good things to life,' but they've brought a lot of things to death in the Hudson River Valley."
Cuomo's office did not respond to International Business Times' questions about the GE subsidies or campaign contributions. Cuomo's Department of Environmental Conservation is one of the three trustees responsible for making sure GE restores the river's ecosystem.
Some lawmakers, including Assembly Speaker Carl Heastie, a Democrat, have said in recent days that deliberations between Cuomo's administration and GE about moving its headquarters to New York should include a review of what the company must do to finish restoring the river.
But GE argues that it has more than satisfied its promises to restore the Hudson. Under the headline "Cleanup Meeting Goals, No More Dredging Needed," the company's website recently called its work on the river "one of the largest and most successful environmental cleanup projects ever undertaken in the United States."
'GE Is Trying to Shirk Responsibility'
That GE would move facilities from state to state in pursuit of advantageous tax treatment is hardly new: Back in 1998, GE's then-CEO Jack Welch quipped that "ideally" his company would "have every plant you own on a barge" to leverage economic advantages. The company's conversations with New York about the subsidy package is but the latest iteration of that strategy.
A GE spokesman, Dominic McMullan, told IBTimes that the company has "formed an exploratory team to assess the company's options to relocate corporate headquarters" -- a move that appears to have touched off a bidding war over taxpayer subsidies. Connecticut Gov. Dannel Malloy has already promised to counter Cuomo's offer -- whose terms remain secret -- in an effort to persuade the company to keep its headquarters in Fairfield.
Unlike Malloy, though, Cuomo represents constituents currently accusing GE of refusing to fully eradicate its pollution in his state's largest waterway.
That contamination of the Hudson began in the 1940s, when GE started dumping polychlorinated biphenyls -- or PCBs -- into the river from its manufacturing plants located north of Albany. According to documents obtained by the Albany Times-Union, GE engineers warned company officials in the 1960s and early 1970s that the chemical was hazardous. GE did not agree to stop discharging PCBs into the Hudson until 1976 . The chemical was formally banned by the government in 1979, but as recently as 1993 GE admitted to a new flow of PCBs from one of its facilities into the river. Scientific studies have documented PCBs' likely connection to cancer and other illnesses, and the Reagan administration's EPA classified 200 miles of the Hudson as a federal Superfund site in 1984.
However, the EPA also gave GE a big financial victory: The agency issued an order for "no action" to be taken because it said remediation might make the pollution worse.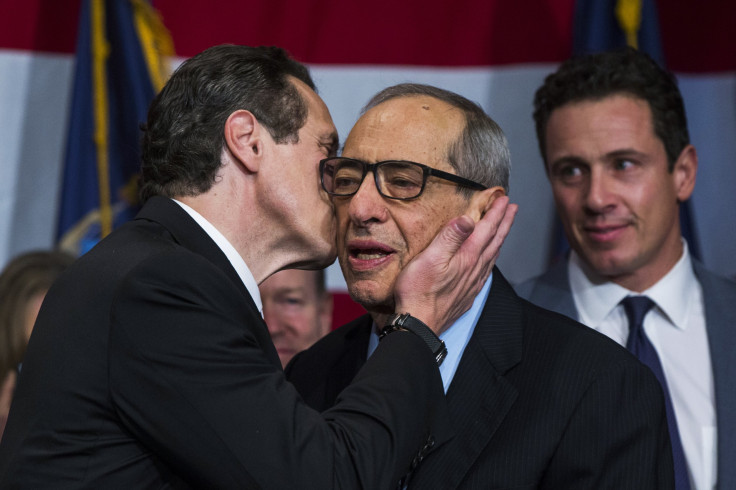 In the late 1980s, Gov. Mario Cuomo -- Andrew Cuomo's father -- successfully petitioned the EPA to reopen the case. His efforts and others in the ensuing years overcame GE's lobbying and continued resistance, ultimately forging an agreement between George W. Bush's EPA and GE in 2002. Under the pact, GE agreed to dredge and remove 65 percent of the PCBs it had dumped, but only in the 40 miles north of the state capital Albany. This was the most polluted portion of the Hudson, but far from the only affected stretch.
GE has asserted that -- despite PCBs remaining in the river -- the original EPA mandate was sufficient. In a July letter opposing any push for further dredging, the company touted the fact that when its "work concludes, we will have addressed 100 percent of the PCBs that EPA targeted."
But Dan Raichel of the Natural Resources Defense Council asserts that the assumptions in the original EPA deal were wildly off the mark.
"We learned that there were two to three times more PCBs in the river than the EPA estimated," said Raichel. "Additionally, the EPA used models that presumed a rate of decay more than six times higher than what has been observed. Long story short, there's going to be way more PCBs in the Upper Hudson than both the EPA and GE predicted in 2002."
Raichel argues that GE was trying to make the public pay for its contamination of the Hudson.
"GE is trying to shirk responsibility for their legacy on PCBs and walk away from a Superfund site, leaving the public with the bag," Raichel told IBTimes.
Environmental officials in the Obama administration have called GE's cleanup activities "enormously successful." And GE asserts that the administration's recent decision to let GE wind down its cleanup facilities is one rooted in sound science.
"As this historic cleanup draws to a successful conclusion, some say this unprecedented project was not sufficient," wrote GE Vice President Ann R. Klee at the company's website HudsonDredging.com. Klee, who was hired by GE after she finished serving as a top EPA official in the Bush administration, asserted: "EPA did not reach its decisions in isolation. It considered the views of scientists and technical experts, the public, elected officials, federal and state agencies, and environmental groups, including those who now speculate that more dredging — beyond what EPA ordered — could accelerate the recovery of the river. There is no need to speculate."
That view has been disputed by the National Oceanic and Atmospheric Administration (NOAA). In 2014, the federal agency accused GE of promoting "misinformation" when it asserted that its current cleanup plan "fully resolves the company's remedial liabilities associated with the river." In its report -- which came just weeks before an event where Cuomo promoted GE -- the agency said it had "urged GE to remove additional contaminated sediments" in a way that goes "over and above" the original EPA plan.
A year later, just before Cuomo announced the first tranche of subsidies to GE, NOAA scientists published a report noting that "additional removal of PCB-contaminated sediment in the [Upper Hudson River] was needed."
GE spokesman McMullan told IBTimes: "We're proud of what we as a company have accomplished on the Hudson."
'We Urge Your Administration to Publicly Support A Full Cleanup'
While offering GE big taxpayer subsidies and praising the company's longtime Chairman and CEO Jeff Immelt as "a great citizen for this country," Cuomo has not publicly addressed the controversy over GE's Hudson River cleanup.
"Why isn't the governor, who is an action-oriented individual, why isn't he publicly getting involved in this issue?" said Jeffrey Levinton, a marine ecologist at New York State University in Stony Brook. "I'm not the sort of person who thinks he should punish GE and keep them from doing anything. On the other hand, I'm wondering why he isn't doing anything? Does he really think the Hudson is going to be clean when GE leaves?"
In the past two months, 141 New York assemblymembers and 25 state senators in Cuomo's own party have raised similar questions in trying to pressure the Democratic governor to act.
"We urge your administration to publicly support a full cleanup by General Electric of Hudson River PCBs," said a letter signed by 25 senators. "We are deeply concerned by reports from federal, state and independent natural resource scientists indicating that significant PCB 'hot spots' will remain after the company's dredging operations shut down later this year."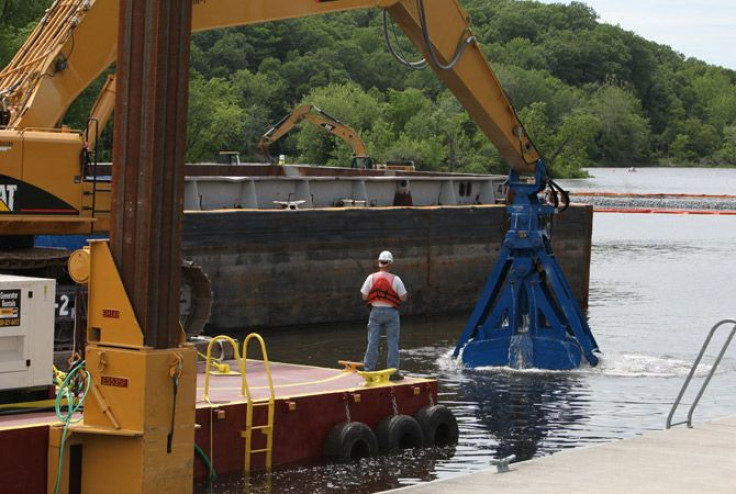 Sen. Brad Hoylman -- the lead author of the letter -- told IBTimes he is "following up with the Cuomo administration" about the issue. He said that while the river's ecosystem has improved, the damage remains.
"Sometimes you forget how bad the Hudson River was and how far it's come, but you still can't eat fish from it," he said. "There are still restrictions on swimming and recreational use. The tourism industry has never come back. This is largely the responsibility of the PCBs that GE dumped into the river for over 50 years. Now they want to move to New York and establish a corporate presence here. Well, there's a responsibility that comes with that as well. I'm thrilled that they want to bring jobs. They're an international conglomerate with far reaches across the globe. But what do they owe to the people of New York?"
Ned Sullivan, a former environmental official in Mario Cuomo's administration who now runs the environmental group Scenic Hudson, says GE should halt its plans to dismantle its dredging operations and spend an additional two seasons on the cleanup to finish the job. He says that would cost the company just $300 million to $400 million out of its annual $15 billion in annual profits. He also believes Cuomo must make that expenditure a condition of any taxpayer money given to GE.
"Convincing General Electric to move its headquarters and additional jobs to New York would be a major coup for Governor Cuomo, if and only if the deal includes a commitment by the company to comprehensively restore New York's crown jewel: the Hudson River," said Sullivan. "As the State Trustee of the Hudson's natural resources, damaged by GE's toxic PCBs for decades, the governor is uniquely positioned to secure a win-win transaction -- and his environmental and economic legacy -- with a clean Hudson."
'A Lot of Love'
There is no evidence that Cuomo is placing such conditions on subsidy deals between his administration and the company: Cleanup requirements were not included in the agreement Cuomo struck with the company in 2014 to provide $135 million in state funding for an initiative to promote clean energy technology, nor were they part of the $50 million Cuomo's administration approved for GE's new packaging facility in Utica.
Cuomo's efforts to give the company new tax subsidies are a departure from the previous two decades of state policy. The company received just $5.1 million of subsidies from New York's state government since 1992, according to data compiled by the watchdog group Good Jobs First.
Cuomo's most recent subsidy to the company is 10 times more than the state has given GE over the past two decades -- and that does not include the other package of incentives he is offering to the company to relocate its headquarters. The latter proposal remains secret -- Cuomo is refusing to disclose its details, saying only that he offered "a lot of love" to the firm.
That love has been mutual: As Cuomo has offered the company subsidies, GE has delivered more than $466,000 in campaign donations to Cuomo-affiliated political groups since the 2010 election cycle when Cuomo mounted his first successful run for governor. That includes $170,000 to the Cuomo-controlled New York State Democratic Committee and $293,000 to the Democratic Governors Association, a group that backed Cuomo's gubernatorial election bids and raised money with Cuomo.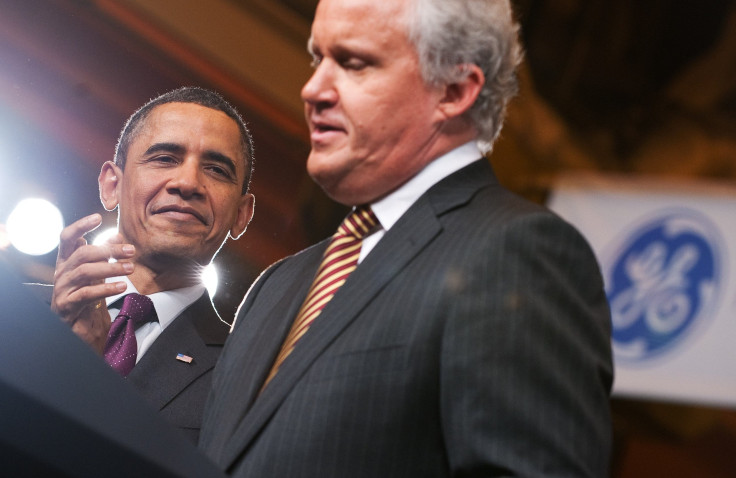 Since Cuomo took office in 2010, GE has spent over $200,000 on lobbying in Albany, including lobbying the governor's office, according to state documents reviewed by IBTimes. Cuomo has also accepted a $20,000 campaign contribution from Merryl Tisch -- the wife of GE board member James Tisch.
During Cuomo's 2014 reelection campaign, GE chief executive officer Immelt appeared at an event with Cuomo, publicly praising the governor in terms that the New York Daily News said "could easily be transformed into a campaign ad."
President Barack Obama, whose EPA has approved the company's moves to begin demobilizing its Hudson River cleanup operations, was the single biggest recipient of GE campaign cash in the 2008 election cycle, and has during his career received more than $600,000 from employees of the company, according to data compiled by the Center for Responsive Politics. GE has spent $155 million lobbying the federal government since Obama took office, according to federal data. Government records show the company spent some of that money lobbying specifically on issues related to the EPA and the Hudson River cleanup.
All that political and financial muscle hasn't diminished the determination of towns along the river. In recent weeks, scores of Hudson Valley communities have passed resolutions urging the company to continue the cleanup -- whether or not Cuomo or Obama force them to the negotiating table.
"They're a big corporation that did a lot of damage to us," said Randy Casale, the Mayor of Beacon, which sits along the Hudson about 65 miles north of New York City. "They should help us bring it back to the pristine river it was once. We're still hoping that they'll see our point and come around to it."
© Copyright IBTimes 2023. All rights reserved.
FOLLOW MORE IBT NEWS ON THE BELOW CHANNELS