Andrew Cuomo's Administration Involved in Federal Corruption Probe of Real Estate Industry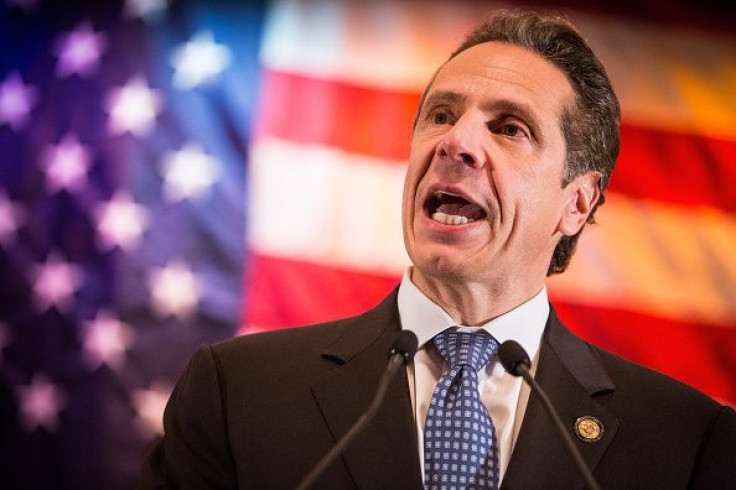 New York Gov. Andrew Cuomo's administration is blocking the release of details about transactions between the state and the governor's top campaign donor. The state's housing agency says it cannot release the documents because it is "cooperating" with a federal prosecutor's probe of financial relationships between New York lawmakers and campaign donors in the real estate industry who have business before the state.
In rejecting an open-records request, New York officials disclosed the Cuomo administration's connection to the probe: The letter denying the request specifically cited an exemption for documents involved in a law enforcement investigation. That is apparently the first time New York state officials have acknowledged Cuomo's housing agency -- as opposed to just state legislators -- is involved in the investigation.
In recent months, the federal probe of influence peddling in Albany has resulted in the arrests of the New York legislature's top Republican, Dean Skelos, and top Democrat, Sheldon Silver -- the latter of which was charged with using his office to help his real estate industry donors. The new letter from Cuomo's housing agency, which was obtained by International Business Times, moves to prevent the release of documents detailing state-supported loans to the real estate firm of Leonard Litwin. He gave more than $1 million to Cuomo's Democratic gubernatorial campaign and is widely believed to be a central figure in the Silver case.
Cuomo's office did not respond to IBTimes' questions about the letter. A lawyer for Glenwood Management did not respond to a request for comment. An official at the New York State Housing Finance Agency, whose chair is appointed by the governor, told IBTimes the agency is "cooperating" with the federal probe "with respect to publicly known investigations of indicted individuals."
In January, U.S. Attorney Preet Bharara charged Silver for allegedly taking millions of dollars in kickbacks from real estate firms. Weeks later, IBTimes reported that the state housing agency -- whose chairperson at the time, Bill Mulrow, soon became the governor's top aide -- approved a state-supported low-interest loan for Glenwood Management's new luxury apartment building in midtown Manhattan. Litwin is the owner of Glenwood Management.
Three days after IBTimes' report, Republican researcher Daniel Miller submitted an open records request to the Cuomo administration for all information about its housing agency's subsidized loans to Glenwood under a New York affordable housing program. Miller also sought any communications between the agency and either Cuomo or Silver regarding Glenwood's projects.
On May 6, the Cuomo administration denied the request by Miller, who worked for the governor's 2014 Republican opponent, Rob Astorino. In its rejection letter, Cuomo officials cited an open-records exemption for documents that "are compiled for law enforcement purposes" and which, if disclosed, would "interfere with law enforcement investigations," prevent a person from having a fair trial, or "disclose confidential information relating to a criminal investigation."
On the same day as the rejection letter, Cuomo defended Glenwood Management and said he would continue to ask them to donate to his campaigns, according to Capital New York.
"I don't believe anyone said Glenwood has done anything wrong," Cuomo said at a press conference. "If somebody did something wrong, then obviously I wouldn't associate with them politically. But, if no one did anything wrong, then you can't just say, 'You have no right to participate in the political process.'"
A spokesperson for Bharara declined to answer IBTimes' questions about his office's Albany investigation.
Bharara's probe originally began making headlines after Cuomo's move in 2014 to shut down an anti-corruption panel just as it reportedly began investigating real estate donors with close ties to legislators and the governor. According to the New York Times, Cuomo's top aide intervened to block the panel from subpoenaing a real estate trade association with close ties to Cuomo. In 2012, that association named Litwin its Lifetime Honorary Chairman.
A top executive at Glenwood is thought to be cooperating with Bharara's investigation. As that probe has intensified, Cuomo has in recent weeks tried to publicly depict himself as a populist opponent of the same real estate industry that gave so lavishly to his election campaigns. After repeatedly backing legislative initiatives to give special tax breaks to real estate developers, the governor has suddenly slammed New York City mayor Bill de Blasio for supporting some of the same tax breaks. Cuomo now calls de Blasio's tax break plan a "sweetheart deal to large real estate developers in the city."
The refusal to release the documents about the housing loans is not the first time Cuomo officials have rejected such an open-records request. In April, IBTimes filed a request asking the governor's office for any subpoenas or directives from federal law enforcement officials. The governor's office used the same rationale to reject that request, rather than specifying that such information did not exist.
Bob Freeman, the executive director of New York State Committee on Open Government, said the housing agency's latest rejection appears to defy the state's open records law.
"I think to characterize records that were prepared in the ordinary course of business, and which had been available before there might have been an investigation, as being transformed into having been compiled for law enforcement purposes, is ridiculous and contrary to the intent of the freedom of information law," said Freeman, a government official whose agency is in Cuomo's own Department of State.
John Kaehny, executive director of the watchdog group Reinvent Albany, agreed, saying: "It's extremely improbable that them providing these records would have any bearing on any investigation. And regardless, this is information that should be open data to start with, and it should be provided as a matter of course."
© Copyright IBTimes 2023. All rights reserved.
FOLLOW MORE IBT NEWS ON THE BELOW CHANNELS