Ann Romney Goes For The Heart, Says She And Mitt Used To Be Poor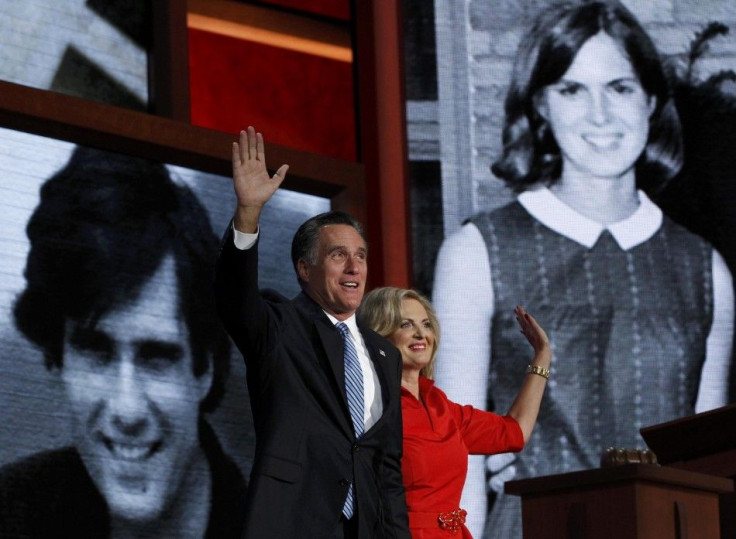 It is typical for the spouses of presidential candidates to take the stage at some point on the campaign trail and try to sell the best qualities of the men (and it's been mostly men, so far) they love to the general public.
Ann Romney, the 63-year-old wife of Republican presidential candidate Mitt Romney, got her turn Wednesday night during the Republican National Convention in Tampa.
It was Ann's national debut and she faithfully defended not only her man's business record, but his values and leadership skills. She made it clear at the beginning that her speech wasn't going to be about politics, but that she was going for the heart. And in aiming for the heart, Ann, the wife of a man perceived by the public as an out-of-touch businessman -- worth approximately $250 million -- tried to connect with the average American by showing that the Romneys used to be, sort of, poor.
Poor enough that they didn't have a real table, but a door resting on sawhorses - a visual image meant to convey that Mitt Romney, far from being the ultra-rich man whose policies will benefit his Wall Street friends that the Democrats have been portraying, was someone who gets the everyday struggles of Ameicans.
(Read a transcript of the speech.)
There's is no doubt Mitt Romney is a rich man. He co-founded Bain Capital, a private equity investment firm, in 1984 and has amassed tremendous wealth. This has caused the presidential hopeful to have a hard time connecting with the middle class and other struggling Americans who perceive him as the man with the policies that will favor the wealthy.
However, on the stage Wednesday night, Ann insisted that though the family is in fact wealthy, they are not blind to the struggles facing the masses and that somewhere along the line someone had to put in hard work to get the family where they are today.
Here's how she explained her family, in her convention speech:
Ann's dad started working at an early age
Ann is the granddaughter of a coal miner. Her father began working at age 6 in a Welsh village called Nantyffyllon, cleaning bottles. At 15, Ann's dad moved to America -- in Michigan -- to escape a life of poverty. He went from starting a business to becoming mayor of the town.
"My dad would often remind my brothers and me how fortunate we were to grow up in a place like America," Ann said in her speech. "He wanted us to have every opportunity that came with life in this country - and so he pushed us to be our best and give our all."
Mitt's dad didn't graduate college
We know that Mitt Romney is a successful businessman. What people may not know, and his wife reminded them Tuesday night, is that his father George W. Romney, an automobile executive who made lots of money, rose to be governor of Michigan and ran for the presidency himself, was self-made man who had not graduated college. But before the senior Romney achieved success in the auto business, he was a carpenter, Ann said.
"He worked hard, and he became the head of a car company, and then the governor of Michigan," Ann told the Tampa crowd.
Ann, Mitt started out small
Ann, an Episcopalian, and Mitt, a Mormon, married at a young age while in college. She said there were many reasons to delay the marriage but "we just didn't care."
Showing how they struggled as a young couple, Ann said they lived in a basement apartment, walked to class and shared the house chores. And they could hardly afford furniture.
"[We] ate a lot of pasta and tuna fish," Ann said. "Our desk was a door propped up on sawhorses. Our dining room table was a fold-down ironing board in the kitchen."
She called those "very special days."
Scary times
At 22 Ann was pregnant with her first child while Mitt was attending business and law school. She expressed her fear to the Tampa crowd saying, "I can tell you, probably like every other girl who finds herself in a new life far from family and friends, with a new baby and a new husband, that it dawned on me that I had absolutely no idea what I was getting into."
An ambitious Mitt dreamt of owning his own company and Ann was worried whether that company would be a success.
"I was there when he and a small group of friends talked about starting a new company," Ann said in her speech. "I was there when they struggled and wondered if the whole idea just wasn't going to work. Mitt's reaction was to work harder and press on. Today that company has become another great American success story."
So do you think the Romneys were the typical American family who struggled before gaining success? Do you think Ann did a good job of humanizing her husband? Let us know in the comment box below.
© Copyright IBTimes 2023. All rights reserved.