'19 Kids And Counting' Recap: Jessa Duggar Says 'Yes To The Dress,' Finds Unique Wedding Gown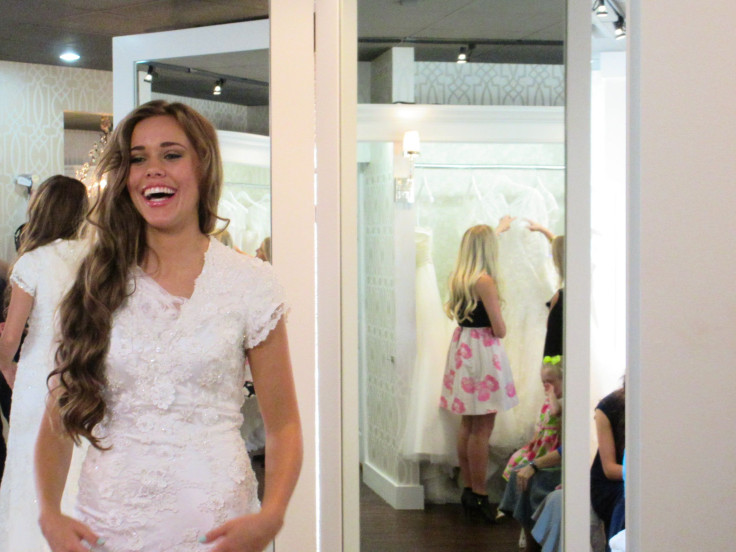 With less than two months to go until her wedding to Ben Seewald, Jessa Duggar continued to plan her big day in Season 9, episode 2 of "19 Kids and Counting" Tuesday. With dozens of items left on the couple's wedding to-do list, Jessa decided to kick their planning into full gear by finding the perfect wedding dress in "Jessa Says Yes To The Dress."
While Ben, 19, was left at home during his future wife's shopping excursion, Jessa, 22, was joined by Ben's mom Guinn and his two sisters, Michelle and Danielle. Jessa's mother, Michelle Duggar, and six of her sisters also came along for the ride.
"I'm really excited that my mom and sisters can share in this really special time with Jessa leading up to the wedding… I'm sure they cherish every opportunity to see each other," Ben said.
Fortunately for Jessa, her wedding boutique of choice had a large selection of modest dresses available. Despite requiring her dress to contain a modest neckline and sleeves, Jessa revealed she was open to wearing a different color other than white. After trying on several dresses, Jessa ultimately decided on a blush-colored gown from Allure Bridal's modest collection.
"I'd seen some pictures of blush-colored dresses in magazines and I thought that's pretty cool. It's different. It's not just your traditional white gown," Jessa said of her unique choice. "When I saw that one and tried it on, I was like, 'I actually really like this.' It's nice!"
"When I saw Jessa come out with the wedding dress I just was amazed that here we are! I feel like I just blinked and Jessa's ready to get married," Michelle added.
Being that the series tapes months in advance, viewers saw images of Jessa walking down the aisle in her unique gown in November. Check out photos of Jessa and Ben's nuptials here.
Jessa's wedding planning continued in episode 3 of "19 Kids and Counting" Tuesday. Ahead of the big day, Jessa and Ben visited their venue — they revealed to their event planners that they had invited 900 guests!— took engagement photos and picked out bridesmaids dresses.
While Jessa was busy prepping for her wedding, Jill Duggar, 23, was focused on impending motherhood. The "19 Kids and Counting" star, who is due to welcome her baby boy with husband Derick Dillard in March, heard her baby's heartbeat for the first time in Tuesday's installment.
"When I first heard our baby's heartbeat, I was just taken back," Derick, 25, shared.
Following in line with her midwifery training, Jill said she will be having a home birth and is planning to deliver naturally. "That means no drugs," she dished.
"19 Kids and Counting" airs Tuesdays at 9 p.m. EST on TLC.
© Copyright IBTimes 2023. All rights reserved.