Anti-Gay Campaign Against Michael Sam? Republican Lobbyist Wants To Ban Gay Athletes From NFL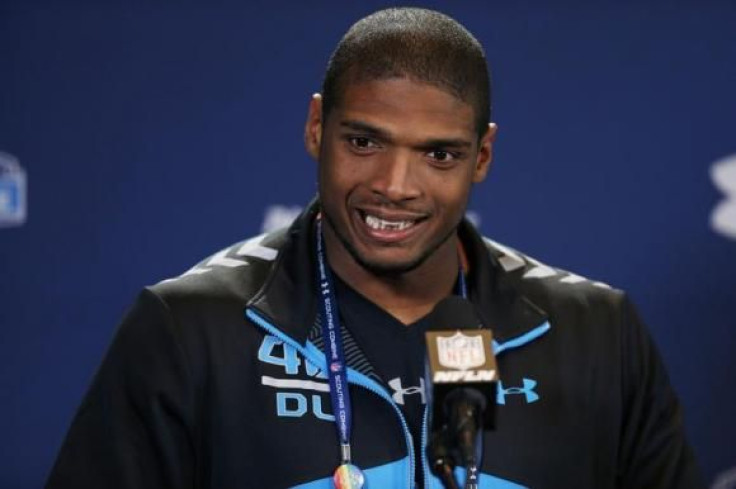 Former Missouri Tigers defensive end Michael Sam has already been put through the wringer at the NFL Combine and faced scrutiny over his sexuality, but an even bigger obstacle may be on the horizon.
A Washington lobbyist is reportedly drawing up legislation that would ban gay athletes from joining the NFL.
Jack Burkman, who's JM Burkman & Associates inked 70 new clients last year, said in a statement that he already has support from some lawmakers on the bill, but he did not mention any names.
"We are losing our decency as a nation," Burkman said in a statement. "Imagine your son being forced to shower with a gay man. That's a horrifying prospect for every mom in the country. What in the world has this nation come to?"
Burkman even took a shot directly at the NFL.
"If the NFL has no morals and no values, then Congress must find values for it," he said.
Burkman previously worked for Holland & Knight from 1998 to 2002, and his former firm distanced itself and condemned him for his comments while supporting the LGBT community.
Sam, who led the Southeastern Conference with 11.5 sacks and 19 tackles for a loss last season, could be the first openly gay player in the NFL if he is drafted or signed as free agent this spring. Before he came out, Sam was projected to be a third round pick, but afterwards his stock fell to the fourth or fifth round.
Since he came out earlier this month, Sam has received adulation for publicly revealing that he is gay, but also faced criticism. PGA golfer Steve Elkington chastised Sam over his participation during last weekend's Combine, but First Lady Michelle Obama has also called Sam an "inspiration."
At the Combine, Sam struggled during the drills including the 40-yard dash, bench press and three-cone. He ran a 4.91-second dash, which is on the slower side, and could only complete 17 reps of the 225-pound press. He finished with the third-worst overall marks in the defensive end group.
Still the 24-year-old was impressive during his interviews with the media, and his leadership qualities last season helped the Tigers post their best season in more than half a decade. Missouri captured the SEC East title with a 12-2 overall record, and might have had the opportunity to play in the national title game with Sam at the helm of the defense.
© Copyright IBTimes 2023. All rights reserved.