Apple Announces iPhone 5 Release Date Schedule For 54 Countries, Including Korea, Israel, Vietnam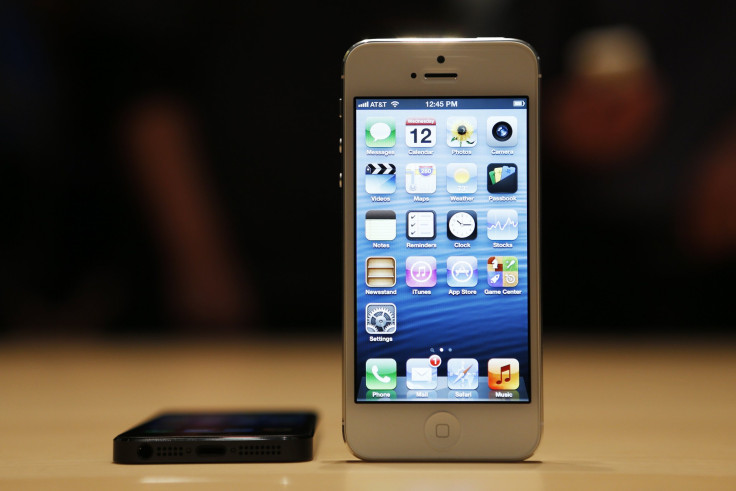 The iPhone 5 is hot right now, and Apple is doing its best to get its newest smartphone into as many hands around the world as possible before the holiday season comes to a close at the end of this month.
Aiming for another record-breaking holiday quarter -- just like last year -- Apple announced on Monday its plans to launch the über-popular iPhone 5 in 50 more countries this month, including South Korea, Brazil, Russia and Taiwan.
After releasing the iPhone 5 in South Korea on Dec. 7, Apple will then release the phone in 33 more countries one week later on Dec. 14. To ensure even more countries receive the iPhone by the all-important Christmas deadline, Apple will release the iPhone 5 in another 20 countries that following Friday, Dec. 21.
Apple's full launch list and schedule is listed below:
- Friday, Dec. 7: South Korea
- Friday, Dec. 14: Albania, Antigua and Barbuda, Armenia, Bahamas, Bahrain, Bolivia, Brazil, Chile, China, Costa Rica, Cyprus, Ecuador, Grenada, Indonesia, Israel, Jamaica, Jordan, Kuwait, Macedonia, Malaysia, Moldova, Montenegro, Panama, Paraguay, Philippines, Qatar, Russia, Saudi Arabia, South Africa, Taiwan, Turkey, United Arab Emirates and Venezuela
- Friday, Dec. 21: Barbados, Botswana, Cameroon, Central African Republic, Egypt, Guinea, Ivory Coast, Kenya, Madagascar, Mali, Mauritius, Morocco, Niger, Senegal, St. Kitts, St. Lucia, St.Vincent & the Grenadines, Tunisia, Uganda and Vietnam
At the iPhone 5 unveiling on Sept. 19, Apple CEO Tim Cook said his company hoped to ship its sixth-generation smartphone to 100 countries by the end of 2012, and with this list, Apple may have passed the century mark. The iPhone 5 is already available in 47 countries, and with the impending rollout in 54 new countries this December, the iPhone 5 will pass the century mark by the end of 2012, with units available in 101 countries around the world.
Of these countries, Apple is perhaps happiest to add China -- the company's second largest market -- to this December launch list for the iPhone 5. Apple was quick to announce its iOS launch schedule just days after Chinese regulators approved the iPhone 5 for sale in the country. Apple plans to launch the iPhone 5, iPad Mini and fourth-generation iPad with Retina Display (aka. "iPad 4") in China within the next two weeks.
The timing of these releases couldn't be better -- as demand for their iOS products reaches an all-time high leading into the holiday season, Apple has only recently started meeting demand here in the U.S., which means the company's supply chains are filling orders faster and faster.
Apple will need every unit it has to sate the iPhone's incredible demand when it launches in 54 new countries over the coming weeks. People clearly care about this device -- in 2012, "iPhone 5" was Bing's most-searched consumer electronic, most-searched story and second-most-searched overall term in 2012.
About The iPhone 5
The iPhone 5, Apple's sixth-generation smartphone, is 18 percent thinner than its predecessor (the iPhone 4S) at just 7.6mm, and is 20 percent lighter than the 4S at 112 grams. The iPhone 5 features a bigger 4-inch screen with a 16:9 aspect ratio for watching videos in full widescreen, and Apple has again made its new in-cell display a Retina Display, with a screen resolution of 1136 x 640 screen and a density of 336 ppi.
The iPhone 5's screen, according to an extensive analysis by Amherst, N.H.-based DisplayMate, is actually a "significant improvement" over the smaller screens in the iPhone 4S and 4 and is also substantially brighter and more accurate than the screen in Samsung's Galaxy S3, which many consider to be the greatest rival to Apple and the iPhone 5. Read the full lab comparison here.
The iPhone 5 is also the first Apple phone to feature the high-speed Long-Term Evolution, or LTE, network. Currently, the global LTE carriers supporting this phone include AT&T, Bell, Sprint, Verizon, Telus, Deutsche Telekom, Telstra, EE and SingTel -- as well as a number of regional carriers like Cricket, C Spire, Nex-Tech Wireless, MTA Solutions, nTelos and a slew of others.
The general theme of the iPhone 5 is speed: In addition to support for the LTE network, the iPhone 5 also features a custom-built A6 processor, which actually boasts more than twice the overall processing performance of any iOS device that has come before it, including the third-generation iPad, as well as newly enhanced camera infrastructure and the new 8-pin Lightning dock connector. The iPhone 5 is powered by iOS 6, which features more than 200 new features for the iPhone, iPod Touch and iPad, including several enhancements to its virtual personal assistant, Siri, the handy application for movie tickets and coupons called Passbook and the completely redesigned -- albeit half-baked -- Maps application from Apple.
Apple sells the iPhone 5 in two color combinations -- black and slate, or white and silver -- and at three different storage capacities: The cheapest iPhone 5 comes with 16 GB of space and sells for $199, and after that, it's $299 for 32 GB and $399 for 64GB. Apple will likely sell the phone at a slightly more expensive price point in China, as it does with several other countries in Europe and South America.
Apple sold 26.9 million iPhones in Q4 2012.
© Copyright IBTimes 2023. All rights reserved.