Apple iOS 7 Release Date To Coincide With iPhone 5S, 'Cheap' iPhone 6 Launch In September 2013?
Breaking from tradition yet again, Apple reportedly plans to release two new iPhone models this year -- a true successor to the iPhone 5 called the iPhone 5S, and a new "low-cost" iPhone aimed at emerging markets, to be called either iPhone Light or iPhone 6. But while we can say with certainty that Apple will release at least one new iPhone model in 2013, the chief question still on everyone's mind is not a matter of what, but when.
Apple is usually mum on product details before they're officially unveiled, but given what was unveiled at WWDC 2013, and the timetable announced for Apple's redesigned operating system for the iPhone and iPad, we fully believe we've cracked the code on this one. We believe the release date schedule for iOS 7 will coincide with the release of the new iPhone models, the iPhone 5S and iPhone 6, in mid-September.
But how did we arrive at a mid-September release date for the iPhone 5S and the iPhone 6? Before we get to the iPhone, let's look at some simple math related to the release date of iOS 7.
iOS 7 Release Date: Apple Says 'Fall,' But When Specifically?
At WWDC 2013 last Monday, Apple unveiled iOS 7 in all its flat, non-skeuomorphic glory, showing off familiar features that have been redesigned with Jony Ive's minimalist style in mind, and some new functional additions to iOS, including the helpful Control Center and the new Today section of Notification Center. At the end of the presentation, Apple promised that iOS 7 would see its release in the "fall," but it refused to be more specific than that.
Let's think about Apple for a second. These guys are artists and engineers, yes, but what makes them Apple artists and engineers is their ability to meet deadlines. As Apple founder Steve Jobs would famously tell them before the introduction of Macintosh, "Great artists ship." And despite the number of reported issues with iOS 7 before its unveiling, the Apple team was still able to "ship" iOS 7 so it could be revealed and demoed at WWDC 2013.
So with this framework in mind to "ship" on time, Apple likely had the full release date schedule in mind for iOS 7 before WWDC took place. In other words, Apple HQ probably had a whiteboard for the full iOS 7 release date schedule, with an X on Monday, June 10, to signify the iOS 7 unveiling. So what about its release date? Considering Apple's history with iOS releases, which have become relatively predictable at this point, we believe Apple will release iOS 7 to the public on Wednesday, Sept. 18.
Why do we believe this will be the date for the iOS 7 product release? Again, let's look at history. In 2012, Apple unveiled iOS 6 on June 11, and it released iOS 6 on Wednesday, Sept. 19 -- exactly 100 days after its unveiling. We fully believe Tim Cook doesn't want to mess with the successful Apple formula put in place by Steve Jobs, and Apple will again follow this exact timetable by releasing iOS 7 exactly 100 days after its unveiling, on Sept. 18. Like last year, the alleged iOS 7 release date falls on a Wednesday. But do you know what else happened last year? Two days after Apple released iOS 6, Apple also released its newest iPhone, the iPhone 5. That leads us to our predictions for the new iPhone models in 2013.
Apple iPhone 5S, iPhone 6 Release Dates: How Will They Again Coincide With iOS 7?
Apple would never release its newest mobile operating system without some new hardware to go along with it, so it's new hardware will not only utilize the new features in iOS 7, it will optimize them. This is why we fully expect Apple to release the iPhone 5S just two days after the iOS 7 releases on Friday, Sept. 20.
We predict the iPhone 5S will be unveiled at an event held one week prior to its release, the release date of iOS 7, on Tuesday, Sept. 10, or Wednesday, Sept. 11. But what about this new "low-cost" iPhone, the iPhone Light or iPhone 6? While Apple could easily introduce this new iPhone model at the same event, Apple allegedly has a number of iOS devices waiting in the wings, including a redesigned iPad, and an iPad mini with Retina Display; let's also not forget about the iPod family. Apple may instead choose to unveil and release its cheaper iPhone 6 at another event expected before year's end, which is expected to also unveil new iPads and maybe, just maybe, that futuristic wristwatch called iWatch.
If all of these next-gen iOS products are ready to be released by September, Apple likely won't unveil them all at this single event, especially since Apple reportedly needs at least one more event to introduce its heavily rumored iWatch, which many expect to hit store shelves by the holiday season. Apple could use this second event to unveil the low-cost iPhone and release the iPhone 6 much closer to the holidays, which helps spread some of the hype across the fall rather than having the September event be one big product release extravaganza. That said, there's still a great chance Apple will group its devices together to make it easier for consumers to keep track of what's new and what's available. If Apple chose to release its iPad 4 last September but its iPad mini last October, consumers might have been confused to hear a "new iPad unveiled" so soon after its latest iPad was released.
To make it less confusing for consumers, there's a great chance we'll see Apple do what it did last year -- choosing to unveil and release all iPod- and iPhone-related products in September, and new iPad-related products in October. In other words, Apple could unveil and release the iPhone 5S and iPhone 6 together in September, but hold another event in October to release the new iPads, as well as unveil the iWatch. The late October event has worked well for Apple's ability to build hype shortly before the holiday season; the company broke its Black Friday sales record in 2011, and has been in the Top 5 most visited retail properties on Black Friday and Cyber Monday over the last two years.
So when you break it all down, the full release date schedule for iOS 7, iPhone 5S, and iPhone 6 -- among other devices -- works like this: Apple announced iOS 7 on June 10, so the company will release the new iPhone and iPad OS to the public exactly 100 days later on Wednesday, Sept. 18. That means one week prior to the iOS 7 release date, Apple will hold an event to announce new iOS products to go with iOS 7, including the security-laden iPhone 5S and the low-cost iPhone 6. One week later, after Apple launches iOS 7 on Sept. 18, would presumably release its latest, greatest iPhone on Friday, Sept. 20. For the low-cost iPhone 6, Apple may wait a week (two at most) to release its cheaper iPhone alternative, on either Friday, Sept. 27, or Friday, Oct. 4 -- the latter date would coincide with the two-year anniversary of the iPhone 4S, and nearly two years to the day when Apple lost its co-founder Steve Jobs to cancer, but Apple would simply split the release dates of its two iPhones to prevent major crowds at its retail stores.
Looking ahead a bit further, we expect Apple to rejuvenate its fan base in late October or early November with an event centered around even more iOS products, including the unveiling and subsequent release of the fifth-generation iPad and the second-generation iPad mini, but also some surprises, possibly in the form of the iWatch, or even some major changes to Apple TV (hey, maybe even that standalone Apple TV set).
As a reminder, this entire release date schedule for iOS 7, iPhone 5S, iPhone 6, iPad 5 and iPad Mini 2 has not been confirmed by Apple, but given how Tim Cook plays very much by-the-book as a former operations guy, Apple's CEO knows not to mess with a successful formula implemented by Jobs, especially when it's resulted in better sales every year. The holiday season has traditionally been Apple's cash cow, and the company's chance to kick off new products like iPhones and iPads with big sales motivated by the giving season, but largely helped along by hype.
We Know About iOS 7; What About iPhone 5S And iPhone 6?
By all accounts, the iPhone 5S will look identical its predecessor the iPhone 5, with the exception of a few cosmetic changes. Apple has reportedly adopted dual-LED flash for its rear-facing camera, which means that circular flash is now pill-shaped, and many believe the iPhone 5S camera has been improved from the 8-megapixels in the iPhone 5, likely to 12-megapixels. A photo leaked to Apple news site MacRumors last week claiming to be the iPhone 5S shows off some of these reported features, leading us to believe the iPhone 5S is indeed legitimate and getting ready for its September release date.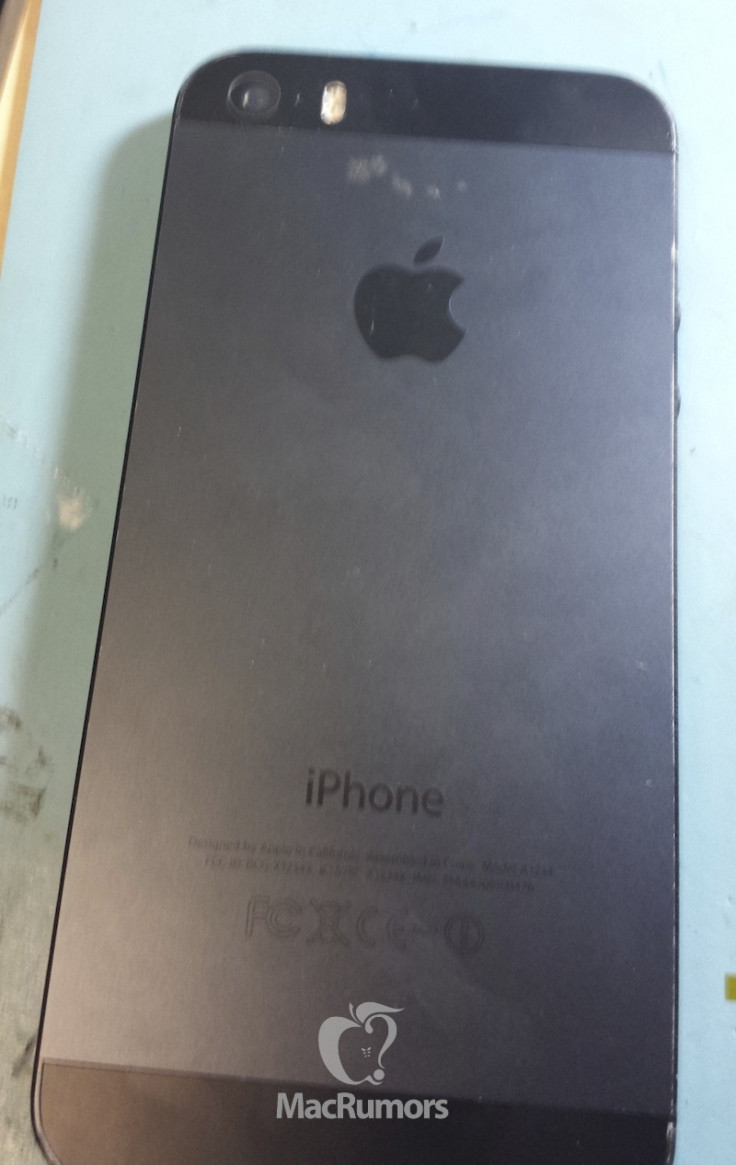 Inside, the iPhone 5S is expected to operate just like the iPhone 5, but the specs have been modified in a number of ways to make room for new features. According to another leaked image of the iPhone 5S from the same source, the phone's logic board has a slightly narrower profile to allow more space for new components and connectors, and Apple has improved its Apple-built CPU from an A6, but since the leaked image shows a nameless Apple-built chip (likely an intentional move by Apple to prevent leaks, since the new chip would make this phone a dead giveaway), we're predicting this CPU is a new A7 chip designed by Apple and introduced for the first time on this phone. The iPhone 5S has also reportedly received an upgrade in the battery department, from the iPhone 5's 5.45 Whr capacity to a higher capacity of 5.92 Whr.
But the biggest new feature inside the iPhone 5S, by all accounts, is the integrated fingerprint sensor embedded directly in the "home" button, which will likely replace the need for entering usernames and passwords again and again on your phone. A fingerprint sensor makes a great deal of sense on the iPhone 5S: The iPhone has always had one button, so the fingerprint's sensor makes sense, but Apple knew fingerprint sensing technology would be a hit with consumers a long time ago, so the company invested millions of dollars to start implementing this technology as soon as possible.
Apple doesn't acquire companies often, but when it does, it's for a big reason. Past companies acquired by Apple include Lala (now iTunes Match), Quattro Wireless (now iAd), and Siri (well, you know). So last July, Apple acquired Florida-based AuthenTec, which was floating around its new smart sensor technology to several electronics companies at the time, including Alcatel-Lucent, Cisco, HP, Lenovo, LG, Motorola, Nokia, Samsung and others. Apple, however, was the only company that wanted to help develop the technology in addition to licensing it. This technology inside the alleged iPhone 5S, which can accurately and securely detect and encrypt data about your fingertip, is what's reported to be the selling point of Apple's seventh-generation smartphone.
But what about the other "low-cost" iPhone, the iPhone Light or iPhone 6? Apple is reportedly pursuing its same strategy used for the iPod Touch, which is to release a low-end version of the popular iDevice with all of the same important basic features, without some of the bells and whistles, at a much more digestible price point. Apple released its cheapest, thinnest, most basic iPod Touch in May, likely foreshadowing its strategy with iPhone 6.
The iPhone 6, according to iLounge editor-in-chief Jeremy Horwitz, is a "cross between the iPhone 5, the fifth-generation iPod touch, and -- wait for it -- the iPod classic." With its 4-inch screen like the iPhone 5, a tapered bottom like the latest iPod touch and a rectangular shape like the iPod classic, the low-cost iPhone 6 is said to be substantially made from plastic, but feature a hybrid chassis made of both plastic and metal. The right side of the iPhone 6 features a flat, centered SIM card tray like the iPhone 5, with the locations of the camera, microphone and rear flash in similar locations to the latest-generation iPod touch.
But Apple's choice to release the iPhone 6 isn't about bold design; it's about making an iPhone that's inexpensive to make and cheaper to sell. Apple will sell the iPhone 6 globally, marketing it differently than its main iPhone line by allegedly releasing the iPhone 6 in a variety of candy colors (again like the iPod), but the company will reportedly focus on driving this phone in the world's emerging markets like India, but particularly China. Of the two developing markets, China is Apple's second largest market, and Apple has many times tried to strike a deal with China Mobile Ltd. (NYSE:CHL), the largest telecommunications carrier in the world with 703 million subscribers. If Apple is successful in selling the iPhone 6 on China Mobile, the iPhone 6 will be the first iPhone to release with TD-LTE frequency capabilities. Apple clearly wanted to close the deal early in 2013: On Jan. 10, Apple CEO Tim Cook visited China Mobile headquarters to meet with China Mobile's chairman Xi Guohua to discuss "matters of cooperation."
We expect Apple to unveil the iPhone 6 simultaneously with the iPhone 5S in September to coincide with the release date of iOS 7, but release the two new iPhone models on two separate dates to avoid heavy lines at its physical retail stores. For a preview of iOS 7, check out how to download and install the iOS 7 beta on your iPhone right now.
Apple sold 37.4 million iPhones in the quarter ended March 30, 2013.
© Copyright IBTimes 2023. All rights reserved.