Apple iPhone 6 Release Date Rumors: Why September 2013 Makes Sense To Launch The 'Cheap iPhone 5'
Analysis
Apple Inc. (NASDAQ:AAPL) typically chooses to release a new iPhone model every 11 months -- besides the 15-month wait between the iPhone 4 and iPhone 4S -- and it looks like the company will follow a similar pattern this year, even though it reportedly has two new iPhone models it wants to release, the security-heavy iPhone 5S and the cheaper-built iPhone 6.
We believe Apple will release both the iPhone 5S and iPhone 6 in September, based on the predictions of a handful of analysts who have been accurate in the past.
While some bloggers such as the U.K.-based Tactus believe the iPhone 6 will be launched in October, most Apple analysts think the iPhone 6 release date will arrive between June and September.
Piper Jaffray analyst Gene Munster believes the iPhone 6 will be launched in September, after the iPhone 5S sees its release date in June.
Barclays analyst Kirk Yang said (via Taiwan's Chinese-language Commercial Times) he believes Apple will release both the iPhone 5S and iPhone 6 around the same period, between August and September.
But among these Apple analysts, the opinion of KGI Securities' Ming-Chi Kuo may mean the most, considering his impressive accuracy in predicting Apple's full product pipeline in 2012. This week, MacRumors reported Kuo published a new note that said Apple would likely delay the release date of the iPhone 5S to September, due to issues with producing the fingerprint sensor, so it's possible Apple would also delay the release of the iPhone 6 to launch both phones simultaneously.
As AppleInsider noted, Kuo originally said in his 2013 roadmap that Apple would release the iPhone 5S and iPhone 6 at the same time in the "third quarter of 2013," which would be between June and September.
IPhone 6 Release Date: Why September 2013 Makes Sense
We can't just look at iPhone rumors in a vacuum: Other considerations need to be taken into account, including other products Apple hopes to unveil and release this year.
Even though Apple hasn't released any new products in the first four months of the year, Apple reportedly has a full plate in 2013, with plans to release updated Apple TVs, iPads, iPods, iMacs, MacBook Airs and MacBook Pros, as well as iPhones. The company may even release its first smartwatch, likely called "iWatch."
Starting in June, Apple is expected to announce all its new software at WWDC 2013, including iOS 7 and Mac OS 10.9. The company will also likely introduce some new hardware to accompany its new software, including a new Apple TV, a new Mac Pro and new MacBook Pro and MacBook Air laptops.
Assuming Apple releases those products in June, the company still has its next round of iPads waiting in the wings, including the iPad 5 and iPad mini 2. Apple may release those products close to the end of summer, because its current iPads were just released in October, which would allow ample time to build consumer hype as the company readies production of the tablets.
With the new iPads out of the way, Apple has a clear landing to release the iPhone 5S and iPhone 6 in mid- to late September, which would give the company plenty of time to advertise and hype its new phones before the all-important holiday season. Apple's been having great success releasing new smartphones and tablets closer to December, as the last two years have seen record earnings posted in the holiday months.
IPhone 6 Release Date Coming: What Will The 'Cheap IPhone 5' Look Like?
This week, Tactus released what he claimed to be the rear shell of a white iPhone 6, which revealed a plastic redesign of the external components.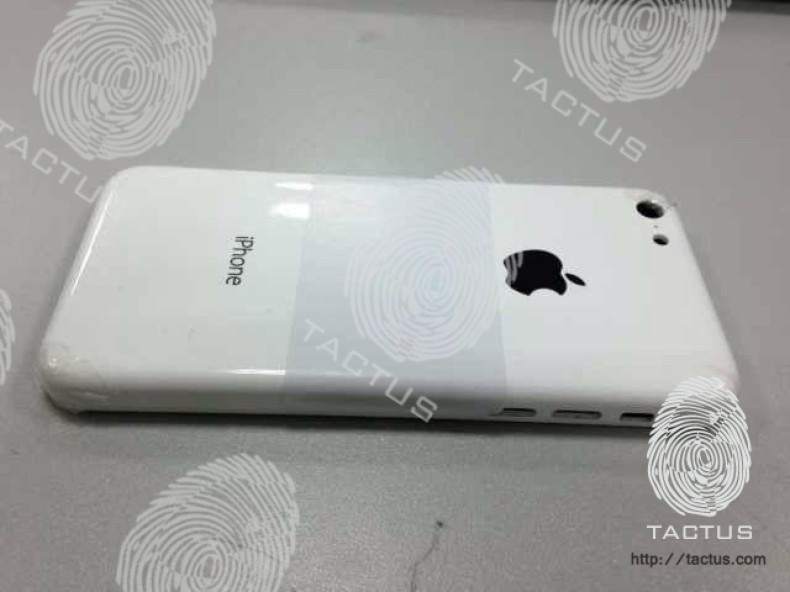 "It looks like it features an all uniform plastic polycarbonate shell -- very different to the iPhone 5′s sleek aluminum look, but still modern and covetable," Tactus said in a blog post. "It's also interesting to see that the plastic shell measures in at 0.4-0.6mm thick, however the actual phone might be around 9mm thick, 120mm in height and around 62-65mm in width, which means it's likely both taller and wider than the iPhone 4/4s! It's also rumoured it will have a 3.5 inch retina screen, much like the 4S, but not as big as the iPhone 5 -- a few more pennies saved with that compromise!"
Tactus' alleged photo aligns well with previous reports and rumors about the phone's features and specs. The iLounge editor-in-chief Jeremy Horwitz, who detailed in January what he called the "budget iPhone 5," described the iPhone 6 as a plastic iPhone 5 with several design tweaks.
"Yes, it will be made substantially from plastic," Horwitz wrote, echoing an earlier DigiTimes report that said the iPhone 6 would feature a hybrid plastic-metal chassis. "No, it won't just be a Retina- and Lightning-equipped refresh of the iPhone 3G or 3GS, Apple's last plastic iPhones, nor will it look just like an all-plastic version of the iPhone 5. This new model is actually a cross between the iPhone 5, the fifth-generation iPod touch, and -- wait for it -- the iPod classic. Yes, really. It will have a 4-inch screen, like the iPhone 5, a bottom like the latest iPod touch and a shape that's most similar to the iPod classic."
Horwitz said the low-cost iPhone 6 will feature specs nearly identical to those in the iPhone 5, but will be "a half-millimeter taller and a half-millimeter wider," as well as a full millimeter thicker.
While changes to the iPhone 5 dimensions in the iPhone 6 are minimal, Horwitz noted the biggest design change in the iPhone 6 will be its new curves.
"Apple's budget housing looks closest to the iPod classic in shape, though not in materials," Horwitz said. "Unlike the plastic iPhone 3G/3GS, which featured soft curves on all sides, the budget iPhone's curves start and end at flat surfaces, so each side and the back are flat. This seems like a trivial change, until you realize that it allows Apple to use flat rather than curve-matched parts: The right side has a flat, centered SIM card tray just like the iPhone 5's, while all of the buttons and ports are on flat rather than curved surfaces. A flat-backed iPhone won't rock on a flat surface when it vibrates, either."
The proportions of the iPhone 6 components are said to resemble those of the latest-generation iPod touch, with similar locations for the camera, microphone and rear flash, according to Horwitz. The bottom microphone, headphone jack, Lightning dock and speaker are in the same locations as in the iPhone 5, but the new iPhone 6 is said to have an extra microphone on the bottom, as well as four individual holes for the speaker grill, rather than the 26 speaker holes at the bottom of the iPhone 5.
"In summary, the budget iPhone will look a lot like an iPhone 5 from the front, an iPod classic from the side and an iPod touch 5G on the bottom -- only made from plastic rather than glass or metal," Horwitz concluded. "It won't make any bold departures from past Apple designs, but then, it's supposed to be an inexpensive iPhone and achieves that goal pretty much as expected."
Considering the photo's uncanny resemblance to Horwitz's highly detailed description, we can say that if Apple plans on releasing a plastic iPhone 6, this is most likely what it will look like. It's possible the finished iPhone 6 will be a bit thinner and taller than the pictured mold above, but the overall design is stylish enough to appeal to consumers, and it's a low-cost production option for the company -- a win-win.
Although the bloggers agreed on the appearance of the iPhone 6, Tactus and iLounge's Horwitz disagreed on the phone's specs. Horwitz believes the next iPhone will feature an Apple-built A7 chip, while Tactus hears the budget iPhone will feature an A5 processor like the iPad mini, but with a 32nm die cast. Horwitz and Tactus also disagreed on the camera: Horwitz believes the iPhone 6 will integrate a new aperture and 13-megapixel lens, while Tactus says the cheap iPhone specs will include a "handy 5MP camera, again like the iPhone 4."