Apple iPad Mini 2 Rumors: Release Date Coming In September At The Same Price As The Original?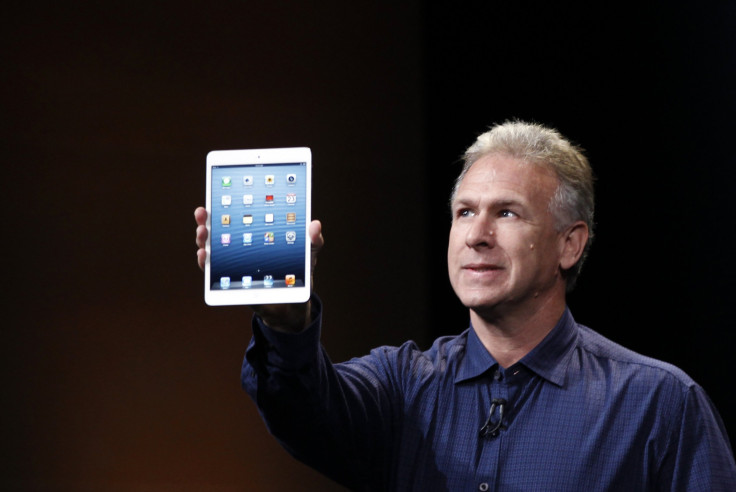 Apple is reportedly working on a new iPad mini with a 7.9-inch Retina display, and according to Santa Clara, Calif.-based NPD DisplaySearch, Apple will begin production on its iPad mini "2" in the next two months with its release date to follow shortly thereafter, most likely in September or October.
"We should see the start of mass production of the panels in June or July," NPD DisplaySearch analyst Richard Shim told CNET.
Confirming previous rumors, Shim said the iPad mini 2 will release with the same 7.9-inch frame as its predecessor, but with double the display density and four times the resolution; compared to the 1024 x 768 pixels at 163 ppi of the original iPad mini, the iPad mini 2 is said to measure 2048 x 1536 pixels at 324 pixels per inch (ppi).
"We're going to start to see a bunch of tablets [coming out] with a pixel density over 300," Shim said, adding that Amazon and Google are working on 300-plus ppi displays for their new Kindle Fire and Nexus tablets, respectively.
"At a certain point it will be hard to discern that improved image quality," he said.
LG Display will reportedly lead the way in terms of manufacturing the iPad mini 2 prior to its release date, with other manufacturers like Taiwan's AU Optronics pitching in; meanwhile, Samsung, which had helped manufacture previous iPhones and iPads, is reportedly not involved with any current or future generation iPad mini tablets, which isn't surprising when one considers the intensifying rivalry between the two computer companies.
iPad Mini 2 Rumors: Will Apple Change The Price?
In all likelihood, Apple will release the iPad mini 2 at the original price points of the iPad mini, but lower the price of the first iPad mini to appeal to more consumers.
KGI Securities analyst Ming-Chi Kuo, who's one of the best in the business when it comes to tracking Apple rumors, believes Apple will release its original iPad mini between $199 and $249, but with fewer features and older specs. Kuo believes the original iPad mini will lack a rear camera and be powered by a generations-old dual-core A5 processor.
With a powerful and beautiful iPad 2 with Retina display, as well as a cheaper version of its original iPad mini, Apple might be able to make a dent in Android-built tablet sales, which have slowly begun to loosen Apple's grip on the tablet marketplace over the last year.
Even though the iPad mini is considerably cheaper than Apple's full-sized iPad, the option to release a cheap iPad mini alongside its iPad mini 2 would appeal to a wider range of income levels, even though critics say the iPad mini is actually cannibalizing sales of Apple's other products, such as the full-sized iPad and MacBook Air.
"Seems perfectly reasonable to me to have both iPad and iPad mini," Apple CEO Tim Cook said during the Goldman Sachs Technology and Internet Conference in February. "I think this is going to be the mother of all markets. Customers are voting, and they're buying."
According to Kuo's Apple pipeline for 2013, iPad mini 2 and the new "basic" iPad mini will both see a release date in late September or early October.
© Copyright IBTimes 2023. All rights reserved.