Apple Music, Still Free, Surpasses Spotify In Web Traffic In Australia and New Zealand, Report Says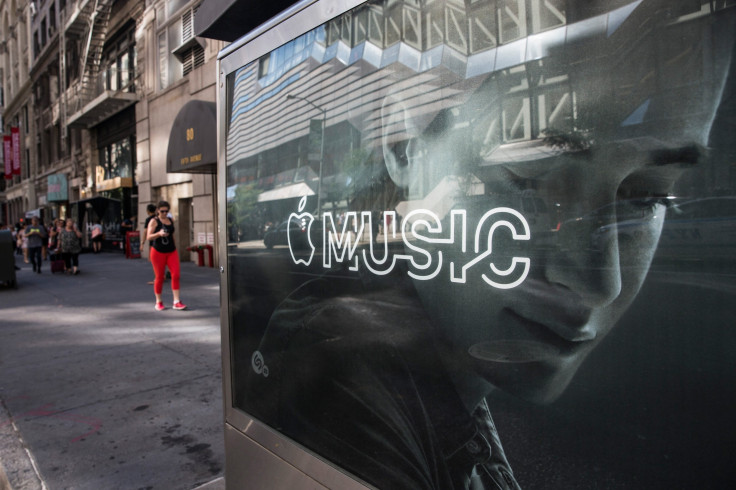 Apple Music has overtaken Spotify on the other side of the world. According to a report published Thursday by Sandvine, a company that monitors web traffic around the world, Apple Music is now responsible for more mobile web traffic than Spotify in the Asia-Pacific region, thanks mostly to strong use in Australia and New Zealand.
Sandvine found that during the month of July, Apple Music accounted for 0.8 percent of the region's downstream mobile web traffic, or traffic generated from consumers downloading content to their mobile devices. Spotify, which had been the streaming music leader in the region, accounted for 0.6 percent. The report did not address any of the other streaming music services available in the region.
The Sandvine report was the second piece of data to surface this summer that speaks to the interest Apple Music has piqued in listeners since it launched a three-month free trial on June 30. In August, the web traffic measurement firm comScore published data showing that Apple Music was one of the 25 most used mobile apps in the United States.
But the fact that Apple Music is currently in a free trial mode should be regarded as a huge grain of salt. Apple has said that it will not offer a free tier of its service, so it remains to be seen how many of its reported 11 million users will stick around once this trial for its earliest adopters concludes at the end of this month.
"Once the free trial offered by Apple begins to expire," the report reads, "it will be very interesting to revisit the data to see if Apple is able to maintain first place as subscribers must decide if they want to pay for the service."
While Spotify has amassed some of its 75 million monthly active users through bundling deals with telecommunications companies, the reality is that 20 million people are now voluntarily paying a monthly fee to use its premium tier.
Culture shock
Apple Music's launch in the Asia-Pacific region could play out differently than it has in North America or Western Europe. Though mobile web users in the region are very comfortable using streaming video services like YouTube, streaming music is still in its infancy there. iTunes (1.89 percent) accounts for more than three times the downstream traffic Spotify does, and services like DailyMotion (2.61 percent) and YouTube (17.58 percent), rich repositories of free music, dominate the region.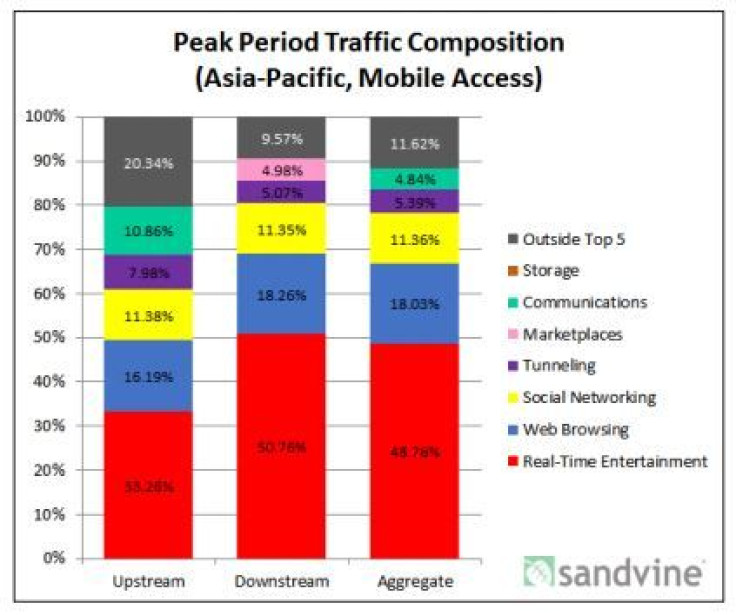 The Asia-Pacific region is also distinct from other markets because of how prevalent file sharing remains. It is one of the last regions of the globe where file sharing still represents the biggest source of upstream web traffic, or web traffic caused by users uploading files from their computers, though Sandvine notes that file sharing's biggest days have likely come and gone in the region.
Regardless of whether Apple Music manages to retain all the Asia-Pacific users that checked out the service's free trial, its splash into the world's streaming music market could lift all boats; Spotify's CEO said user growth has sped up since Apple Music's launch. There are also plenty of ears to be won in the coming years. According to ABI Research, the number of people paying for a streaming music subscription is set to nearly quintuple over the next five years, to 190 million people.
© Copyright IBTimes 2022. All rights reserved.
FOLLOW MORE IBT NEWS ON THE BELOW CHANNELS