Apple?s ?Correction?: 5 Reasons Why The Shares Have Declined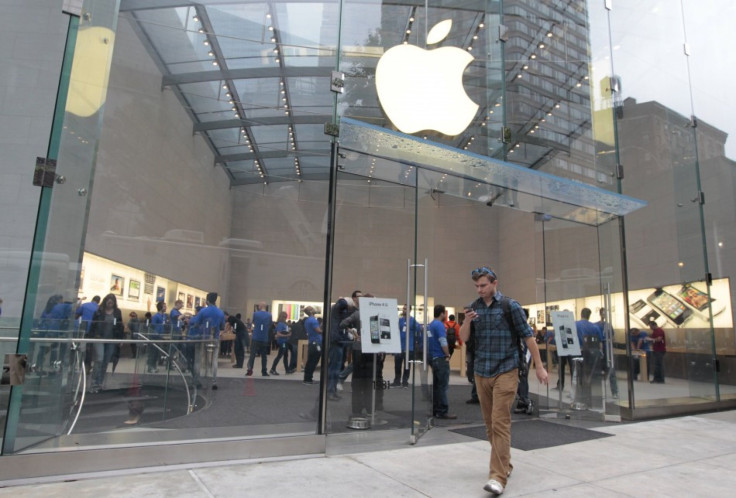 A month ago, shares of Apple (Nasdaq: AAPL), the world's most valuable technology company, closed at their record high of $628.64. On April 10, they hit their all-time high of $644.
On Wednesday, Apple shares traded around $569.81, up $1.62 in late trading, having traded as low as $560.85. That means the shares have dropped as much as 13 percent, when just 10 percent signals a correction.
Is Apple doomed?
Analysts have a mixed opinion about the Cupertino, Calif., developer of MacBooks, iPods, iPads, iTunes, the iCloud and something called the iPhone 4S.
They expect the Apple profit machine to keep socking in earnings for the current third fiscal quarter. They expect net income to jump as much as 26 percent to $9.64 billion, or $10.29 a share, as revenue leaps 31 percent to $37.5 billion in the period ending in June.
So why would the shares take such a beating?
They rose too far, too fast. Along with the rest of Nasdaq, which rose 20 percent alone in the first quarter, Apple shares had a meteoric rise, breaking past the $500 and then $600 barriers within weeks. A year ago, they were at $310.
Despite the correction, Apple shares are still up 41 percent in 2012.
Higher anticipated costs. Now facing up to the issues of cheap labor at factories of its main contractor, Foxconn International (Hong Kong: 2038), CEO Timothy Cook visited facilities during his China visit after the Fair Labor Association identified abuses. They include excessive overtime.
Foxconn, shortly after Lunar New Year, promised to raise wages and to deal with the Fair Labor Association findings. That could mean Apple might either raise its already high prices or trim some of its high-margin profits from them. That could lower earnings.
Antitrust lawsuits. Now powerful in the media business, Apple was sued by the U.S. Department of Justice along with five other publishers for alleged antitrust violations to fix the prices of ebooks.
Although divisions of CBS (Nasdaq: CBS), News Corp. (NYSE: NWSA) and Pearson (NYSE: PSO) settled, Apple and Macmillan, a unit of Germany's private Holtzbrinck, want to go to trial in U.S. District Court in New York. Litigation could be costly and lead to penalties in triple damages.
Sony's new CEO. Sony (NYSE: SNE), Japan's electronics and entertainment combine that originated many of the products that Apple improved upon, now has a new CEO, Kazuo Hirai, who's pledged to restore some of founder Akio Morita's lost luster.
Meanwhile, market researchers have reported that Samsung Electronics (Seoul: 005930) is now the No. 1 seller of smartphones, outpacing the iPhone 4S and older iPhone 3s still on the market. Competition is heating up.
Falling carrier subsidies for the iPhone. This one could be key because new iPhone suppliers such as Sprint Nextel (NYSE: S) had to fork over as much as $30 billion to Apple in order to get the new phones and sell them to customers below cost.
Verizon Wireless, a part of Verizon Communications (NYSE: VZ) and AT&T (NYSE: T) have said they want to follow suit. Outside the U.S., Spain's Telefonica (NYSE: TEF) and Britain's Vodafone (NYSE: VOD) have made similar noises.
In his second-quarter conference call with investors, CEO Cook brushed off the concern, noting, Our focus is on making the very best smartphone in the world. Period.
At Wednesday's prices, Apple still remains the world's most valuable company, with a capitalization of $533.7 billion. That's $144 billion greater than that of No. 2, Exxon Mobil (NYSE: XOM).
© Copyright IBTimes 2023. All rights reserved.