Arby's Employee Finger Found in Sandwich: 3 Other Fingers Discovered in Fast Food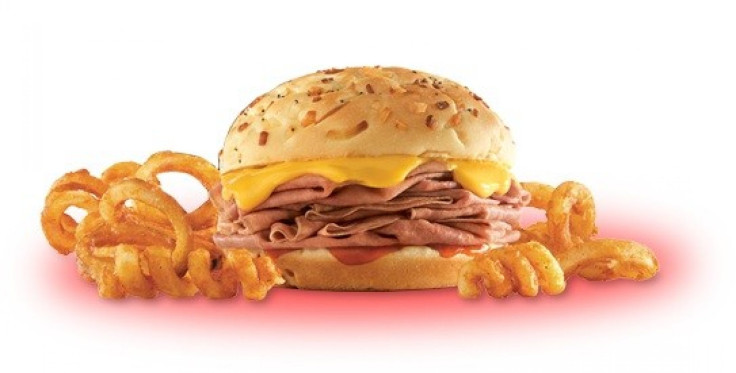 A Michigan teen found his usual Arby's roast beef sandwich a little chewier than usual, only to discover it contained an extra ingredient: An employee's finger.
Ryan Hart, 14, told the Jackson Citizen Patriot that the fleshy, rubbery texture of the sandwich tasted a lot like a finger. I was like, 'that (has) to be a finger.' I was about to puke. ... It was just nasty, he said.
Upon further investigation, the Jackson Citizen Patriot found that the extra ingredient was in fact a part from an employees finger, who had cut it on a meat slicer.
John Gray, a spokesman for Atlanta-based Arby's, apologized for what he called an unfortunate and isolated incident. He explained that the restaurant stopped production immediately after they found out what happened.
The incident is still under investigation, but the restaurant has been fully cleaned and sanitized, according to Gray.
Oddly enough, this is not the first time a finger has been found in fast food.
Arby's
In 2004, the Associated Press reported that an Ohio man had found human flesh three fourths of an inch long in his Arby's sandwich. Upon further investigation, health officials found out that the manager had sliced his thumb while cutting shredding lettuce, and didn't dispose of the piece of lettuce he was cutting.
TGI Friday's
In 2006, the AP reported an incident where a Friday's customer found a piece of a finger in his burger. Again an investigation revealed the employee had cut their finger while preparing the food.
Wendy's Finger Scam
It turns out not all fast food joints are to blame for the fingers discovered in their food. A woman in Las Vegas planted a finger in her Wendy's burger and reported that she had found a human finger in her food. An investigation revealed that the finger belonged to her husband's co-worker, who had lost it in an accident and the couple was convicted on felony grand theft charges, the New York Times reported.
The recent incident at Arby's will likely result in severe sales loss for the company. The boys mother has contacted a lawyer, but has not yet decided what course of action to take, the AP reported.
Hart was feeling fine after the incident. He was taken to hospital for a blood test and prescribed some medicine, according to reports.
© Copyright IBTimes 2023. All rights reserved.
FOLLOW MORE IBT NEWS ON THE BELOW CHANNELS