'Are You The One?' Season 3, Episode 5 Spoilers: First Perfect Match Revealed; Which Couple Visited The Truth Booth? [RECAP]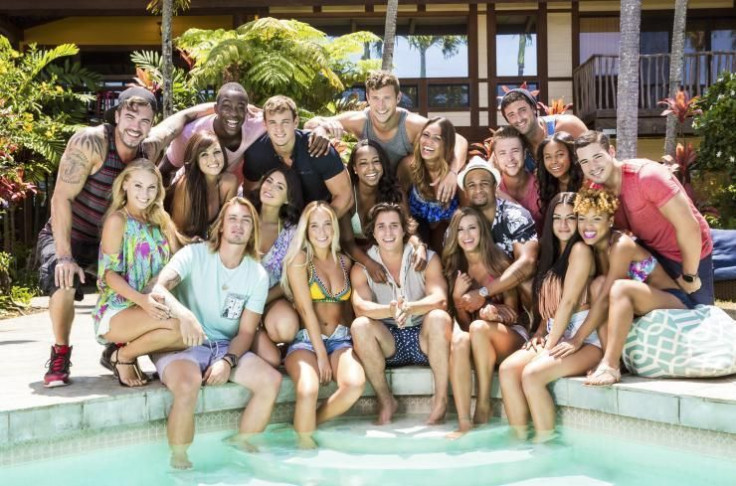 The search for true love continued on Wednesday's Season 3 installment of "Are You the One?" Unfortunately for the show's cast, their journey in episode 5 did not get off to a good start. Following episode 4's tense matchup ceremony, Kayla makes it clear she's upset with Connor for choosing Chelsey by slapping him in the face after returning to the house.
"If you had a reason, or a logic behind what you did, I would listen to it and respect it," Connor says, calling Kayla's actions disrespectful.
Chelsey stirs the pot, reminding Kayla that Connor is not her perfect match.
Meanwhile, Chuck and Hannah work out their differences. Chuck apologizes to his former flame for not standing up for her when Britni called her the "definition of stupidity" in episode 4. Hannah says she's fine with giving him a second chance, but doesn't want to look like a fool in front of the rest of the house. The two eventually kiss and make up.
The Challenge
Host Ryan Devlin introduces the challenge "Anything For Love," reminding the contestants they're at the halfway mark in the competition. The ladies are told they must put their hearts -- and their stomachs -- to the test with three rounds of the vomit-inducing game. While the girls are less than thrilled about the challenge, Devlin announces there is an incentive. The first-place winner will not only get to chose her date partner, she will also get to pick her runner-up's date.
Ultimately, Chelsey wins and picks Connor as her date partner. Rashida, the second-place winner, is matched with Nelson.
During their outing, Connor calls Chelsey a "page turner." Chelsey says she feels he may be her perfect match. In a one-on-one conversation, Connor says it is her selflessness that attracts him to her.
"That's a rare thing to find in this world," he says. "People are so sure that the guy who dies with the most s--- wins. Wealth shouldn't be measured by the amount in your bank account, it should be measured by the affect that you have on others. You're a wealthy girl."
Truth Booth
Unsurprisingly, the house votes for Chelsey and Connor to visit the truth booth. If their connection during their date wasn't enough of an indication, the truth booth reveals the lovebirds are a perfect match -- the first one for the Season 3 cast.
"The matchmakers got it right on the nail. It works, guys," Chelsey says ahead of her trip to the honeymoon suite.
Kayla is not thrilled by the reveal. "It sucks. Connor has my heart," she tells the cameras.
House Drama
While the house celebrates the first perfect match of the season, Cheyenne lets Nelson know she shared a kiss with Zac. Nelson reacts by calling himself an "alpha," slamming doors, interrogating Zak and nearly hurting Britni by punching a door. Cheyenne says she's over his drama and realizes that Nelson is not her perfect match.
Relive Nelson's upset below:
Meanwhile, despite apologizing to Hannah for his fling with Britni, Chuck rekindles his romance with his former truth booth partner. Hannah and the rest of the house watch as Chuck, who describes himself as an "incredibly sexual person," locks lips with Britni. When Chuck approaches Hannah to talk about his hookup, she refuses to accept his apology.
Matchup Ceremony
With Connor and Chelsey a confirmed perfect match, the nine remaining ladies are left to pick their matchup partners for the week. During the ceremony, Hannah lets Devlin know about Chuck's hookup with Britni and Cheyenne tearfully remarks about the disrespect she has received from the men in the house. Cheyenne asks for all the fighting and negativity to stop, resulting in a round of applause from her female castmates.
Despite having one perfect match under their belt, Devlin says the cast is still able to receive a blackout -- meaning the loss of $250,000 -- if they fail to find at least one perfect match. Ultimately, the beams of light reveal there is only one other perfect match present.
Who Chose Who In Episode 5:
Chelsey-Connor (confirmed)
Melanie-Hunter
Britni-Mike
Stacey-Alec
Kayla-Zak
Rashida-Nelson
Cheyenne-Devin
Hannah-Austin
Kiki-Chuck
Amanda-Tyler
"Are You the One?" airs Wednesdays at 10 p.m. EDT on MTV.
© Copyright IBTimes 2023. All rights reserved.