'Are You The One?' Season 3, Episode 7 Recap: Promising Couple Goes Into Truth Booth; Was A Second Perfect Match Revealed?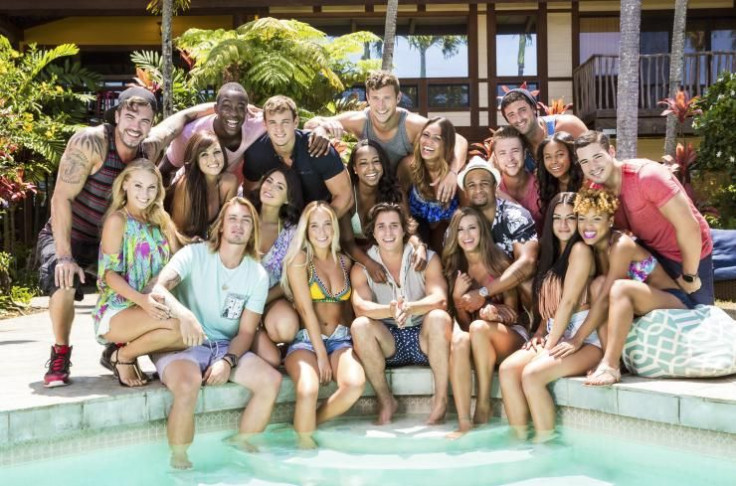 After several near blackouts, the MTV "Are You the One?" Season 3 cast has decided they need to come together and work as a family in order to win. Amid their disappointment over the last matchup ceremony -- which resulted in only three perfect matches -- the house decides to put on a talent show in episode 7, "Flirting With Disaster." Kiki is taken aback by Devin's playful side during the show and Hunter shares a touching poem about the house coming together.
The Challenge
The getaway challenge, "You Guys Really Need a Helping Hand," has the house working in pairs to build a tower of blocks. The guys are blindfolded and the girls order them where to place blocks, forcing the couples to learn to communicate. The two couples able to properly arrange the blocks in the fastest time win spots on the date. Alec and Melanie place first and Hunter and Rashida come in second. The couples are awarded a horseback-riding date.
House Drama
After the challenge, Alec tells Melanie he's excited for their date, but not everyone is happy for their impending outing. Stacey sees Alec cuddling with his new flame and says she feels disrespected. Tyler is also upset about Melanie's new connection. While they voice their hurt feelings, Kayla and Mike begin to bond. Their flirtations upset Amanda, who has been a longtime flame of Mike's. When the two lovebirds have a food fight, Amanda scolds them for wasting food. Nelson calls Amanda out, saying she is upset not over food waste, but over her feelings for Mike.
The Date
The getaway date has the two couples dress in country gear. Hunter says he thinks he could have a connection with Rashida because they both come from the South. While Hunter and Rashida discuss hunting during their alone time, Melanie and Alec talk about their potential to be a perfect match. Melanie says she would be more than happy to go to the honeymoon suite with Alec. Alec says he has an intimate connection with Melanie and the two share a steamy kiss.
Truth Booth
Before the ceremony Alec tells the house his "bags are packed." Stacey is upset over Alec's comments, saying she feels he's lying to himself and Tyler is hurt about the idea of Melanie leaving the house with another man. Fortunately for Stacey and Tyler, Melanie and Alec are voted into the truth booth but revealed to not be a perfect match. After learning about their status, Amanda says she still thinks Alec could be the one for her.
When the truth booth reveals yet another failed match attempt, Kayla convinces the house to get to know each of their cast members better. The house decides to have conversations with people they don't usually take the time to get to know. Alec and Rashida rekindle their connection -- viewers will remember they kissed in episode 1 -- and Cheyenne reveals a secret crush on Chuck. Kiki fails at the house's speed dating by spending her time with Mike keeping tabs on Devin.
After seeing Devin bond with Britni, Kiki tells Devin she needs to talk to him and reveals she has been falling in love with him. Devin tells the cameras everything Kiki tells him is "ammo" to "play her" and make her look dumb. "She is a puppet," he says. "She will sleep with me, do whatever I want, and that is truth."
Cheyenne calls Kiki weak for staying with Devin and says she think he's using her. Rashida says Kiki will learn the truth the hard way.
Honeymoon Suite
Connor and Chelsey reveal they're getting along well in the honeymoon suite. Connor says he plans to confront his fellow contestants if they fail to get more beams of light during the matchup ceremony.
Matchup Ceremony
The girls are given the power to pick their matches during episode 7's ceremony. When host Ryan Devlin asks Kiki about her relationship with Devin, Connor lashes out at Devin for manipulating her and treating her "like a piece of meat." Once again, only three beams of light are revealed. Devlin tells the house they're clearly going after want they want, not what they need, in picking their weekly matches.
Connor-Chelsey (confirmed)
Rashida-Alec
Kiki-Nelson
Amanda-Hunter
Britni-Devin
Melanie-Chuck
Hannah-Zak
Stacey-Mike
Kayla-Austin
Cheyenne-Tyler
"Are You the One?" airs Wednesdays at 10 p.m. EST on MTV.
© Copyright IBTimes 2023. All rights reserved.