Arsenal Transfer News: Hummels In, Podolski Out In January? 2 Other Players Linked In Latest Rumors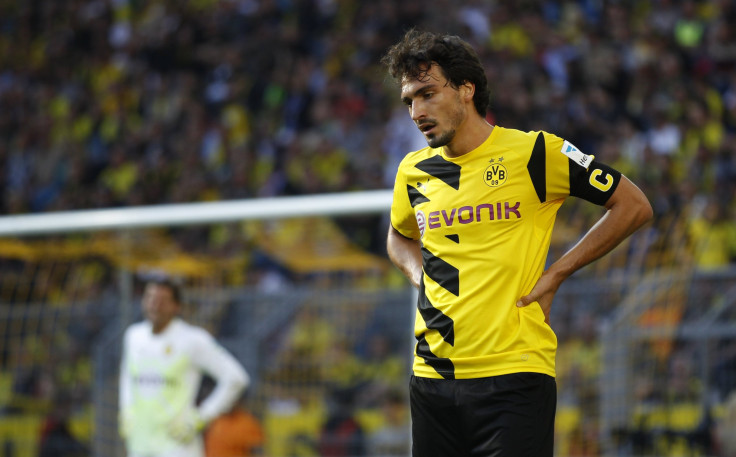 Arsenal manager Arsène Wenger has revealed that he intends to sign a defender in the January transfer window, after his already meager options have been further diminished by injuries at the start of the season. Despite bringing in Mathieu Debuchy and Southampton teenager Calum Chambers, Arsenal failed to sign an experienced center-back following the sale of Thomas Vermaelen to Barcelona. While praising the transfer business done over the summer that also saw the arrivals of Alexis Sánchez, Danny Welbeck and David Ospina, Wenger confirmed that he wanted another defender and will make a fresh attempt to reinforce when the transfer market reopens.
"I believe we have done remarkably well on the transfer market," he said at Arsenal's Annual General Meeting on Thursday. "We could have bought one more player. We didn't find him. We will try in December to rectify that because we are a bit short with the injuries we have. Overall, we will rectify that in the transfer market in January."
At the same meeting, chief executive Ivan Gazidis insisted that the club "are not sitting on a huge cash pile." Yet, according to The Telegraph, Wenger will be given £20 million to spend on transfers in January. It is hard not to think that a good chunk of that will go on signing a central defender. Arsenal's thin resources are set to be exposed on Saturday when Debuchy will be joined on the sidelines by Laurent Koscielny, meaning that Nacho Monreal could be asked to play against Hull City as a makeshift center-back.
The major rumor on Thursday comes from the Daily Express, which suggests that Arsenal are "preparing" a £32 million bid for Borussia Dortmund central defender Mats Hummels. According to the report, Arsenal have moved ahead of fellow suitors Manchester United due to Hummels' desire to continue in the Champions League.
Few facts about this particular piece of speculation add up, however. Notably, Hummels would be ineligible to play in the Champions League for Arsenal for the remainder of the season if he were he to sign in January and Manchester United could well be back in the competition next year. Hummels also recently stated in passionate terms his reasons for wanting to remain at Dortmund, even if it means passing up more money elsewhere. Meanwhile, Dortmund would be hugely reluctant to part with the 25-year-old, especially midway through the season.
Any transfer fee would, of course, far exceed the £20 million Arsenal reportedly have available. There is speculation, though, that Arsenal's funds could be bolstered by the sale of Lukas Podolski. The 29-year-old has started just once this season, and that was in the Capital One Cup, prompting him to admit he is considering his future.
"Definitely, I cannot be satisfied with the situation I am in at Arsenal," he told Deutsche Presseagentur while on international duty. "I am going to think things over soon as it's going to be winter time."
Wenger, though, was adamant that Podolski remains in his plans.
"It is quite simple, there is no transfer market at the moment," he said. "When there is no transfer market, you are all on board -- or not on board. It is like that. "We are all on board to get results, and Podolski will be part of that."
In other latest happenings on the transfer rumor mill, Arsenal have been linked with two emerging talents. First up is Dinamo Zagreb's 21-year-old Marcelo Brozovic. The Croatia international featured at the 2014 World Cup and his agent has now claimed that he will hold talks with several Premier League clubs, including Arsenal, when Croatia take on the United States at Fulham's Craven Cottage in November.
"Croatia plays USA in November in London and during our stay there we will hold meetings and negotiate with several English teams," Miroslav Bicanic told Goal.com. "Yes, I can confirm Arsenal are one of them."
Meanwhile, the Daily Star has reported that Arsenal will push to sign Benfica attacker Anderson Talisca, if Podolski departs. Since arriving form Brazilian side Bahia in the summer, the 20-year-old has already had a major impact, scoring six times in seven league games.
© Copyright IBTimes 2023. All rights reserved.