Artemis I: Orion Spacecraft Takes A Selfie On Its Way To Moon [Photo]
KEY POINTS
The Orion spacecraft is on its way to the Moon
The spacecraft is "exceeding performance expectations"
People can watch its flyby past the Moon live Monday
The Orion spacecraft is on its way to its first flyby of the Moon after its historic launch. It took a little time during its journey to capture a selfie.
After quite a few delays, the Orion spacecraft is finally headed for the Moon as part of the Artemis I mission. By its third day, Orion was already over halfway to the Earth's satellite and was "exceeding performance expectations."
NASA shared a high-resolution "selfie" that Orion took using a camera that was mounted on its solar array wing. One can see a stunning photo of the spacecraft as it moves through space toward its target. It was taken on the third day of the Artemis I mission during a "routine external inspection," according to the agency.
"Just days from reaching the Moon, the NASA Orion spacecraft captured this selfie while flying through space," NASA tweeted. "The Artemis I mission is preparing us to bring astronauts to the Moon."
Orion will conduct an "outbound powered flyby" past the Moon on Monday – it will pass behind the Moon for about 34 minutes. At that time, it is expected to lose communications with the Earth and come as close as 80 miles from the surface.
People can watch the event live on NASA TV, as well as on the agency's website and app.
"Five days into the 25.5-day Artemis I mission, Orion continues on its trajectory toward the Moon," NASA said in an update Sunday. "At 1:25 p.m. CST on Nov. 20, Orion had traveled 232,683 miles from Earth and was 39,501 miles from the Moon, cruising at 371 miles per hour."
Artemis I is the first in a series of "increasingly complex" NASA missions aimed at building a long-term human presence on the Moon. It is an uncrewed mission, with a team of mannequins and plush toys, including the famous Shaun the Sheep, on board.
"The primary goals for Artemis I are to demonstrate Orion's systems in a spaceflight environment and ensure a safe re-entry, descent, splashdown, and recovery prior to the first flight with crew on Artemis II," NASA said.
You can track Orion's movement in real-time using NASA's Artemis Real-Time Orbit Website (AROW).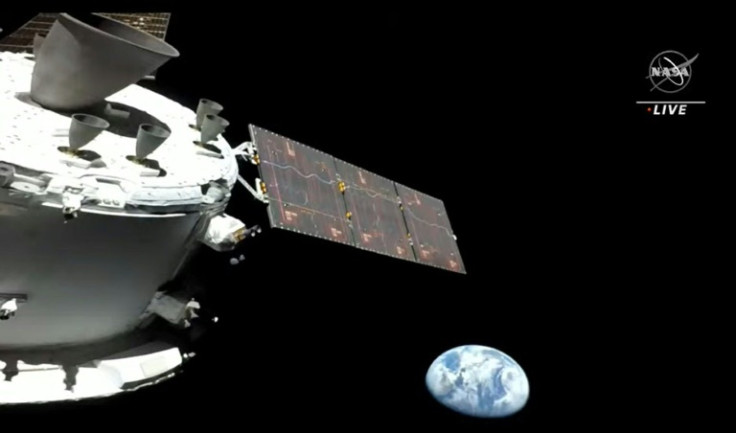 © Copyright IBTimes 2023. All rights reserved.
FOLLOW MORE IBT NEWS ON THE BELOW CHANNELS