Asus Transformer Prime Gets Ethernet Support, Face Unlock And More Updates: Will It Pose The Biggest Threat To Apple's New iPad? (Specs Comparison)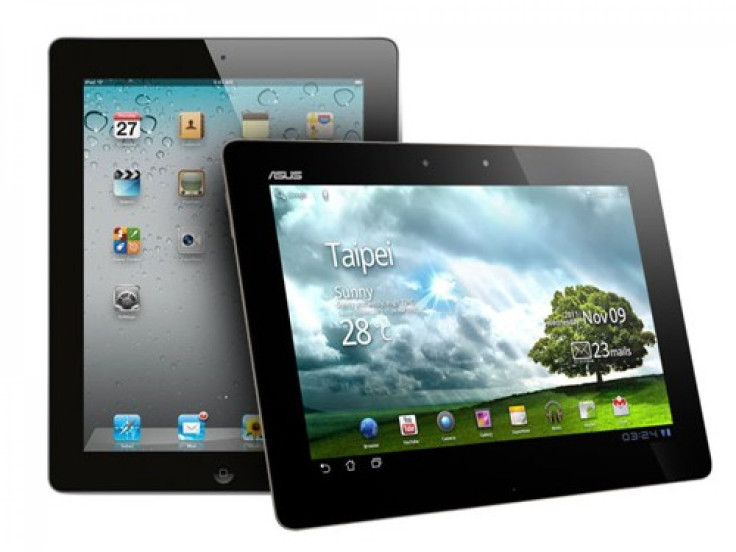 Apple's third-generation iPad got debuted in the first week of March, and for many it could be the ideal tablet as compared to other brands in the tablet market. However, give it a second thought and throw it in cut-throat competition ring again to observe if it can sustain its position with the Android's best offerings as the Asus Eee Pad Transformer Prime is up for the challenge.
The unique and intelligent Asus Eee Pad Transformer Prime comes packed with Nvidia's latest quad-core Tegra 3 processor, and of course, it is a clear winner against the New iPad when it comes to its ability to dock into a slick keyboard accessory that turns the Asus tablet into an absolute laptop. Though a keyboard case can be added with your iPad, yet Transformer Prime's tablet-cum-laptop feel is still incomparable.
On top of that, while the Asus gave the Transformer Prime the secret weapon of a snap-on keyboard dock it has also provided the tablet with an extended battery.
Asus Transformer Prime Eee Pad has also received a new firmware update that will give the tablet Ethernet support and Face Unlock capabilities, as well as other laptop-like features.
In a recent announcement by ASUS's Italian Facebook Page, it has been confirmed that the company is coming up with 9.4.2.21 update version of Transformer Prime and this would include the most significant upgrade in terms of tablet's networking capacity.
Asus Transformer Prime Feature Updates
According to the blog post, Eee Pad owners will now be able to link up to an Ethernet connection using a USB-to-Ethernet cable adapter, which will enable a faster and more secure connection.
Face Unlock will make an appearance in the latest update, which allows users to unlock their tablet through face recognition software.
The camera firmware system has also tweaked so that it does not need to be updated separately from the main firmware. Minor software changes have been made, such as renaming the Android Market to Play Shop, as well as Play Books, Play Music, and Play Movies.
The device will have the ability to connect with Television through an HDMI output. Improvements have been made so users can choose to crop and scale the settings so the display fits onto different screen sizes.
The lock screen has also been improved: users will be able to control notifications from there, jumping straight into the relevant application instead of having to unlock the screen first. Connectivity options have also been adjusted fairly, with stronger WiFi compatibility and support for ad-hoc networks.
With all these updates in the ASUS Transformer Prime, now Apple has a lot to fear for its crown. As also recently, a report has been released by Anandtech which says that the new iPad 3's CPU is not as good as the Asus Eee Pad Transformer Prime's, according to the chip review website.
According to Anandtech reports, after they tested the two devices head to head and it was discovered that Apple's A5X processor (especially in powerful applications such as iPhoto) is an old piece of kit as compared to NVIDIA's 40nm Tegra 3 chip installed in the Asus Eee Pad Transformer Prime.
The report further informed that the problem is not only are the two A9s not fast enough to deal with the needs of iPhoto, but anything that needs to get done in the background while you're using iPhoto is going to suffer as well.
The A5X processor is twice the size of NVIDIA's Tegra 3 processor which can be clocked up to 1.5GHz. However, in routine benchmarking tests (using Rightware BrowserMark), the Asus Eee Pad Transformer Prime walked over the iPad.
Apple has perhaps done its best to improve the existing features, from its predecessor iPad 2. By introducing stunning Retina Display with easy-to-use interface, super fast A5X processor, rock-solid stability and a better camera filled with some revolutionary technology, Apple tried to pack in the New iPad all that you wanted to see. But are they really enough?
Hence without offending the Apple lovers, let's check out with other key reasons as to why tablet seekers should prefer Asus updated version instead buying the New iPad.
Weight and Size and the Asus Key Board: The New iPad is 9.5-inch tall, 7.31-inch wide and 0.37-inch thick, and it weighs 1.44 pounds. The Asus tablet is 10.3-inch tall, 7.1-inch wide and 0.32-inch thick, and it weighs 1.32 pounds. The Asus tablet, therefore, comes with a bigger screen, but it weighs less than the New iPad. Moreover, the tablet is known for being the thinnest tablet beating both the New iPad and Samsung Galaxy 10.1.
Camera: Apple has done a great job when it comes to improving the camera of the New iPad. While iPad 2 cameras (0.7 MP backside and VGA front side) have always been at the center of criticism, the latest pad sports a 5 MP rear camera that comes with welcome features like iSight and CMOS sensor setup, auto-detection, flash, HDR and face detection and a host of other improvements and with video capabilities of 1080p at 30fps and video stabilization. A front-facing secondary VGA camera is also available.
The Transformer Prime, on the other hand, sports an 8 megapixel primary camera at 3264x2448 pixels with an LED flash, autofocus, geo-tagging and 1080p video recording. There's also a 1.2-megapixel secondary camera on the front, which is better than the VGA camera of the iPad. A user more interested in performance of a straightforward and no-nonsense camera should prefer this camera which has more functionality.
Processor and RAM: Apple, as promised, has packed in a much faster processor in the latest iPad than its predecessors. The New iPad runs on a dual-core 1 GHz Cortex-A9 CPU and Apple A5X chipset. A PowerVR SGX543MP4 GPU has been added to give some extra boost in the performance.
Asus Transformer Prime comes with a quad core ARM Cortex-A9 processor on Nvidia's Tegra 3 chipset and clocked at 1.3GHz. As a result of its powerful processor and the Ice Cream Sandwich OS, the tablet's performance appears zippy and smooth.
Moreover, the 1GB RAM of the Prime gives it an edge over the New iPad which has only a 512 MB RAM.
MicroSD Card Slot: Transformer Prime comes with 16GB or 32GB internal storage variants, with either option also giving you microSD capability for a further boost of up to 32GB. This is a feature which all iPad lovers wanted to see in the latest device, but Apple disappointed its fans once again.
Price: Even if the New iPad is coming with the 4G LTE connectivity, the price of the device is set exorbitantly even for the diehard Apple lovers. To add that feature to your existing iPad, you need to shell out $130 to the price of any iPad model, plus the expense of the data plan. The 4G iPad model prices range from $629 for 16GB, $729 for 32GB, or $829 for 64GB units. And, AT&T will be offering monthly data plans of 250MB for $14.99, 3GB for $30, and 5GB for $50. Verizon will be selling monthly plans of 1GB for $20, 2GB for $30, and 5GB for $50. The Verge reported that Verizon can also offer a monthly data plan of 10GB for $80, but that is not listed on Apple's site.
Transformer Prime, on the other hand, comes with a price tag of $499 for 32GB, $599 for 64GB. Though it lack 4G connectivity, yet Asus is always a better option since the 4G-enabled iPad is almost unreachable for most of the tablet lovers.
© Copyright IBTimes 2023. All rights reserved.