Australian floods claim first victim, Met Bureau warns of another thunderstorm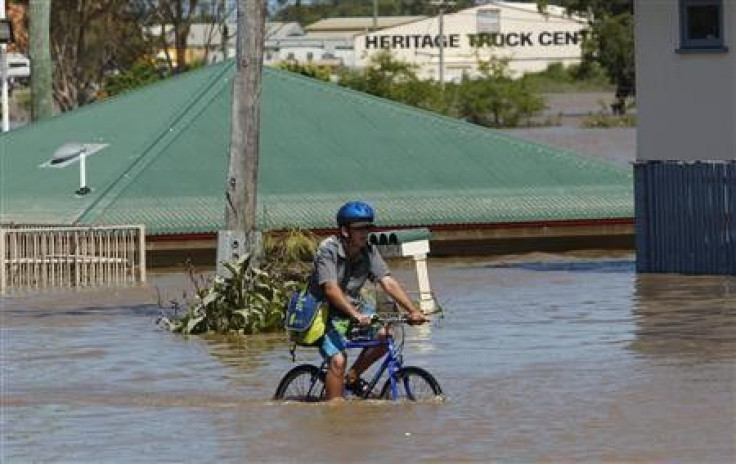 Queensland in Australia, submerged in severe floods, became the first news of natural disaster in the New Year with 200,000 people and 22 towns affected. On Sunday, one woman drowned while crossing a causeway, said reports.
The Queensland Bureau of Meteorology has warned that another strong thunderstorm will sweep through the state and bringing in potential flash floods. It is a disaster of biblical proportions, Queensland Treasurer Andrew Fraser was quoted to have told reporters in Bundaberg.
Initial estimates of the damage are put at A$1 billion with nine highways and more than 280 roads closed since December when flooding started in isolated regions of eastern Australia. But the revised estimates put the figure in the range of A$7 billion.
The floods which began last week as a result of monsoonal trough from the Coral Sea hit the areas from the Gulf of Carpentaria to the Gold Coast. The torrential rains were attributed to 2010 La Nina weather pattern, the worst since 1973.
The army has been pressed into evacuation and relief works in Theodore which officials described as a massive operation unprecedented in Queensland. In addition, Bundaberg also experienced severe flooding from the Burnett River hit the city. Chinchilla and Jericho are the other towns affected by the floods.
The Nogoa river had hit Emerald on Wednesday, with more than 2008 level of 50 ft inundating the entire town. The Port of Gladstone, which was known for coal exports, was hit as deliveries from the hinterland failed because of disruption in rail and road transportation.
Dalby area saw worst scenario in more than 30 years with its water treatment installations affected by the floods while the Condamine river touched 47 ft level, the highest record and the occupants of the nearby areas were evacuated. The Wivenhoe dam in southeast Queensland also saw more water rushing into its reservoir forcing the operators open all the five flood gates. Mining companies were apprehensive that the worst floods in 50 years may affect their earnings this season and are wary of giving out any estimates, say reports.
The floods are also expected to hit crops in the regions of Queensland and New South Wales, spiralling prices of vegetables and agricultural crops like cotton.
Queensland was also hit by heavy floods in March 2010 which saw the towns of Charleville, Roma, St George and Theodore with the Balonne River, Bulloo River, Paroo River and the Dawson River affecting the entire region, described by the Queensland Minister for Primary Industries Tim Mulherin as the worst flood in 120 years. The March floods also gave rise to the Australian plague locust population that had affected winter grain crop and also saw multiplication in the mosquito population in Charleville, Augathella and Morven.
© Copyright IBTimes 2023. All rights reserved.
FOLLOW MORE IBT NEWS ON THE BELOW CHANNELS