Auto Review: BMW M6 Gran Coupe Is Far More Car Than Meets The Eye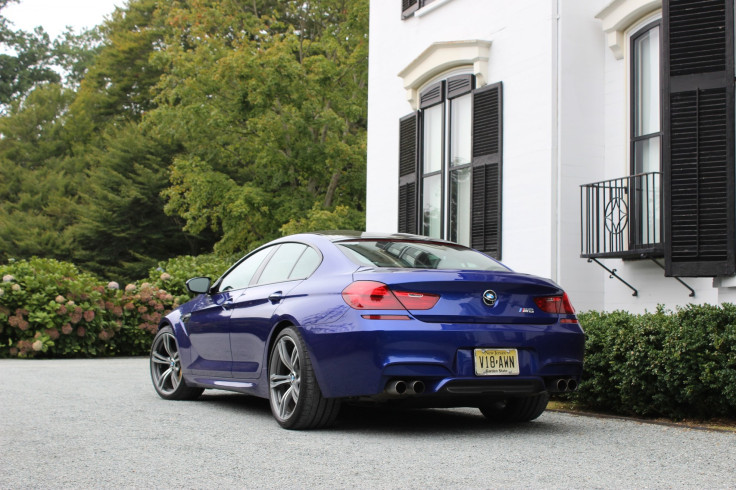 To fully appreciate the new BMW M6 Gran Coupe, you need to see it naked. Otherwise, it's just an attractive, well-dressed German with an athletic stance.
This is not a supercar in estrus, like a McLaren 12C or SRT Viper, which keep their flexed haunches on permanent display. It's only when the M6 tears free of its constraints – i.e., traffic, speed limits, your everyday life – that its true beauty and power become clear. Then you find that beneath that smooth veneer lurks a beast capable of sublime automotive feats.
During a recent week driving a metallic blue version of the 2014 Gran Coupe, the typical response I heard was something along the lines of, "Nice car -- love the blue."
My thought: "You have no idea."
The Gran Coupe's name itself seems contradictory, given its four doors, since "coupe" normally evokes two. But that says something about the car's sensibilities: It is in a category by itself, a car that knows what it's good at and doesn't feel the need to explain itself or, for the most part, brag about its exploits.
The M6 Gran Coupe is BMW's first attempt at a high-performance sedan with a coupe's roofline, and the result is clearly meant to project a different vibe, like a cross between a bridled muscle car and a secretly oversexed sedan. The obvious competition is the Mercedes-Benz (DAI: GR) CLS63 AMG and the Porsche Panamera Turbo S (VOW: GR), the latter of which, like the M6, trades visible muscularity and obvious good looks for strength, intelligence and agility (though the BMW does it for about $60,000 less).
The test model I drove attracted attention primarily due to its sexy exhaust notes and rich color, which BMW calls San Marino Blue. It wasn't until I revved the 560-hp V8 or powered away from a traffic light that people seemed to truly take notice, and at that point the last thing on their mind was the color. Under throttle, the car's throaty roar (which can be amplified with the flip of a switch – a rare bit of braggadocio) and its excitability are obvious whether you're inside or out.
Under the hood is a 4.4-liter, twin-turbo V8 that produces just two less horsepower than the Ferrari 458 Italia -- a two-door supercar that's twice as expensive. The sprint to 60 mph takes approximately 4 seconds, which is an impressive feat given the Gran Coupe's two zaftig tons. In city traffic, rear-wheel- drive Gran Coupe's supersized alter ego manifests in off-the-line acceleration accompanied by that sybaritic engine note, and the rush is enough to startle hacks and wayward pedestrians alike. Stupid grins are an unavoidable side effect.
The car is based on a cross between the 5-Series and 6-Series, with the exact same wheelbase as the 5 and larger front wheel openings than the 6. It sports a lowered front clip, wider, more pronounced rear stance and carbon-fiber roof panel (for weight savings) that unfortunately precludes the possibility of a sunroof. Inside, leather covers nearly every surface of the cabin, which BMW (FRA: BMW) euphemistically describes as seating 4+1; there's more carbon fiber along the dashboard.
The Gran Coupe is the first BMW sedan to be given the high-performance treatment by the company's storied M division, though the M6 nameplate has been around intermittently since 1983, always in the form of a conventional two-door coupe. The styling is reminiscent of the
2007 CS concept car
, and it is the largest M-car in the lineup, there being no M version of the 7-Series. A two-door coupe and convertible version of the M6 are also available.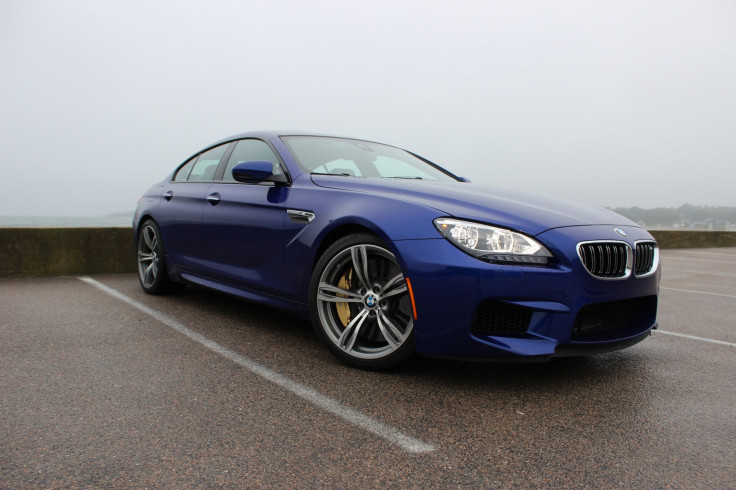 My test car was equipped with a 6-speed manual transmission – a rarity these days, which was a treat to use. Clutch engagement was smooth and relatively light, and shifting by hand felt equally smooth and precise. It's a shame that most buyers will opt for the standard-issue transmission, a 7-speed dual-clutch automatic, because the manual provides a level of engagement that I found irresistible. An automatic stop-start feature cuts the engine during ordinary traffic idling, and re-engages it when the clutch pedal is depressed or the driver steps off the brake pedal. Optional carbon-ceramic brakes ($9,250) are a pricey add-on, but are lighter and offer longer brake life. As in other BMW performance cars, pedal feel is communicative and direct, which is unfortunately not the case with the slightly numb and disconnected steering.
Fuel economy is in line with the rest of the Gran Coupe's performance figures, but with a catch. Over approximately 500 test miles, many of which occurred in the scrum of New York City traffic, the Gran Coupe struggled to return double-digit gas mileage figures, though it's rated for up to 20 mpg at sustained highway speeds. Of course, the latter will also vary, as in: What highway speed are we talking about sustaining here? I'm not suggesting anyone try this on a public road, but the possibilities range upward to a governed top speed of 155 mph (higher with a special driving package).
Cost is typically not a big concern for someone shopping around for a six-figure performance car,but the Gran Coupe is something of a bargain in its genre. Otherwise, if you have to ask, you probably can't afford it. The base model lists for just more than $113,000, making it the second-most expensive M6 variant, behind the pricier convertible. My test car, optioned up with the aforementioned brakes, Bang & Olufsen audio system, head-up windshield display and additional performance enhancement features, helped drive the price closer to 130 grand.
That amount of money places the M6 Gran Coupe among other overachieving super-sedans, such as the CLS63, the Panamera Turbo and Audi's upcoming RS7. But none of them -- with the possible exception of the as yet untested RS7 -- seems to offer a comparable combination of prestige, performance and bragging rights, especially when the M6 is equipped with a manual gearbox.
As you rip through the gears, it begins to make sense why BMW doesn't feel the need to make a big show of flexing the M6's muscles while the car is at rest. Ultimately, the car's power is between it and you.
By the numbers: 2014 BMW M6 Gran Coupe
Engine: 4.4-liter, twin-turbo V-8 with 560 horsepower and 502 pound-feet of torque
Transmission: 6-speed manual or 7-speed automatic
Speed: 0 to 60 mph in 4.1 seconds*
Fuel economy: 12 city, 20 highway mpg
Base price: $113,925
As-tested price: $131,575
Buy because: You want the one that no one else has; you get a thrill from gunning a powerful car on a curvy road.
Avoid if: You don't get a thrill from muscle cars.
Target buyer: The family-man executive with a heavy right foot and a desire to show off.
*Manufacturer estimate
© Copyright IBTimes 2023. All rights reserved.