'Avengers 2' News: Robert Downey Jr. Teases Big Announcement Coming March 5, Could Spider-Man Finally Be Cast?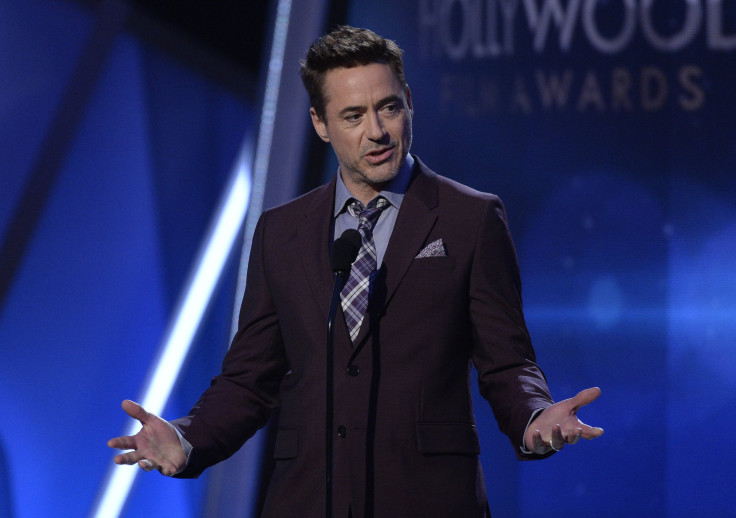 Following the release of the official poster for Marvel's "Avengers: Age of Ultron," Ironman himself, Robert Downey Jr., is teasing a closer look at Tony Stark in the film, as well as a big announcement headed to fans next week.
The main poster focused heavily on the ensemble cast of Joss Whedon's epic super hero-packed sequel, it also revealed the involvement of Falcon (Anthony Mackie) in "Age of Ultron." Not to be outdone, Hollywood's highest paid actor took to Twitter to tease a look at, what ScreenRant calls, Tony Stark's Mark XLIII Ironman armor. The image shows the character kneeling down while in the suit with his helmet off (and his hair looking inexplicably perfect) while a cadre of Ultron robot drones heads his way in an attack formation.
While the character poster is a lot of fun, the big news from RDJ's announcement comes from the accompanying caption, which teases some big news coming "on the DL" in eight days (March 5, 2015). At this time there are really no clues as to what kind of announcement the 49-year-old actor is hinting at. However, the last time he made a tease similar to this, it was soon revealed that he would don the "Ironman" suit once again to play a role opposite Chris Evans in "Captain America: Civil War."
Given that Marvel has already laid out its movie plans through 2019, and with the actor rapidly running out of film appearances in his contract, it seems very unlikely that an "Ironman 4" is on the horizon, despite how happy that would make fans, as the actor would be 55 by the time anything new from Marvel could really crystalize.
Another possibility is the release of another trailer for "Age of Ultron." However, this too seems unlikely as many believe Marvel Studios is waiting to debut a trailer along with the midseason premiere of "Agents of S.H.I.E.L.D." in order to help boost its ratings on ABC. While a trailer may be on its way, the premiere comes two days before Downey Jr.'s tweet says the announcement will take place. Perhaps it will be an extra big week in Marvel?
A much more likely scenario will be the announcement of a new cast member to the Marvel Cinematic Universe (MCU). As The Hollywood Reporter notes, casting has yet to be announced for the female hero in the upcoming "Captain Marvel" film, as well as Black Bolt in "Inhumans" (although Vin Diesel has hinted that he's planted his flag in the latter role). However, with those movies not coming out until 2018 and 2019 respectively, a much more likely announcement would be the casting of the new Spider-Man.
Thanks to a recent deal struck between Marvel Studios and Sony, the wall-crawler will swing his way into the MCU, piggy-backing on a yet-to-be announced Marvel Phase 3 movie (more than likely "Captain America: Civil War) before getting his own standalone feature in 2017. Several actors have been speculated for the role with a few even being considered as front runners. Perhaps, with the clock ticking, Marvel and Sony have landed on an actor to play the next Peter Parker.
Unfortunately, fans will simply have to wait until March 5 to see whatever big announcement Robert Downey Jr. and/or Marvel has in store for them.
© Copyright IBTimes 2023. All rights reserved.
FOLLOW MORE IBT NEWS ON THE BELOW CHANNELS