Ayers Rock: The Multimillion-Dollar Plan To Put More Indigenous Faces At An Australian Icon Where Aboriginal People Have Been Absent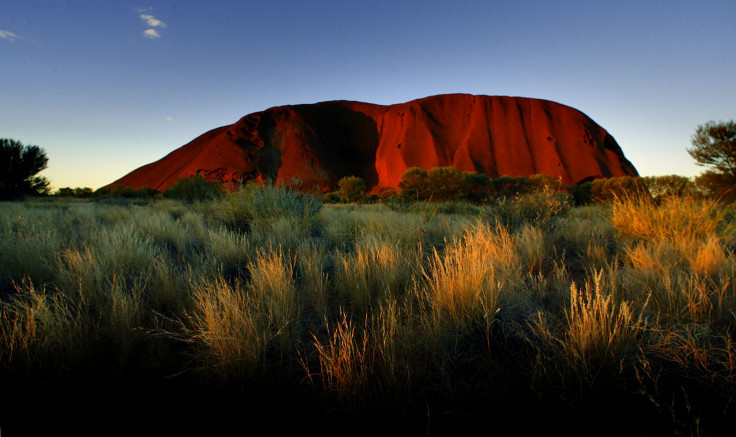 It's the second of three rainy days in the Australian Outback as I sit in front of Anangu elder Rene Kulitja, learning about her dot-painting technique through an interpreter. Such a torrent is rare in these parts, and it means that the rusty, red monolith off in the distance, the iconic Ayers Rock, has turned into a freestanding Niagara Falls. It also means Rene has transformed into a shivering sack of blankets huddled on the floor.
Normally, Rene and her assistants from Maruku Arts hold these dot-painting classes outside so she can explain Aboriginal symboling in the red earth, but it's wet and Rene has a cold, so an assistant brings a pallet of the red earth inside. You wouldn't know it by looking at her sitting over a pile of dirt, but Rene is one of Australia's most respected artists. Her work has appeared on the side of a Qantas plane, in galleries as far away as Japan and Belgium, and even on the Oprah Winfrey Show.
Yet, today, she's teaching (in her own way) a collection of city folk from Sydney and Melbourne about the origins of dot painting. Incredibly, nearly everyone in the room is Aussie, and not one of them has the slightest idea about the messages hidden within this sacred art -- much less anything else of significance to Aboriginal communities of the remote Red Center. Questions the interpreter throws out to the crowd get sheepish responses. "Honestly, we don't seem to learn about any of this in our schools," one tourist whispers to me, the lone American in the class.
Rene wisps her hand through the dirt to form a collection of symbols: Four moon shapes surrounding concentric circles signify women gathered around a campfire. The crescents, Rene's interpreter explains, represent the form women leave in the dirt when they sit cross-legged. Indeed, most shapes (dingos, emus, kangaroos, grubs) correspond with an aerial view of their imprint on the ground, while lines linking concentric circles signify a journey from one place to another.
The modern dot painting is perhaps Australia's greatest gift to the art world. In essence, it's a form adapted in the 1970s from dirt to canvas, and while people often misinterpret the pattern-heavy works as "abstract," they're largely interpretations of what we call "dreamtime" stories, though Aboriginals don't see them as dreams in the Western sense.
"'Dreamlines' are like an encyclopedia, and each of us have different chapters in that book," explains Raymond Walters Japanangka, the Aboriginal artist in residence at the Ayers Rock Resort. The sprawling multi-hotel complex, Australia's largest, doubles as the town of Yulara, and was built between 1982 and 1984 to replace the motels and visitor facilities that popped up in the 1950s just below the rock and right on top of the dreamlines that emanate from it.
Raymond, Rene and the others working here are part of a major push to educate visitors to Australia's sacred center about the continent's original inhabitants, who are said to hold the oldest surviving culture on the planet as decedents of the first people to leave Africa up to 75,000 years ago.
Their presence marks an ongoing process to reconcile the resort with its environs. Just two years ago, many visitors to Australia's indigenous heartland could fly in and out of its dusty airport without ever seeing an indigenous face. Thanks to an influx of new money and a renewed interest in both indigenous training and cultural exchange, however, the Red Center has, at long last, rekindled a bit of its wayward spirit.
'Where The Bloody Hell Are The Familiar Faces?'
"Where The Bloody Hell Are The Familiar Faces," blared a characteristically Aussie headline in the Sydney Morning Herald in late 2010. In the article, journalist Jane E. Fraser questioned why a place like Uluru with so much indigenous significance had for years surprised visitors by its lack of Aboriginal culture. At the time the article came out, just two of the hundreds of employees at the Ayers Rock Resort were indigenous.
"It is possible to spend several days at the resort without seeing a single indigenous person, despite this year marking 25 years since Uluru (Ayers Rock) and Kata Tjuta (The Olgas) were handed back to their traditional owners," she wrote. Many, like Fraser, had become disenchanted with the region, whose selling point (a deeper connection with the continent and its ancestors) seemed a mere afterthought to the physical feats of circling Uluru or hiking the crevices of Kata Tjuta.
But much has changed in two years. There are now more than 160 indigenous employees, with a goal of reaching 50 percent indigenous employment by 2018. What it took to make the change was a new owner like the Indigenous Land Corporation, a statuary body that acquires land in order to close the gap between indigenous and nonindigenous Australians, and its subsidiary, Voyages Indigenous Tourism, which runs the actual facilities. Unlike their predecessors, Voyages actually has the support of the local Anangu elders -- which everyone here will tell you was no small feat.
Most thought Voyages was overly idealistic in 2011, when it set out to create an "indigenous center of excellence." Plenty of other well-intentioned indigenous employment schemes, after all, had failed miserably due to cultural differences and a general lack of interest from the Aboriginal community.
Indeed, despite some twisted figures and words to the contrary about Aboriginal growth in "mainstream employment" from the government of Julia Gillard -- who was ousted earlier this week when Kevin Rudd returned as prime minister of Australia, three years after being replaced by his then-deputy Gillard -- the indigenous employment/population ratio for those aged 15-64 declined from 48 to 46.2 between 2006 and 2011, according to the latest "closing the gap" report out in February. Unemployment among Australia's 517,000 indigenous peoples, meanwhile, was more than three-times the rate for non-indigenous Australians. Though some blame "welfare dependency" for the large gap, education is certainly a factor, with just 53.9 percent of indigenous Australians graduating high school each year.
Undeterred (or perhaps spurred) by these sorts of statistics, one of the first things Voyages did when it took over Ayers Rock Resort was create the National Indigenous Training Academy. The new center celebrated its first substantial graduation group (34 trainees) on June 1 with what those in attendance said was an emotional ceremony, replete with hand-painted tabards created by members of the local Anangu community, the Mutitjulu. Twenty-five of the graduates are now full-time employees at the resort, while the rest are pursuing employment opportunities closer to home. The next batch of trainees, meanwhile, is four months into the program.
"Back home in Adelaide, I didn't have much opportunity to practice Aboriginal activities," explains 18-year-old Davinder Hart. "Here, I'm learning didgeridoo, boomerang, dancing and clap sticks. Everything is new to me and I'm just trying to soak up all this knowledge."
Hart is a new trainee and performs daily with the resort's Wakagetti Cultural Dancers. Members of the all-male troupe come from all corners of Australia, and each share dances significant to their own background, all while giving thanks to the original owners of the land they perform on. The 18-year-old's mom and brother also work at Ayers Rock Resort, which is something Voyages has found helps with retention.
Yet, Hart and his family are among the Westernized Aboriginals from the city who have come to Uluru to get back in touch with their ancestral roots. Engaging the local Anangu community and empowering them hasn't been as easy.
Australia may be a highly developed country, but the indigenous communities who inhabit the continent's arid Red Center hold strong to their traditions. Some of the nomadic populations who live in this remote region had their first contact with Westerners in living memory, and adapting to Western ways has never really been a priority.
Moreover, a culturally sensitive workplace was virtually nonexistent until recently. "Up until now, all of the benefits of what tourism brings to this part of the world have really passed them by," Koos Klein, Voyages managing director, explains over coffee at the Ilkari Restaurant at the resort's high-end Sails in the Desert hotel.
In addition to the National Indigenous Training Academy, Klein says Voyages set up another program called Real Jobs that employs 30 Anangu people (mostly between the ages of 30 and 50) who have never worked before. The males do landscaping and construction, while the females (who were too shy to work in the actual resort) look after the men by cooking for them and doing laundry. Another team of Real Jobs employees scours the desert for abandoned cars (of which there are many) and takes them apart to shred the metal for transport back to Adelaide. All proceeds gathered from this and other eco-construction projects go right back into the community.
Beyond the educational facilities, Voyages has spent a total of A$43 million over the past two years on revitalization efforts to reposition Australia's Red Center as a place for both Australian and international tourists to interact with Aboriginal culture -- something it believes will prove a vital tool in bridging the gap. But it does all of this with the odds stacked against it.
A Comeback In The Outback?
Remote takes on a new meaning in the Australian Outback. Opportunistic bush, bands of kangaroos and emus, a few cattle stations, and some of the 1.2 million wild camels that call this adopted desert home are about all you'll find on the five- hour drive to Alice Springs, the next town up from Yulara. The Outback's most famous outpost is also the next place you're likely to find a signal on your cell phone.
These are the daunting facts of a trip to see Uluru and the reason that most city folk simply drop in by plane. Yet, before low-cost carrier Jetstar added a route from Sydney earlier this month, the tiny regional airport here had a string of losses. Qantas alone canceled all flights from Perth and axed half of its schedule to and from Cairns.
International arrivals across the tourism-dependent Northern Territory, meanwhile, were down 10 percent last year, according to Tourism NT, while ticket sales at Uluru-Kata Tjuta National Park declined by about 6 percent to just 257,761, far below figures from a decade ago, when nearly 400,000 visitors basked in the park's red glow. To put that figure in perspective: Nearly 100,000 more Aussies visited Malaysia last year than visited their own nation's most iconic natural attraction.
Voyages, however, sees this as all the more reason to push forward with its grand plan, refurbishing the six hotels it manages at Ayers Rock and adding a new conference center. Klein figures Uluru Meeting Place offers businesses a completely different flavor than anywhere else in Australia and could represent 20 percent of the resort's revenue in the near future, with companies placing events under their corporate social responsibility umbrella. Activities like the dot-painting class, he adds, have proved very popular for team building, as companies adapt the Aboriginal symbols to paint their corporate journey.
The resort has also toyed with new media of Aboriginal art, including a first-of-its-kind hologram-infused theatrical production that tells an Anangu origin story. Newly introduced activities like spear and boomerang throwing, bush tucker walks and didgeridoo lessons (for males only) are free to all visitors to ensure they never again leave the Red Center without tasting its flavors.
It's hard to believe that something like this hasn't succeeded on this scale before in the region's 60 years as a tourist destination. Voyages will be the first to tell you that nothing about the change is easy, but it might just be the thing that saves Uluru. And it might just work.
© Copyright IBTimes 2022. All rights reserved.
FOLLOW MORE IBT NEWS ON THE BELOW CHANNELS