Ballon d'Or 2015: Predictions, Date, Betting Odds For FIFA Award; Can Cristiano Ronaldo Or Neymar Stop Lionel Messi?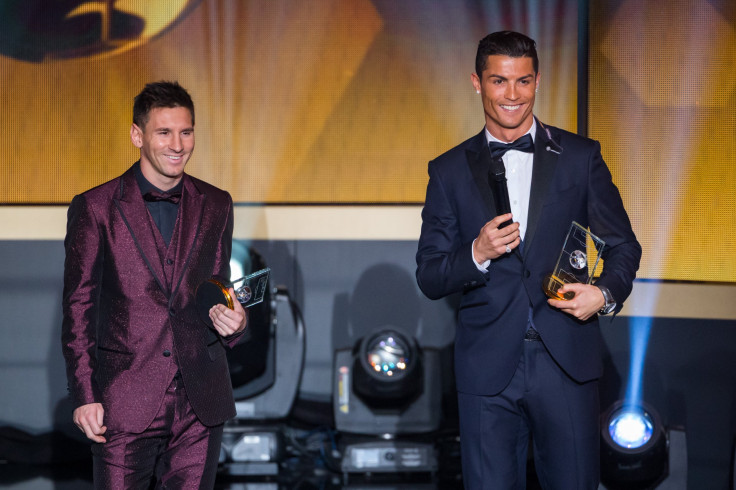 Cristiano Ronaldo faces a two-pronged attack from Barcelona, as the Real Madrid star looks to win the FIFA Ballon d'Or for a third successive year. Ronaldo was named on the three-man list of final nominees for the annual award, alongside Barcelona duo Lionel Messi and Neymar. It is stiff competition for the Portuguese forward, as he strives to match Messi in being voted the world's best player a record four times.
Indeed, Ronaldo appears an outsider after a year dominated by Barcelona. There is an argument to be made that Ronaldo is fortunate to even make it into the final three, given the phenomenal success enjoyed by Barcelona's record-breaking forward trio. While Messi and Neymar made the cut, Luis Suárez , who became the brilliant final piece of the jigsaw to help fire the Catalans to a league, cup and Champions League treble last season, misses out. Here's a look at the years of those who did make it and their chances of landing the ultimate prize, as voted for by the coach, captain, and a chosen journalist from each FIFA nation.
Lionel Messi (odds: 1/8 -- provided by Odds Checker)
The overwhelming favorite to take the prize, and rightly so. Messi endured a disappointing couple of years by his own incredible high standards, allowing Ronaldo to take the top step on the podium, but he bounced back in brilliant fashion in 2015. The arrival of Suárez saw Messi revert to the wider, deeper role in which he first burst onto the scene, and it has allowed him be both Barcelona's chief playmaker while also hardly denting his scoring proficiency. In 48 appearances for Barcelona in 2015, he scored 44 goals, and added 21 assists. The only knock against his year was another failure to bring home a major trophy with his country, as Argentina lost to Chile in the final of Copa America. But that should not unduly harm his chances of taking home the trophy, and neither should his recent two-month absence with an ankle injury.
Cristiano Ronaldo (odds: 8/1)
Ronaldo's statistics still make for mightily impressive reading. In 47 appearances for Real Madrid, he fired 45 goals and added 14 assists. He also helped Portugal to qualify for Euro 2016. But for his club, it has been a disappointing year. Falling in the semifinals of the Champions League and finishing runners-up to Barcelona in La Liga left Ronaldo without any silverware. And this season has started poorly for both Ronaldo and his team. As Real Madrid have struggled under Rafael Benitez, the former Manchester United star has failed to assert his usual influence over proceedings, and at the age of 30 there is a sense that he may just have moved past his prime. Rumors of a broken relationship with his manager and openly flirting with a transfer to Paris Saint-Germain also appear to have become a distraction. While still an outstanding goal-scorer, 2015 was not his best year.
Neymar (odds: 9/1)
The talent has always been obvious, but 2015 has been the year that Neymar became a fully realized global superstar. Despite playing in Messi's team, the Brazilian has still managed to fire 42 goals in 47 appearances for Barcelona. As well as displaying the individual brilliance that first brought him to attention, the 23-year-old has become a vital cog in the team ethic, as his 15 assists demonstrate. More than just the bare statistics, though, are the prizes his goals helped secure. The former Santos starlet scored in the Champions League final, three over the two-legged semifinal and another three in the quarterfinals, as well as netting in the Copa del Rey final.
And while ably supporting Messi for much of the year, Neymar also showed during his illustrious teammate's recent injury absence that he can be the talisman for a team of Barcelona's stature, managing to find an even higher level of performance. Like Messi, the only disappointment for Neymar came with his country. A petulant sending off in the group stages of the Copa America deprived Brazil of their leader for the remainder of the tournament, which ended prematurely at the quarterfinal stage. He more than deserves his place on the podium for the first time, however, and has a good shot of breaking up the Messi and Ronaldo stranglehold on the top two places for the first time since 2010. Still, in what is in large part a popularity contest, Ronaldo's stature may see him edge Neymar into third.
Predictions: 1. Lionel Messi, 2. Cristiano Ronaldo, 3. Neymar
FIFA Ballon d'Or award ceremony date: Jan. 11, 2016
© Copyright IBTimes 2023. All rights reserved.