Baltimore Ravens 2015 Draft, Free Agency Options Surround Questions At WR, RB, DE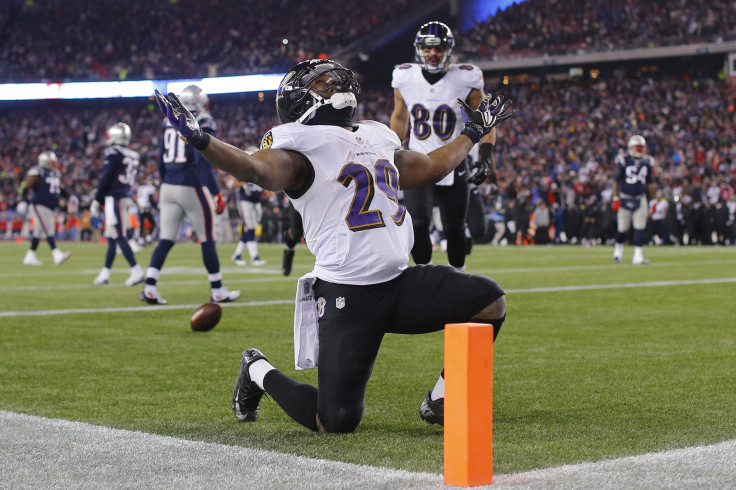 With a slim amount of salary cap space and one of the highest dead money totals in the league, the Baltimore Ravens will have a difficult time signing free agents when the new league year begins March 10.
Baltimore general manager Ozzie Newsome currently has $3 million in salary cap space to both retain current Ravens and lure free agents, a task precipitously dragged down by the $9 million in dead money on the team's books after cutting former running back Ray Rice due to domestic violence charges last season.
Assuming Newsome does find the requisite space, the Ravens are in need at several positions, especially at running back, wide receiver and the offensive line.
The Ravens could re-sign receiver Torrey Smith and surprise breakout running back Justin Forsett. Smith led the team with 11 receptions for touchdowns last season, and Forsett came up with a career year filling in for Rice, but Baltimore may have to choose one or the other unless more cap space is made.
Forsett said in a recent radio interview that he wants a "stable" situation. It's a fair request, considering the 29-year-old has played for four different teams in his six-year career.
At his age and with a number of veteran and more proven running backs available next month, Forsett could very likely stay in Baltimore. The San Francisco 49ers' Frank Gore, Buffalo Bills' C.J. Spiller, San Diego Chargers' Ryan Mathews and New Orleans Saints' Mark Ingram will all be unrestricted free agents, and there's a chance, though slim, that Dallas lets DeMarco Murray walk, too.
Smith, known for his quick burst off the line and overall breakaway speed, faces a rather slim receiver market after the Denver Broncos' Demaryius Thomas and the Philadelphia Eagles' Jeremy Maclin. Especially if Dallas places the franchise tag on Dez Bryant.
Other key Ravens up for new deals are starting safety Darian Stewart, who was fourth on the team in total tackles, his immediate back up Jeromy Miles, and veteran tight end Owen Daniels.
With Dennis Pitta's future in the league unclear after a major hip injury last season, Daniels could increase his overall price and be back next season.
Stewart and Miles totaled a $1.9 million cap hit next season, and with expensive cornerback Jimmy Smith hitting free agency in 2016, Newsome could save by adding Stewart and Miles now.
The market for elite defensive backs could be very intriguing this offseason. New England Patriots' Darrelle Revis and Devin McCourty, Houston Texans' Kareem Jackson, Detroit Lions' Louis Delmas and the Eagles' Bradley Fletcher are some of the marquee names currently under 30 that could be signed next month.
Finding a replacement or heir for Smith, could be the start of a trend for Newsome and the Ravens in both free agency and the draft. In 2016, defensive tackle Haloti Ngata, guard Marshal Yanda, defensive end Chris Canty and linebacker Courtney Upshaw will all be up for new deals.
Finishing 10-6 last season after falling short to eventual champ New England, the Ravens have the No. 26 selection in the first round of May's Draft and could find a number of cheap new players rather than pushing around dead money.
With Ngata now 31, trading up for USC defensive tackle Leonard Williams might be a savvy move, but Texas' Malcolm Brown, and Oklahoma's Jordan Phillips could both be available at No. 26.
This year's draft class doesn't project to have any top guards to replace Yanda, but the Ravens could wait until the third round or later for the likes of Florida State's Josue Matias or Louisville's Jon Miller. The Ravens have reportedly met with Penn State offensive tackle Donovan Smith, an Owings Mills High School product, as well as Iowa offensive tackle Brandon Scherrf, who is expected to be taken early in the first round.
Otherwise, Newsome must now find some creative ways of freeing up cap space, whether its restructuring the massive six-year, $120.6 million contract given to quarterback Joe Flacco after his Super Bowl MVP run in 2013, or perhaps parting ways with several players.
Of the highest-paid Ravens, Flacco's deal is certainly the biggest but its not the only one that can be slimmed down next season. Cornerback Ladarius Webb, the third highest paid player on the Ravens, is scheduled to make $8 million in salary in 2015, a figure that could be converted into a bonus.
The same goes for left tackle Eugene Monroe, outside linebacker Terrell Suggs, or even Pitta, all of whom are signed through 2018 and make a minimum of $6 million salary next season.
But any restructuring could also add to the risk of increasing the dead money total, which is only exceeded by two other teams, Dallas and Detroit.
© Copyright IBTimes 2023. All rights reserved.