Baltimore Ravens Vs. Carolina Panthers: Where To Watch Live Online, TV Channel, Players to Watch, Preview, Prediction, Betting Odds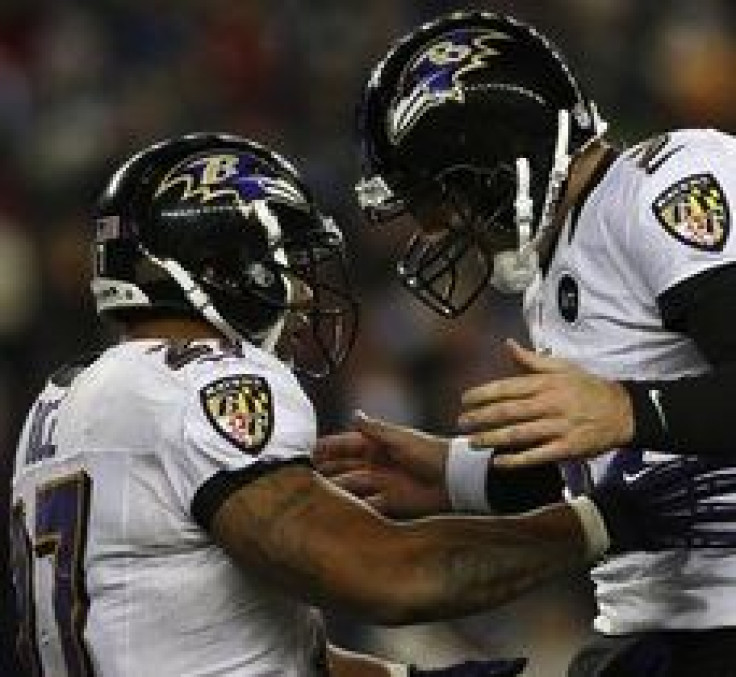 Despite winning their first two preseason games, the defending Super Bowl champion Baltimore Ravens remain unsatisfied with the performance of their running game.
Thursday's matchup against the Carolina Panthers at M&T Bank Stadium should be the last time starters Ray Rice, Joe Flacco, and Terrell Suggs see any action until the regular season opener in two weeks.
The Ravens have posted 189 total rushing yards off 61 carries for a 3.1 average, as reported by the Baltimore Sun, but Rice remains unworried.
"We definitely need to get better, but it's the preseason," Rice said to the Sun. "All 32 teams are working on things. Nobody goes in with a magical game plan, you know, like we're going to run guys over."
Meanwhile Flacco has gone 14-for-18 for 175 yards, one touchdown and two picks in his two preseason games. The Ravens also have to be satisfied with the fourth-quarter comeback their second and third units put together against Atlanta last week in a 27-23 win.
Down 23-7, backup Tyrod Taylor tossed a pair of touchdowns to Aaron Mellette and Tandon Doss, and Asa Jackson returned a punt 78 yards for a score and the victory.
The Panthers are also having some trouble on offense, failing to get in the end zone last week in a 14-9 loss to Philadelphia. Cam Newton had his struggles, completing eight of his 17 passes for 112 yards, while fourth-year receiver David Gettis totaled five catches for 82 yards.
Carolina's revised defense did generate three turnovers, including interceptions from Josh Norman and Josh Thomas. That's a strong improvement for a secondary that ranked 23rd in total picks last season with 11.
There is also a tight running back competition brewing in Carolina between second-year Tauren Poole and rookie Kenjon Barner. Poole has 46 yards on 14 carries thus far, to 42 yards and touchdown on one less carry for Barner. Both are in line to replace injured Jonathan Stewart who may miss the first six games of the regular season if he's placed on the PUP-list.
The game kicks-off at 8 p.m. ET and a live online stream is available at Watch ESPN here.
TV Channel
ESPN will broadcast the game nationally.
Betting Odds: Baltimore is favored by 3 points.
Over/Under: 42 points
Prediction: Baltimore 28, Carolina 20
© Copyright IBTimes 2023. All rights reserved.