Barack And Michelle Obama Campaign For Georgia Senate Candidate Raphael Warnock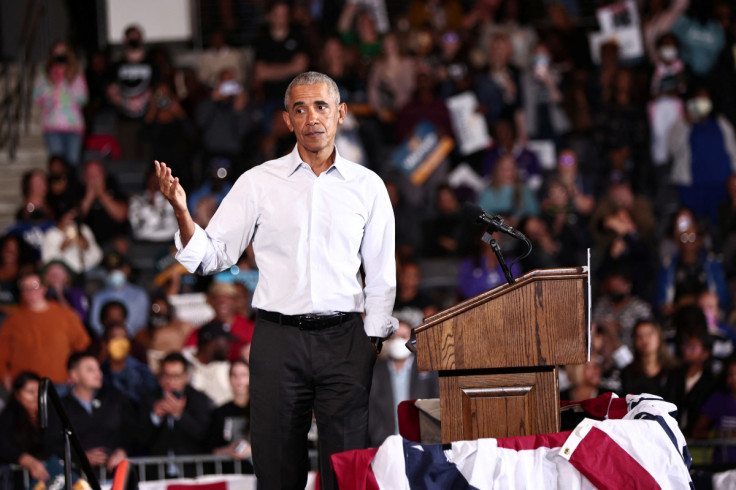 Former President Barack Obama and First Lady Michelle Obama are campaigning for Sen. Raphael Warnock in the final week before the Georgia runoff election.
In the November midterms, neither Warnock nor Republican challenger Herschel Walker won one voter more than 50 percent to win the senate election, sending the race to a runoff. Walker, a retired NFL star, has been endorsed by former President Donald Trump and newly re-elected Georgia Governor Brian Kemp.
WRDW reported that at a previous Warnock rally event for the midterms, President Obama spoke to a crowd of 7,000 supporters. The event encouraged hundreds of supporters to sign up to participate in door-knocking shifts and canvasing events for the senator.
When President Obama last campaigned for Warnock during the midterms, he highlighted the importance of voting to preserve Democracy.
"Democracy is not self-executing," Obama said. "It depends on us working, nurturing, caring for it, not just on Election Day, but every day in between. It depends on us as citizens saying, 'This matters!' This election matters, Georgia."
President Obama will be speaking at a rally at Pullman Yards in Atlanta on Thursday in a campaign event that is open to the public.
Michelle Obama is also helping Warnock, lending her voice to two phone ads. One of the recorded messages is for early voting, and the other will be released on Dec. 6, election day, to encourage voters to hit the polls. The Dec. 6 call starts with Warnock saying he has a "special message" from a friend.
"This is Michelle Obama, and I'm calling to make sure you have a plan to vote for Rev. Raphael Warnock," Obama says on the prerecorded call. "This election is going to be very close, and there are a lot of folks on the other side hoping you stay home. But we need you to get out and vote one more time for Raphael Warnock."
She finishes her message by saying polls open between 7 a.m. and 7 p.m. on Dec. 6.
Early voting for the run-off opened over the weekend. The Hill reported that over a quarter million people voted on Monday. The winner of the Georgia Senate race decides if Democrats will hold a secure majority in the Senate or if it will be a 50-50 split with Republicans.
© Copyright IBTimes 2023. All rights reserved.
FOLLOW MORE IBT NEWS ON THE BELOW CHANNELS