Barack Obama Reveals Sasha And Malia Taught Him This Useful 'Leadership Lesson'
Now that both Sasha, 18, and Malia, 21, have both officially begun their college careers, former President Barack Obama has been taking some time to reflect on what the experience of parenting the two girls taught him. What valuable advice does he have for others?
At an event in San Francisco, which was organized by the data analysis company Splunk, Barack revealed the fact that the differing personalities of his daughters made him take "different strategies" when it came to raising them, Business Insider reports.
"They're a bamboo or they're an oak or they're a chestnut," he shared while on stage, adding, "They all need water, sunlight, some TLC, but how they grow and what pace, when the branches sprout, when they flower at any given time, it's just different. And so, our daughters were different, and as they got older, they became identifiable."
READ: Will Sasha Obama Be Protected By Secret Service At University Of Michigan?
Continuing, he said, "What that meant was, in parenting, the idea that you do the exact same thing with each child in the same way actually doesn't make sense. There has to be equity and fairness in terms of wanting them to get to the same outcomes, but we had to take sort of different strategies with our girls on certain things."
Does this principle have the ability to translate into the workplace? Obama believes it does, as he called it a "good leadership lesson" that can be applied in many different settings. Elaborating on this idea, he said that he uses varying tactics with different people. "There's some people where I could be more blunt with, and some people, I have to be a little more, what do the girls call it, 'compliment sandwiches,' trying to wrap it around the criticism."
As for how his and Michelle's parenting efforts have taken shape since the girls left for college, Sasha reportedly is spending her time deciding which sorority she would like to join, although there is a rumored front-runner. Meanwhile, Barack himself is said to be working on an upcoming memoir, slated for a 2020 release.
"You've got to give folks enough room and ownership to be able to figure stuff out, and by doing that, it means they're going to be making mistakes. That's part of the process of development," he concluded.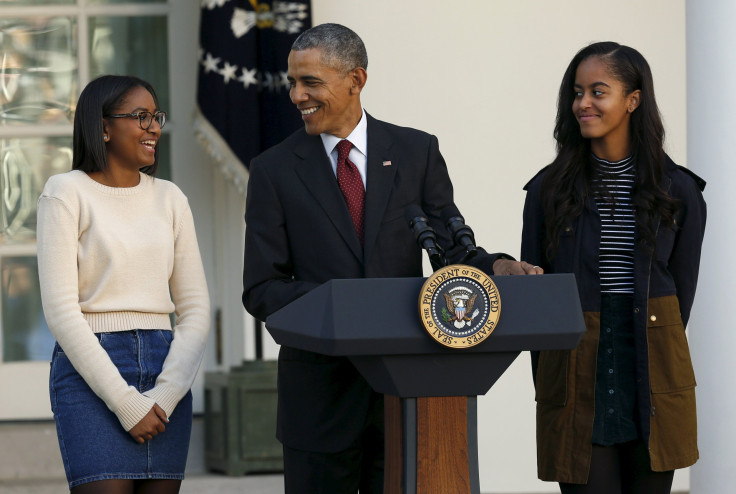 © Copyright IBTimes 2022. All rights reserved.
FOLLOW MORE IBT NEWS ON THE BELOW CHANNELS