Barack Obama Reveals Why Campaigning With Joe Biden 'Meant You Were Going To Be Late'
KEY POINTS
Barack Obama said President-elect Joe Biden is genuine whether there are cameras or not
He shared that Biden would always take his time listening to people when they were campaigning together
Obama believes having a leader who likes people, cares and knows their struggles will make a difference
Barack Obama revisited his previous campaigns with President-elect Joe Biden as he spoke about why his former second-in-command is the leader America needs right now.
Obama appeared on "The Tonight Show Starring Jimmy Fallon" Friday to promote his new book, "A Promised Land." During his chat with host Jimmy Fallon, the former POTUS shared some details about his time campaigning with Biden and talked about how genuine the president-elect is.
"You know the thing about Joe is he genuinely loves people. Everybody," Obama told Fallon. "It's not a put-on. You know, there's some folks and I'm sure you've seen them in the entertainment industry, do not name names, where they're all fun and laughs you know, in public, and then, cameras off and they curmudgeons."
Obama stressed that Biden is the same whether there are cameras or not. And while recalling his memories of Biden, he shared that the latter's interactions with people would often make them late.
"You know, probably my strongest memories of Joe are when we were campaigning together," Obama shared. "You know, I'd work the rope lines after I'd made a speech, you know, and I'd hug babies and you know, kiss grandmas. And we'd go around and shake hands and all this stuff. And I felt like I'd shaken every hand and I'm finished with the rope line. And I look back and like, Joe's just starting. I mean I think he's gotten the life story of the first four people."
"And so, campaigning with Joe meant you were going to be late but because he really cares about, you know, hearing people and letting them know that they're important," he added.
The former president added that this is a fundamental characteristic of Biden, which he believes is necessary after "so much division, anger and frustration" in the country. For him, having a leader who likes people, cares and knows their struggles will make a difference.
"I think that's going to make a big difference and I think [Vice President-elect Kamala Harris] will bring some of those same values to bear when they get sworn in," Obama explained.
Meanwhile, Obama, along with former Presidents George W. Bush and Bill Clinton, recently said that they plan to get the COVID-19 vaccine once it is available, USA Today reported. They may also potentially film themselves getting injected with the vaccine to build confidence among Americans.
Obama talked about possibly getting vaccinated on TV during an interview with SiriusXM's "The Joe Madison Show" that aired earlier this week.
"I promise you that when it's been made for people who are less at risk, I will be taking it," he said. "I may end up taking it on TV or having it filmed, just so that people know that I trust this science. What I don't trust is getting COVID."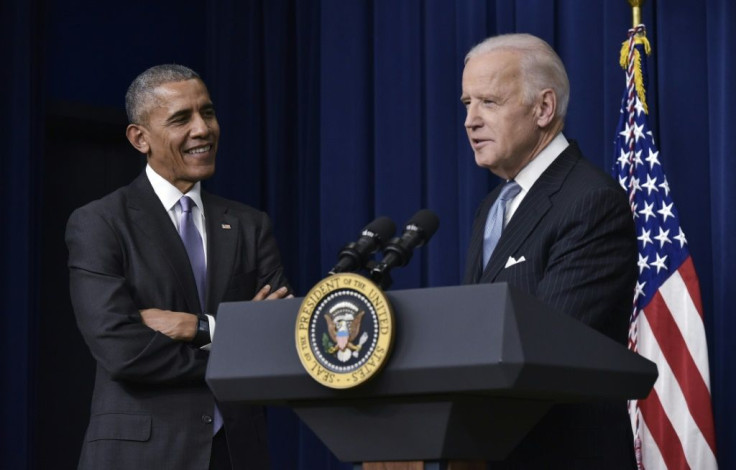 © Copyright IBTimes 2023. All rights reserved.
FOLLOW MORE IBT NEWS ON THE BELOW CHANNELS