Beauty And The Beastly: Charismatic Megafauna Jewelry
Sponsored content from Modern Luxury
Charismatic megafauna are the stars of the animal kingdom, at least for us humans on the outside looking in. Large (at least in comparison to the much-ignored insect world) and full of personality, they capture our imaginations and inspire what good grace we have towards their natural habitats. High-end jewelers have long been intrigued by these enchanting powerhouses of the animal kingdom. A current "immersive experience" hosted by Parisian jeweler Van Cleef & Arpels at the Cedar Lake gallery in New York reimagines a host of creatures, pairing them off and placing them in context: a room lined with screens simulates being adrift on an endless, calm sea, until, periodically, the lights go dark and thunder booms, producing the disorienting experience of being caught in a storm. Only the spotlights in the jewelry vitrines recessed into the screens stay on, revealing the animals for what they are: irreplaceable treasures. The name of the show, naturally, is "Noah's Ark Inspires Van Cleef & Arpels."
Van Cleef & Arpels – Giraffes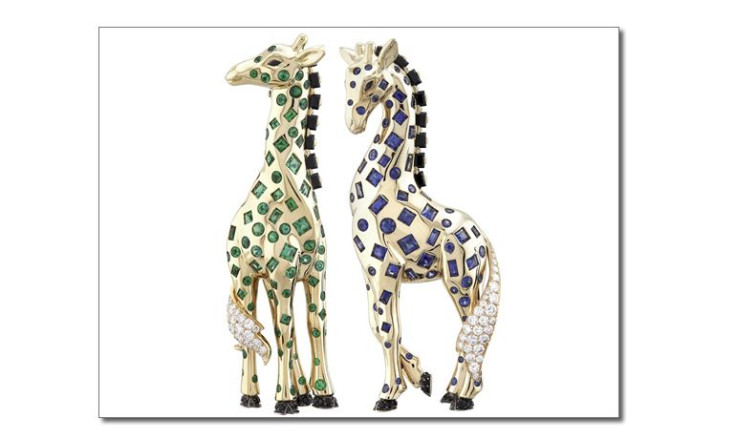 A classic 1950s feel permeates this pair of giraffe clips from Van Cleef & Arpels's high-end jewelry collection. A wash of polished 18-karat yellow gold is studded with emeralds or sapphires of varying cuts and sizes, providing fantastical camouflage. Black spinels stand in for the hooves and manes of this elegant pair, as diamond-set tails wrap around their hindquarters.
Van Cleef & Arpels – Ours Blancs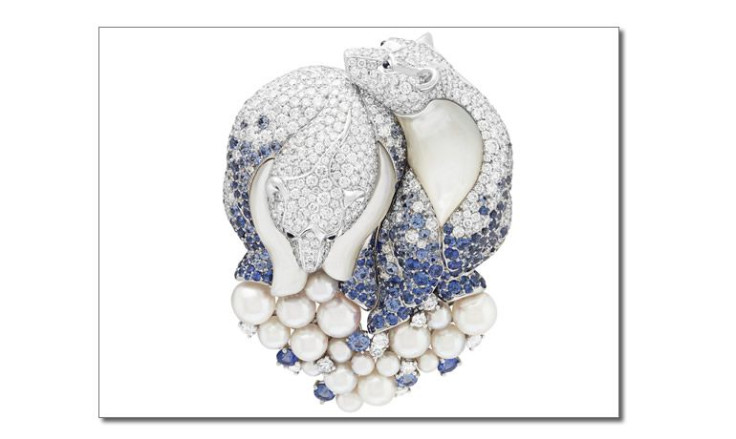 Icy and spectacular, a pair of polar bears lovingly nuzzle on this high-end jewelry clip. Round-cut diamonds and sapphires (in a snow setting, of course), capture the chilly majesty of this couple, keeping cool upon a pile of pearls sprinkled with diamonds and sapphires. Creamy mother-of-pearl pieces set upon the chests emphasize both the strength and the vulnerability of these ferocious beasts.
Cicada – Elephant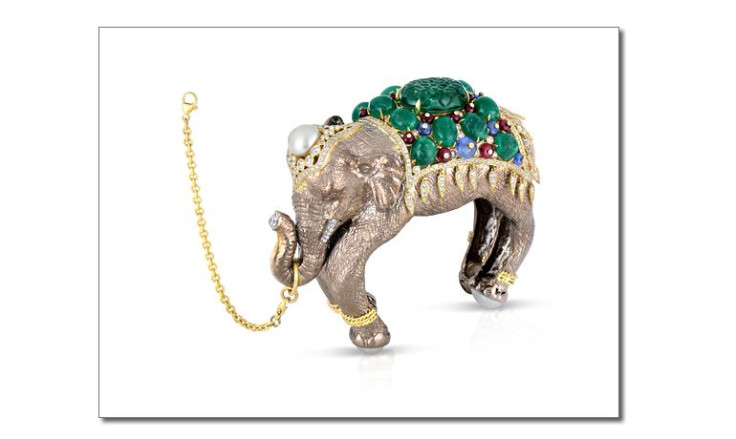 Not content to produce a stylized Indian elephant, Cicada recreated the pachyderm in meticulous detail, down to the wrinkles in its gold skin. A generous array of cabochon-cut rubies, sapphires and emeralds, including a large carved emerald, decorate the elephant's howdah, with a large pearl as the center of the head ornament. Touches of diamonds accent the extraordinary nature of this pieces, which can be a bracelet (note the gently curved legs) or, simply, an objet d'art.
Boucheron – Tigre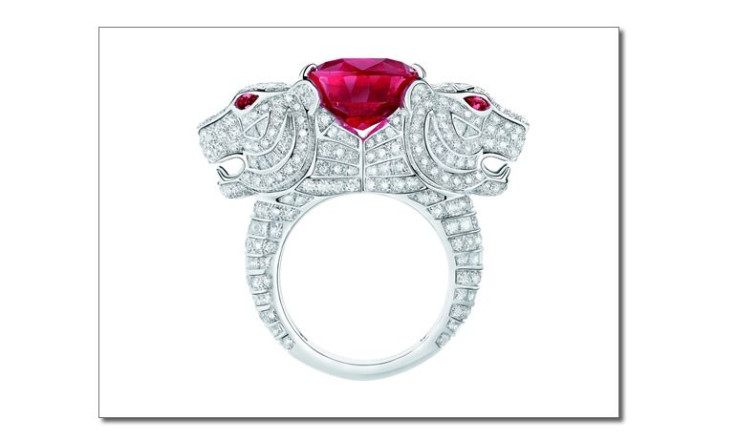 Boucheron has also crafted an extensive bestiary over the years, hatching reptiles, insects and birds from an endlessly varied lineage. This tiger ring, as simple and stark as it is, depicts the power of an uncompromising creature and its twin, snarling in defense of a 12.41-carat Burma ruby. Their equally crimson eyes emit a bloodthirsty light—woe betide anyone who ignores their warning!
de GRISOGONO – Hip-Hop Panda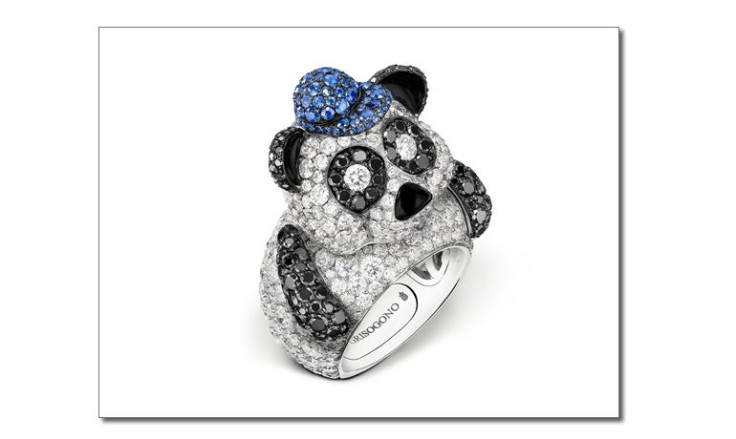 And of course, who should come along to this intense menagerie and puncture its seriousness but de GRISOGONO, brandishing a roly-poly hip-hip impresario in a sapphire baseball cap. de GRISOGONO's description of this panda reads as one of the jeweler itself: "impulsive, free spirit, rebellious and revolutionary, eccentric." The animal's sartorial quirk of dressing in diamonds and job in the entertainment industry allow it to fit right in with the brand's other creations in the "Crazymals" collection.