Bengal Tiger Gets Gold Tooth And Becomes Coolest Feline In the World
A six-year-old tiger living in a shelter in Massweiler, West Germany earned the title of the coolest cat after it was fitted with a gold implant to replace a torn canine. Cara, the 125 pound Bengal tiger, broke her tooth while chewing on toys.
She was confiscated from private ownership at a farm in Mugnano, Italy, in 2013 and transferred to the Tierart station in 2015, The Sun UK reported.
There was a team of international tiger experts who were called in to prepare Cara's front tooth for a hard-wearing gold crown after the dentists found grooves and the vets feared the tooth might break at any time.
Cara had undergone two complicated operations already to assist with her bite and to prevent cases of suffering while trying to eat. By the end of August, specialists came up with a cast of the teeth so they could help in creating a fitting tooth implant. Florian Eiserlo told media outlets the damaged tooth had been cleaned and sanded so it could hold the cement properly.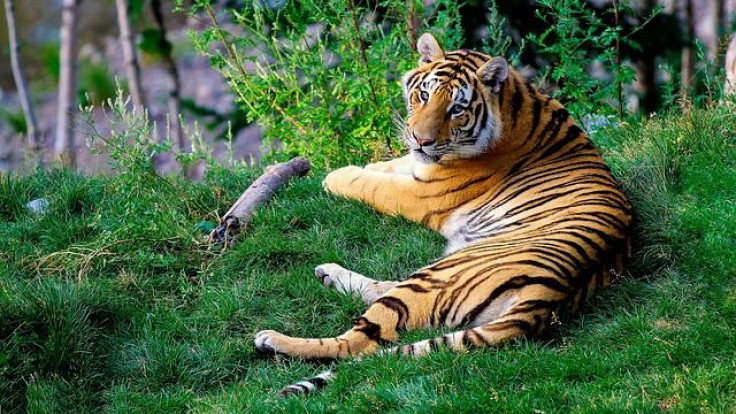 Eva Lindenschmidt stated they are happy Cara can eat chunks correctly at the moment and was even seen smiling as she showed off her new teeth. Lindenschmidt added that the tooth crown was a perfect fit from the beginning. They saw on x-rays the grooves that were in her tooth went back to the root canal. If the tooth had broken then the tiger would have been in great pain the whole time.
It was lucky that the team of specialists working on the case at the time was able to produce the gold crown. They include Dr. Johanna Painer and Jens Ruhnau from the Vienna Veterinary University.
The reactions on social media upon the news of the gold implants on the tiger's dental formula were mostly positive. A few put in some jealous quips on the cat's luckiness.
Jayme K, a commenter on the Twitter post, asked incredulously why the cat seemed to have a better dental formula than he did. Others debated the durability of the gold tooth implant, considering it seemed inadequate to the task the tiger would require of it.
The canine is meant to bite into the skin, flesh, and even bone. With such a required bite force over the life of the tiger, the question is whether the tooth will be able to put up with the demanding needs.
The good thing is that she is in captivity and so she can quickly get assistance whenever the need arises, considering she is under a lot of observation.