Bernie Sanders Israel Position: How Palestine Debate Comments Could Shape Democratic Party's Discourse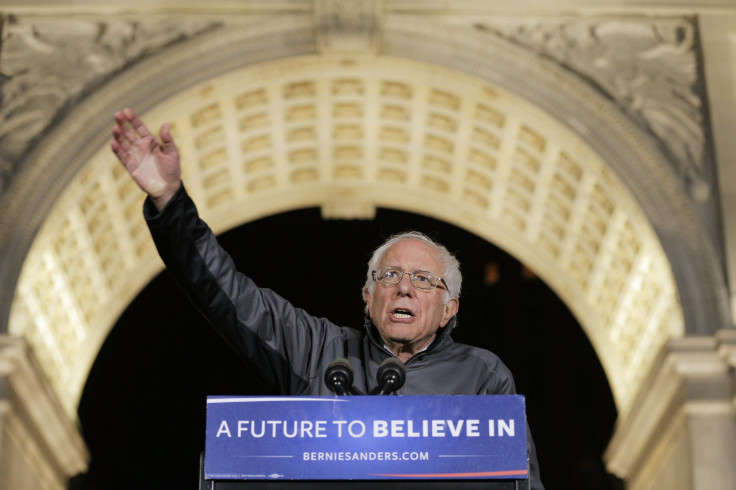 In many ways, Bernie Sanders is similar to a typical Jewish-American millennial. Like most young American Jews, Sanders does not see the Israeli-Palestinian conflict as a top priority. Also like many young American Jews, when Sanders does talk about Israel, he acknowledges Prime Minister Benjamin Netanyahu is far from perfect and says he wants to see an increased focus on Palestinian rights.
But of course, Sanders is a 74-year-old politician running for president. The Vermont senator's comments publicly criticizing the U.S. government for its unwavering support of Israel during Thursday's Democratic debate represented a significant political risk. Speaking in Brooklyn, New York, home to one of America's most concentrated Jewish populations, Sanders could have found himself facing a silent room after saying Israel's response to attacks from Gaza was "disproportionate." Instead, the crowd of many young voters ate it up.
While support for Israel has long been a necessity for U.S. politicians from both major parties, millennial voters — and particularly young American Jews — are more likely than ever to hold critical views of Israel that differ starkly from older generations. The emergence of this group of young Jewish voters who are not willing to tie themselves to Israel's policies represents a significant shift in both the American-Jewish communal discourse and in American politics.
"Young American Jews are becoming increasingly critical of the Israeli occupation, and that's the future of the Democratic Party," said Daniel Sieradski, founder of the organizing group Jews for Bernie. "For those progressive Jewish voters who have been active and share Bernie's values, this was an incredibly affirmational moment for us to see Bernie speak up on those issues."
These young adults, born nearly a half century after the Holocaust, feel less of a connection to Israel than their parents and have embraced social justice movements that seek equality for all people, forcing them to confront questions about Israel's actions that many consider human rights violations, experts say. Rather than worry about a candidate's support for a country several oceans away, young American Jews tend to examine the values their politicians espouse across all topics, and Sanders has been a natural fit.
"I think that Bernie's statements in support of the humanity and freedoms of Palestinians are a huge part of why so many young Jews are flocking to him," said Max Berger, a 30-year-old political organizer from Brooklyn. "It's a huge sign of how politics are changing. People are excited about candidates who support equality and are willing to fight for it."
For Berger and other young liberal Democrats, the presidential debate this week was the latest in a series of moments that have shown them Sanders shares their values on justice, whether it's in discussions about the Israeli-Palestinian conflict, calling for an end to mass incarceration in the U.S. or talking aggressively about income inequality. Another recent decision in this trend was the hiring of Simone Zimmerman, Sanders' Jewish outreach coordinator who just happens to be a vocal left-wing activist opposed to the Israeli occupation of the West Bank.
The news of Zimmerman's hiring was met with both raucous enthusiasm from Sanders supporters and liberal Jews as well as outrage from members of the American-Jewish establishment. Although the Sanders campaign reversed itself and suspended Zimmerman Thursday after receiving intense pressure from prominent Jewish leaders, the public response reflected the growing movement of young people who embrace certain levels of criticism of Israel.
"I think Bernie Sanders does speak to the politics of many American Jews in that he does still care about Israel as a country but has his critiques," said Yonit Friedman, a 2014 graduate of New York University who serves as a member of the steering committee for Open Hillel, a movement that seeks to broaden the discourse around Israel and Palestine in Jewish groups on U.S. college campuses.
Friedman grew up in a liberal Jewish atmosphere where she said Israel was described like a "Jewish Disneyland." But once she and her peers became teenagers and had questions about the news they were hearing, community leaders stopped discussing Israel. When she traveled to the Jewish state to spend a semester abroad there, Friedman said she was dismayed to learn about the conditions in which many Palestinians lived and the violence in Israel.
"I remember feeling this intense sense of betrayal from this community that I grew up in," she said. "I heard so much about solidarity and standing up for those that need help … but when it came to this one issue there was complete radio silence."
U.S. Military Deployments in Israel | FindTheData
The shift in public opinion about Israel is not brand-new, but as more millennials become eligible to vote and engage in national politics, it is gaining more attention. A 2013 Pew Research survey found that 25 percent of American Jews between 18 and 29 think the U.S. is "too supportive" of Israel, while 12 percent of those 30 to 49 think so, and just 6 percent of those over 50 share that view.
Another issue for those favoring politicians who strongly support Israel is that many American Jews do not think about Israel when voting. A 2012 poll from the Public Religion Research Institute showed that 51 percent of American Jews considered the economy their top issue when voting, followed by the divide between wealthy and poor (15 percent), healthcare (10 percent) and the federal deficit (7 percent). Just 4 percent of Jewish voters said Israel was the most important issue when deciding whom to support for president.
Jewish voters overwhelmingly lean Democratic, and in 2012 they went for President Barack Obama over Mitt Romney by a nearly 40-point margin. Much of this is due to their preference for liberal social issues, something that registers with young U.S. Jews' support for Sanders. While young Jewish voters are mostly Democrats like Jews overall, this new generation feels alienated from the establishment in a way that is different from those who came before them, said David Myers, a professor of Jewish history at the University of California, Los Angeles.
"As that generation of Jews came to maturation, they came to develop their own views on Israel-Palestine, and it was deeply dissonant with the American-Jewish establishment," Myers said. Sanders "giving a public voice to them suggests that they have entered into the mainstream."
There is a debate among scholars about how large this contingency of young American Jews really is, Myers said. But it is clear they are making their voices heard and asking new questions.
"The question that the generation currently in charge of the main American-Jewish organizations asks is an existential one: 'How can we do what we need to do in order to ensure the survival of Israel?' The next generation doesn't ask that question. They were not raised in the shadow of the Holocaust, nor with the sense of Israel as isolated and surrounded by hostile neighbors but rather as the Goliath, … Their question is: 'How can we bring an end to the occupation?' That I think suggests a very important question that will have consequences for the future of the American-Jewish communal debate."
Yet as these younger Jews have begun to vote, the two major parties have not changed their views. Former Secretary of State Hillary Clinton stuck to her strictly pro-Israel position during Thursday night's debate and was seen as extremely hawkish by young liberals when she spoke at the American Israel Public Affairs Committee (AIPAC) policy conference last month. On the Republican side, the candidates have actively competed to demonstrate their unequivocal support for Israel, and Donald Trump caused major waves when he struck a position more similar to Sanders', saying he would remain "neutral" in Israeli-Palestinian negotiations if elected.
Despite the media attention, not all young people are for Sanders, and not all Jews are Democrats. Orthodox Jews tend to vote more conservatively on all issues, and especially when it comes to Israel.
"Neutrality in general is sort of a nice idea, but Israel has a unique position in the Middle East, being our natural ally. That relationship, by nature of our shared values, is going to be different than with other countries in the Middle East," said Daniella Greenbaum, a junior at Barnard College in New York and president of Columbia University's most vocal pro-Israel student group.
Greenbaum said while she's a registered Republican and liked Jeb Bush's policy ideas, she's had a tough time with the election this year. Sanders' recent comments on Israel and his choice of Jewish outreach director could be concerning, she said, but there's no way she'll vote for Trump.
"I was at the AIPAC policy conference. I thought Hillary gave a great speech," Greenbaum said. "I would be much happier voting for Hillary over Donald Trump than I would be voting for Bernie … but if Donald Trump is the Republican nominee, I will be voting for the Democratic nominee, unless there's some third-party candidate."
With a presumptive GOP nominee like Trump and powerful groups like AIPAC continuing to spend large sums on pro-Israel lobbying efforts, one set of comments from Sanders or a millennial Jewish outreach coordinator is unlikely to disrupt all of American politics. Even the most ardent Sanders supporters did not expect Clinton to change her stance on Israel in 2016. Still, these comments have already sparked a more open discussion about Israel among the U.S. political class.
"Recognizing Palestinian humanity is a really nice step, and I believe it's going to be opening up space for U.S. politicians to acknowledge the humanity of Palestinians," said Liza Behrendt, a 26-year-old organizer with Jewish Voice for Peace in Boston. But ultimately, Behrendt said she wants to see politcians go further and end their unconditional support for Israel's policies. "Palestinians' voices have been systematically silenced in U.S. politics ever since Israel was founded," she added.
Jewish Voice for Peace (JVP) is an organization that seeks an end to the Israeli occupation and supports the boycott, divestment and sanctions movement against Israel. It also embodies much of the generational tension in the American-Jewish community. The Anti-Defamation League has placed JVP on its list of top-10 anti-Israel groups, and many in the American-Jewish establishment view JVP with hostility.
As the conversation about Israel and Palestine has exploded on college campuses around the country, some have linked anti-Zionism to anti-Semitism, further embroiling the debate. Behrendt says this is a distraction from important discussions. But while young Sanders supporters may like the candidate's criticism of Israel and some are involved with groups like JVP, this can make older generations more nervous.
"Anti-Semitism is a real dangerous force in the world. Palestinians are not responsible for this force. When Palestinians fight against their oppression they are supporting their own liberation," Behrendt said. "We see Palestinian liberation as tied in with freedom and justice for Jews as well. … We need to fight all forms of racism in one movement."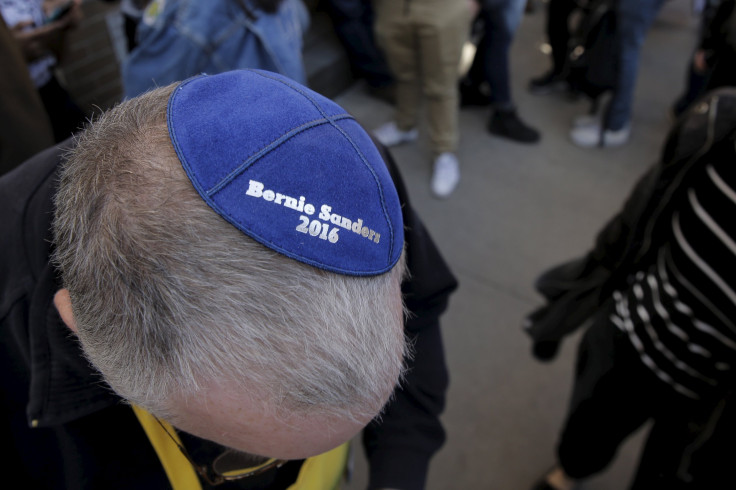 Many young Sanders supporters talked about this need for one movement, or to think about intersectionality when fighting for justice. Though the Sanders campaign suspended Zimmerman, the Jewish outreach coordinator, those who support her said this week the conversation that ensued will continue to push forward into Democratic politics. Sieradski, the Jews for Bernie organizer, said he believes the American-Jewish establishment is afraid Sanders is legitimizing the criticism of Israel.
"I think he created a lot of room now on the spectrum. I think he broadened the views so that Democrats can feel more empowered to dissent from the hawkish mainstream," Sieradski said. "If you look at the progressive Democratic candidates that are coming up right now they are already doing so."
Not many Democrats have talked about Palestinian rights the way Sanders did this week, but some are beginning to be known for their more progressive views on Israel. Berger, the Sanders supporter from Brooklyn, said he believes it's "inevitable" the Democratic Party will embrace a more nuanced view of Israel.
"It's like a lot of other issues that Bernie has taken leadership on that the Democratic Party is waking up to where people are at," Berger said. "It's the beginning of a giant shift, not just on what's possible but to where the Democratic Party officials feel obligated to stand."
© Copyright IBTimes 2023. All rights reserved.