Beyond Napa: The Best Emerging Wine Regions In America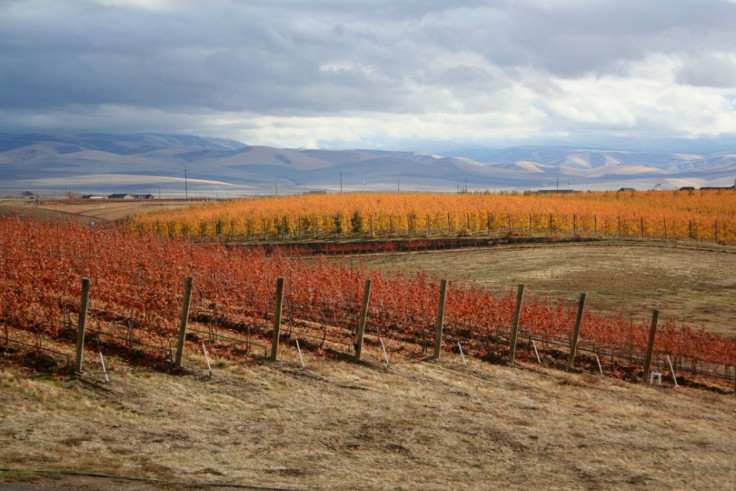 Napa: Heard of it? Of course you have. Some of the world's best wines come from Napa (and it's neighbor, Sonoma) Valley -- the rolling hills that first put the United States on the map. Its exquisite mixture of the sybaritic, the sublime and the sinfully delicious make it the nation's premiere destination for oenophiles. But there's more to American wines than Northern California.
All 50 states now produce wine in some form (cue the jokes about Oklahoma reds or Dakota whites). Now, just because all 50 states are capable of producing wine does not mean they all should. There are, however, some pretty impressive bottles of vino coming out of some pretty surprising places.
Blessed with ideal conditions, weather stacks the odds heavily in California's favor. But other states boast ideal conditions for their own varietals of both old world and new world grapes, and you'll find a lot less noses in the air.
With autumn fast approaching, wineries in these regions will celebrate the fresh start of a new vintage with harvest festivals, tours, tastings, winemaker's dinners, special events and more. Indeed, the fall harvest is one of the busiest, most exciting times to visit wine country.
If you can't make it to California, why not swirl your glass a little closer to home:
Pacific Northwest: Walla Walla, Washington
Here's what people think of when you mention Washington: Boeing, Microsoft, coffee and, mistakenly, the nation's capital. Here's what they should be thinking: Walla Walla wine. Believe it or not, Washington is the U.S.'s second-largest wine-producing state, despite the fact that wine growing didn't establish a foothold until the 1970s. These days, a new winery opens up every two weeks in Walla Walla, "the town so nice, they named it twice," though its isolation (about four hours from Seattle, Portland or Boise) has kept it from getting too Napa-fied.
Try: Cabernet Sauvignon, Merlot, Syrah
Southwest: Texas Hill Country
Everything's bigger in Texas, so it should come as no surprise that the Lone Star State is home to the country's second-largest AVA (American Viticultural Area) with more than 9 million acres. Upwards of 30 wineries blanket this bumpy terrain in the heart of Texas with row upon row of Bordeaux blends and Italian varietals. Some 5 million annual visitors make Hill Country the third-most visited region in the nation, though many outside the state have no idea it even produces wine. Its location just north of San Antonio and west of Austin helps bring in the crowds, as does a collection of truly Texan events like the "Wine & Swine."
Try: Cabernet Sauvignon, Syrah, Sangiovese
Midwest: Traverse City, Michigan
There's a fruit fight fermenting in northern Michigan: cherries vs. grapes. Once known as the Cherry Capital of the World, Traverse City has grown in popularity over the last decade as an exciting new region for wine. Situated along the 45th parallel (the same as Bordeaux, Burgundy and Alsace) and sheltered from harsh winters by its proximity to Lake Michigan, the peninsulas on each side of West Grand Traverse Bay are home to the majority of Michigan's 71 commercial wineries and undoubtedly its finest. Many boast soaring hilltop views of the bay, and all offer crisp, refreshing whites (both dry and ice wines) and silky, cool-climate reds.
Try: Gewürztraminer, Riesling, Pinot Blanc
Southeast: Loudoun County, Virginia
Virginia is the Old Dominion and the Mother of Presidents -- a state known for its historic battlefields, rolling hills and politically minded Washington commuters. But in the last two decades, the state has grown a reputation for something altogether different: fine wine. Wine Enthusiast magazine recently named Virginia one of its top 10 wine travel destinations for 2012, adding to a growing list of awards and accolades. Though wine-making in the state is hardly a new phenomenon -- it dates back to the early 1600s in Jamestown Colony -- the state has seen a dramatic increase in wine production over the last decade from 64 wineries in 2000 to 213 in 2012. Much of that growth has been in Loudoun County, whose historic farmlands, just 45 minutes from the nation's capital, have become a popular weekend escape for politicians, foodies and suburban housewives alike.
Try: Viognier, Petit Verdot, Norton
Northeast: North Fork Of Long Island, New York
Forget cheese. Wine is best paired with a nice view. Just two hours outside of the United States' largest city lies a calm oasis of unspoiled beaches and sprawling vineyards. Envision a hybrid of Cape Cod and Tuscany, and you'll begin to understand Long Island's North Fork. The burgeoning wine region is now some 40 years in the making, and the tourism industry has been quick to plant its seed. Yet, this sinewy strip remains a much quieter alternative to the pomp and circumstance of the Hamptons below. With a bottle of wine and two patio chairs, you could easily get lost in a lazy afternoon conversation for hours.
Try: Merlot, Cabernet Franc, Chardonnay
© Copyright IBTimes 2023. All rights reserved.
FOLLOW MORE IBT NEWS ON THE BELOW CHANNELS