Biden Believes US Will Avoid Potential Recession As Economy Is 'Strong Now'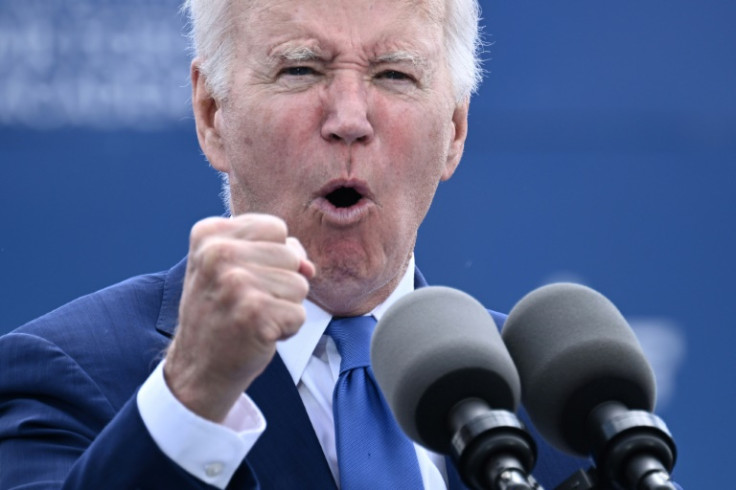 KEY POINTS
The president told donors at a Maryland fundraiser that he does not expect a recession
His remarks come a day before his 'cornerstone' speech in Chicago
Despite Biden's confidence, polls have shown voters' lack of confidence in his handling of the economy
President Joe Biden believes the U.S. economy is safe from the doom of a potential recession despite warnings from economists and banks.
Biden said he doesn't expect a recession and described the U.S. economy as "strong now" while speaking to donors at a private fundraiser in Chevy Chase, Maryland, on Tuesday, Reuters reported.
"It's been coming for 11 months, well guess what? I don't think it is going to come," he added. The president gave credit to a strong labor market and his efforts to keep inflation in check as reasons why he does not expect a recession.
Data published this week on housing and consumer confidence also appear to support Biden's affirmation of a resilient economy, according to Bloomberg. The housing market seems to be bouncing back as data shows that new home sales in May increased for the third month in a row.
Orders for manufactured durable goods in the country also increased by 1.7% in May and rose for the third month in a row, according to a report released by the U.S. Census Bureau.
On the other hand, predictions continue to warn several economies of an incoming recession. U.K. banking giant HSBC gave a warning this week about the U.S. economy possibly seeing a downturn toward the end of 2023.
While Biden seems confident in armoring the country against a potential recession, polls show a lack of faith among voters in the president's handling of the economy. Only 33% approve of his leadership of the U.S. economy, according to a May survey by the Associated Press-NORC Center for Public Affairs.
Biden's remarks about the country's resilient economy come before his "major address" in Chicago. The president is set to deliver a speech Wednesday on "Bidenomics" to convince voters that they need not worry about a recession.
Bidenomics focuses on "growing the middle class and empowering workers, investing in America and lower costs," the White House said.
White House press secretary Karine Jean-Pierre referred to the upcoming Wednesday address as Biden's "cornerstone" speech. "It's a vision about growing the economy from the middle out and the bottom up — you hear us say that over and over again, because we believe that trickle-down economics does not work," she said Monday. "We have the data to prove it."
© Copyright IBTimes 2023. All rights reserved.