'The Biggest Loser' Finale Recap: Danni Allen Crowned Season 14's Winner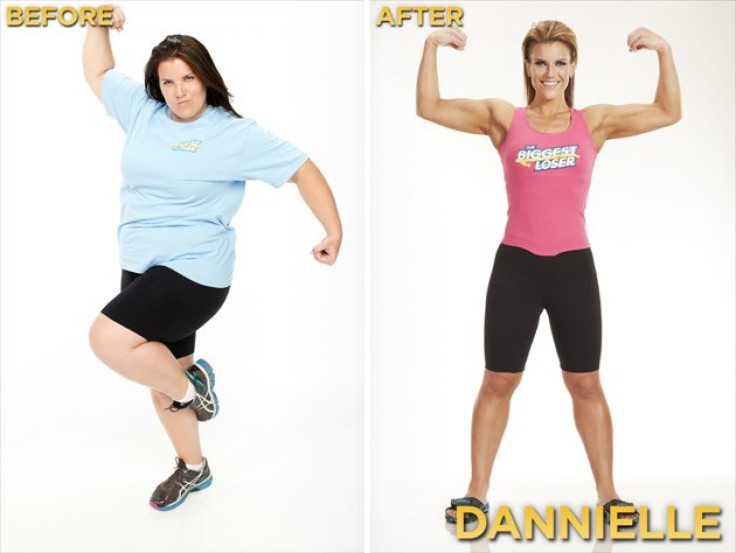 Sporting a slender, toned physique, "The Biggest Loser" contestant Danni Allen took the stage to claim her $250,000 prize on Monday.
After weeks of battling the scales and her own limitations, Allen outlasted fellow finalists Jackson Carter and Jeff Nichols to claim the show's $250,000 prize. Throughout the season, the 26-year-old from Wheeling, Ill., lost an incredible 121 pounds, which accounted for 46.9 percent of her initial weight of 258 pounds.
The season 14 finale was a bittersweet occasion for Nichols, who finished just behind Allen for second place. The 26-year-old from Monroe, Mich., lost an amazing 181 pounds, besting Allen in terms of total weight lost. Unfortunately, Nichols' weight-loss percentage came in at 46.6, just slightly behind of the total that secured a win for Allen. E! Online noted, with just one more pound of weight loss, Nichols would have been crowned the show's winner.
Jackson Carter, 21, the show's first openly gay participant, came in third place. He amassed a weight loss of 132 pounds, or 42 percent of his initial weigh-in total. Still, Carter's newly svelte physique and regained confidence is likely prize enough.
Meanwhile, "Biggest Loser" contestant Gina McDonald, who was eliminated during week 11, was crowned season 14's "at-home" winner. After showing up at the ranch weighing 245 pounds, the 47-year-old Alabama native dropped 113 pounds, an inspiring 46 percent of her original weight. McDonald was awarded $100,000 for her efforts.
The finale also featured a heartwarming recap of the season's teenage contestants. Each of the formerly obese youngsters managed a weight loss of 40 to 50 pounds, accomplishing several of their social goals in the process. Noah "Biingo" Gray, 13, made his local baseball team, 13-year-old Lindsay Bravo performed a cheerleading routine, and 15-year-old Sanjana "Sunny" Chandrasekar showed off the fit of her new prom dress.
While only one person could receive season 14's cash prize, each "Biggest Loser" contestant has made serious strides toward living a healthier life.
© Copyright IBTimes 2023. All rights reserved.