Black-Bunned Darth Vader Burger Pays 'Star Wars' Homage at French Fast Food Chain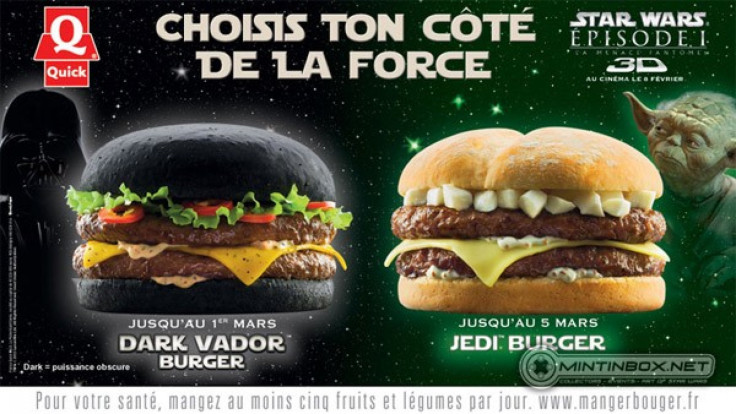 French fast food chain Quick is commemorating the coming premiere of Star Wars Episode I: The Phantom Menace 3D by launching a line of Star Wars-themed burgers, including a black-bunned Darth Vader burger, according to reports.
The Star Wars burgers will debut in Quick restaurants throughout France on Jan. 31, just days before the Feb. 10 release of the movie in the country. According to the Daily Mail, the burgers will only be available until March 1.
The limited-edition burgers come in three flavors:
The Dark Burger -- a homage to the Phantom Menace himself, Darth Maul. It's a double cheeseburger on a seeded bun with lettuce and some sort of creamy mayo spread.
The Jedi Burger -- a homage to Yoda. It's also a double cheeseburger on what looks like a sourdough bun with the creamy mayo spread and white pellets that look like marshmallows.
The Dark Vador -- a homage to iconic Star Wars villain Darth Vader. It's also a double cheeseburger with a light salad topping, lettuce and tomato. What makes this burger stand out from the other two is its pitch-black bun that seems to go beyond the hue of pumpernickel into burnt charcoal territory, according to eater.com. However, the logical explanation would be that the bun has been injected with black food coloring.
While a black bun, marshmallows and a suspect mayo spread might turn some stomachs this year, it's not the first time Quick's promotional material has been questioned.
In February 2010, Quick decided to serve only halal meat in eight restaurants, sparking criticism from politicians that its menu discriminated against non-Muslims, reports the Daily Mail. Also, in November 2010, Quick offered Supreme Foie Gras burgers at more than 350 outlets across France at the bargain price of five euros as a pre-Christmas treat for customers. Those burgers consisted of duck foie gras, beef, relish and lettuce.
RELATED ARTICLE: Darth Vader Burger: Is the 'Star Wars' Burger Quick's Smartest Gimmick?
© Copyright IBTimes 2023. All rights reserved.