Darth Vader Burger: Is the 'Star Wars' Burger Quick's Smartest Gimmick?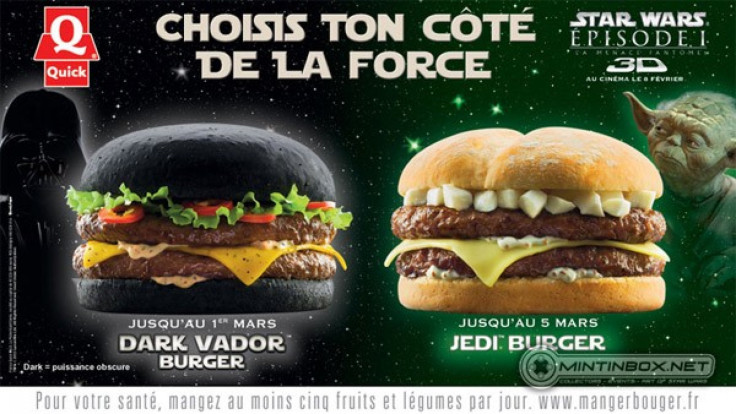 According to Belgian fast food chain Quick's Web site, the restaurant is the only European fast food hamburger restaurant chain operating on an international scale.
Recently, Quick has been promoting on an international scale with an advertisement for the release of three new burgers, including a Darth Vader-themed burger, in conjunction with the premiere of Star Wars Episode I: The Phantom Menace 3D. These Star Wars burgers will debut in Quick restaurants throughout France on Jan. 31, just days before the movie comes out on Feb. 10 in the country. And, according to the Daily Mail, the burgers will only be available until March 1.
The limited-edition burgers come in three flavors:
The Dark Burger -- a homage to the Phantom Menace himself, Darth Maul. It's a double cheeseburger on a seeded bun with lettuce and some sort of creamy mayo spread.
The Jedi Burger -- a homage to Yoda. It's also a double cheeseburger on what looks like a sourdough bun with the creamy mayo spread and white pellets that look like marshmallows.
The Dark Vador -- a homage to iconic Star Wars villain Darth Vader. It's also a double cheeseburger with what looks like a salad dressing spread, lettuce and tomato.
All three burgers have their own suspect characteristics, but of the three, the Dark Vador a.k.a. Darth Vader burger has made the most splash around the Web because of its striking pitch-black bun that seems to go beyond the hue of pumpernickel into burnt charcoal territory, according to eater.com. Logic says that the bun has been injected with black food coloring.
Regardless of ingredients and how the burgers will taste, it seems as though each burger, maybe even the Dark Vador burger by itself, has made Quick's promotion just a really smart marketing gimmick to lure Star Wars and burger lovers worldwide to not only try the burger, but also see the movie.
It's safe to say a black bun been has never been made before, and in Quick's case, it may cause the promotion to either sink or swim when all the burgers are actually released. Some might want to try just for the heck of it, while others may be scared to just because of the color. Nevertheless, the hype has sure heightened at the present moment and we will know just how much it carries over in just a few weeks.
RELATED ARTICLE: Black-Bunned Darth Vader Burger Pays 'Star Wars' Homage at French Fast Food Chain
© Copyright IBTimes 2022. All rights reserved.
FOLLOW MORE IBT NEWS ON THE BELOW CHANNELS