Black Friday 2018: Who Has Better Tech Deals? Target vs. Walmart
Black Friday offers an extensive array of deals from several retailers with some of the best coming from Target and Walmart. But which one offers the best tech deals in 2018? When comparing Target (TGT) vs. Walmart (WMT) head-to-head, here's what you should buy from each store.
iPhones
When it comes to iPhone deals, where you shop really depends on which store is your favorite. Both Target and Walmart are offering in-store gift cards with the purchase of the latest generation iPhones on Black Friday. You'll want to choose the retailer that you shop at the most frequently to redeem these gift cards.
Target shoppers will be able to lap up a $150 gift card with the iPhone 8, 8 Plus, or X models or $250 gift card with the iPhone XS or XS Max models. Walmart shoppers will make out even better as the retailer is offering a gift card up to $400 with the 8, 8 Plus, X, XS, XS Max or XR iPhone models. Both companies do require qualified activation on Verizon, Sprint, or AT&T with purchase.
Other Smartphones
Samsung deals are a tie between Target and Walmart. Both retailers are offering the Samsung Galaxy Note9 with $300 in-store gift card and qualified activation on AT&T, Verizon, and Sprint. If you are looking to purchase the Galaxy S8, S8+, S9 or S9+, you will get the same $300 in-store gift card at Walmart with the purchase and activation of these phones. Target is not offering an advertised deal on these older generation Samsung Galaxy phone models.
TVs
TVs are where it's at on Black Friday, and both Walmart and Target are offering big deals. Choose Walmart for big TVs as the company is offering the 65-inch 2160P Sharp Class 4K Ultra HD Roku Smart LED TV for only $398. In comparison, Target shoppers will find the 65-inch Samsung Smart Curved UHD TV for $799.99 – a $300 savings.
If you are looking for a little smaller TV, head on over to Target as it has the 49-inch LG 4K Ultra HD Smart LED TV for $329.99 and the 43-inch LG 4K UHD HDR Smart TV, selling for $269.99. Walmart also has some sweet TV deals in a similar size range with the 55-inch Samsung 2160P Class 4K UHD Smart LED TV for $398 or the 32-inch Samsung 720P Class HD Smart LED TV for $178.
Laptops
If laptops are on your must-buy list, you will do well shopping at Walmart. It has a larger offering of laptops on sale including the 15.6-inch HP Pavilion X360 Convertible Laptop priced at $499 and the 11.6-inch HP Stream 11 Laptop priced at $159. Both retailers are offering a series of Chromebooks on sale for $99 at Walmart and $119.99 to $199.99 at Target.
Tablets
Everyone wants a tablet this year, and Target is the place to find a great deal on one. The Amazon Fire 7 is on sale on Black Friday for only $29.99 while the more robust Amazon Fire HD 10 is selling for $99.99. Walmart does have some tablet deals if you happen to be shopping there on Black Friday with the Samsung Galaxy Tab E priced at $129 and the RCA Voyager 7 selling for only $28.
iPads
It's a battle of pennies for iPads as Target is advertising its iPads deals starting at $249.99 including the iPad Mini 4. Walmart is offering the iPad sixth generation for a few pennies less at $249. The choice is really yours when you decide to cash in on an iPad from either of these retailers.
Game Consoles
Gamers can unite at Walmart as there will be a larger offering of PlayStations and Xboxes on sale. Walmart has both the Sony PlayStation VR Astro Bot bundle and Sony PlayStation 4 Slim 1TB Spiderman bundle on sale for $199. Compare this to the Sony PlayStation 4 1 TB Spider-Man bundle, selling for $199.99 and the PlayStation VR bundles, selling for $249.99 at Target.
Walmart is also featuring the Microsoft Xbox One X 1TB console for $399 and the Microsoft Xbox One S 1TB Minecraft Creators bundle for $199. No Xbox deals were promoted at Target.
Smart Home Devices
Plenty of smart home devices are on sale at both Target and Walmart. Target is offering more deals on these products with the Google Chromecast Video on sale for $25, the Google Chromecast Ultra on sale for $45, and Google Home, selling for $79. You'll find the Google Home Mini and Chromecast bundle, selling at Walmart for $45 and the Google Home Mini priced at $25. The Google Home Hub is $99 at both stores, but Walmart is offering $10 VUDU credit and six months free of YouTube Premium with purchase.
If you are looking for Amazon smart home devices, turn to Target as it has the Amazon Echo Dot Gen 2 for $19.99 and the Amazon Echo Dot Gen 3 for $24. Walmart has not announced Black Friday deals on these Amazon products.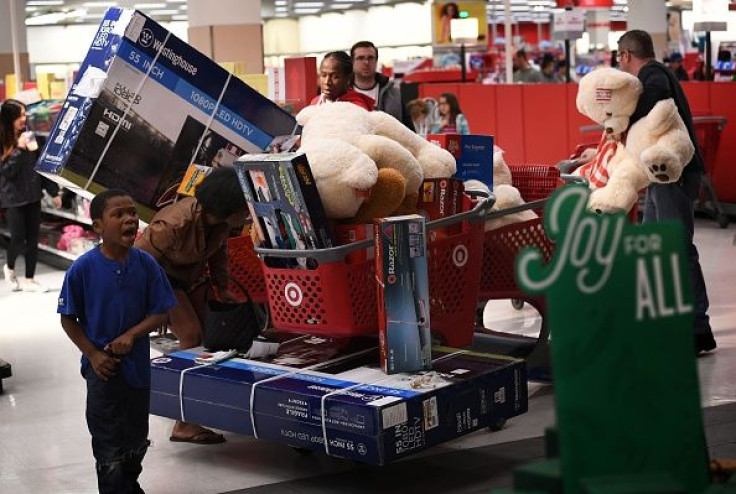 © Copyright IBTimes 2023. All rights reserved.