'The Blacklist' Season 3 Spoilers: The Task Force Gets Back To Work After A Final Farewell In Episode 20; 'The Artax Network' Recap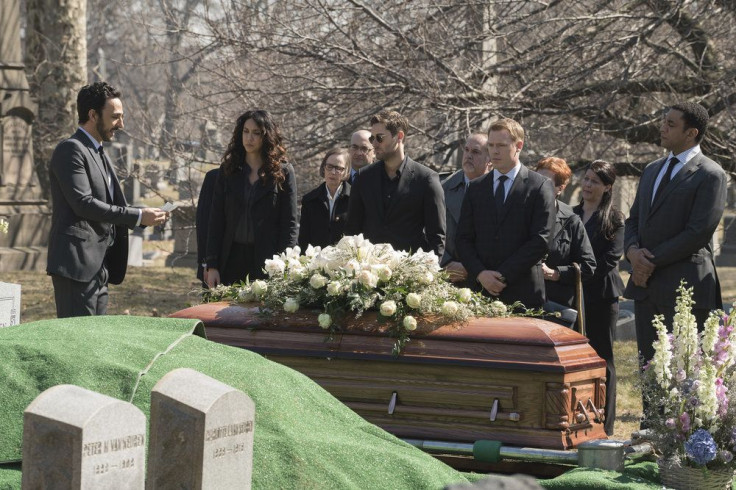 The task force went back to work with heavy hearts on "The Blacklist" Season 3 to find who was responsible for the death of Liz. However, Red was nowhere to be found and it was up to the team to try and reel him back in for help in finding the killer in episode 20, titled "The Artax Network."
Episode 20 begins with Cooper (Harry Lennix) giving a eulogy at Liz's (Megan Boone) funeral. As he speaks, the rest of the task force prepares to say goodbye to their friend. Cooper breaks down in tears at the end of his speech and lets everyone know that Liz will live on in his heart. Before Liz is laid to rest at the cemetery, Aram (Amir Arison) reads an excerpt from Shakespeare in honor of his fallen friend. He then starts to cry and the team says farewell.
Red (James Spader) ends up not going to the funeral for Liz. Instead he shows up at the house of a man named Dom (Brian Dennehy). Red knocks on the door and when Dom he answers he tells him that his granddaughter has passed away.
Despite being ordered to stay out of it, Cooper has the task force start investigating who it was that was after Liz. They learn the team that did it was using a network of satellites to connect to different security cameras and they were able to see where Liz was the whole time. Aram tells Cooper the case is something they could really use Red's help with.
Red tells Liz's grandfather that he did everything that he could to protect her, but one threat got past him. He also tells him that Liz had a baby girl and now Dom is a great grandfather. Meanwhile, Tom (Ryan Eggold) struggles with being a dad on his own.
The task force is on edge following the loss of Liz. When her desk gets cleaned out, Ressler (Diego Klattenhoff) snaps at the employees and Cooper has to calm him down. The task force eventually gets a lead when they discover whoever was tracking Liz was also following a man named Benjamin Stalder (Kelly AuCoin), a business executive with ties to an energy company.
Tom calls Cooper and asks to be involved with the team's investigation. Cooper wants Tom to remain with the baby and to leave the job up to them. When Ressler and Samar (Mozhan Marnò) go to intercept Stalder at a hotel, they run into Nez Rowan (Tawny Cypress), who was a part of Mr. Solomon's (Edi Gathegi) crew. Rowan is able to fight off Samar and escape, but they were able to prevent Rowan from taking Stalder.
Dom finds Red going through Liz's childhood items he has in his garage. Dom gets angry with Red when he sees this and he blames Red for the fact that both his daughter and granddaughter are dead. Red never told Liz her grandfather was alive, which Dom is upset about especially after he lost his daughter.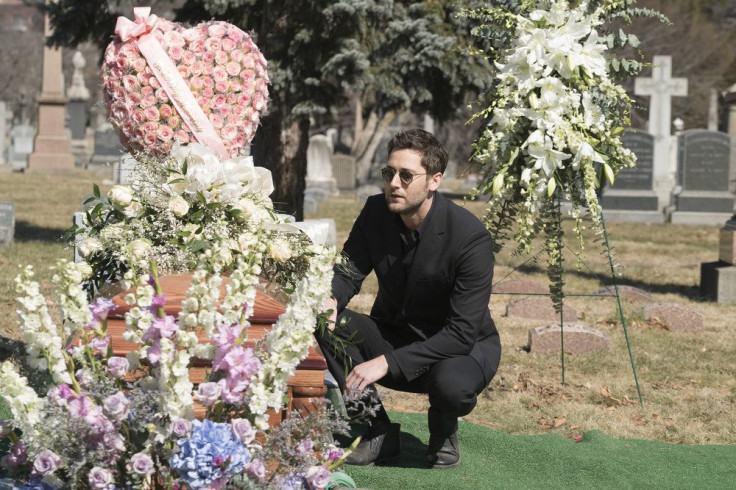 Rowan was supposed to still be in government custody and Cooper goes to Cynthia Panabaker (Deirdre Lovejoy) for answers. She says she doesn't know how Rowan got out, but she wants Cooper to look the other way. He says he can't, while she demands that he find Red and make sure that he continues to work with them despite Liz's death.
Cooper calls Tom and gets him involved in the hunt for the team that was after Liz. Aram tracks Red down thanks to Dembe (Hisham Tawfiq) to try to get him to come back to the team. Aram wants him to return the debt Red owes him for protecting Liz from the Cabal and says he understands how Red is hurting by the loss of Liz. Red tears up after Aram makes his pitch, but he still refuses to come back and aid the task force.
Aram returns to headquarters without Red, but he's able to figure out that the team after Liz was using an abandoned set of satellites known as The Artax Network. He's able to figure out that the satellites are in use and gets a location of who's using it.
Dom asks Red why he really showed up at his house and Red explains he's looking for a way forward. Dom informs Red he overheard his conversation with Aram and tells Red there are people that need him, which could be his way forward.
Ressler and Samar show up to the location, but whoever was using the satellites destroyed all the evidence and escaped when they saw the police coming in. Aram is able to pull a picture from security footage from the hotel and they see Stalder with a woman (Famke Janssen) an hour before the attempted kidnapping on him. Cooper now believes Stalder didn't tell them everything before they let him go.
Cooper had Tom follow Panabaker and he took a few pictures of her meeting with a woman. When he takes the photos back to Cooper, Cooper recognizes her as the same woman that was meeting with Stalder. Tom believes it could be Liz's mother, Katerina Rostova, because that's who Liz believed was after her.
Episode 20 comes to a close with shots of the team still hurting and missing Liz, while Red visits her grave. Aram is crying in his apartment when he hears a knock on the door. When he opens the door he finds Red, who has a change of heart and decides to come back to help the task force.
© Copyright IBTimes 2023. All rights reserved.