Blood Transfusions Overused, Study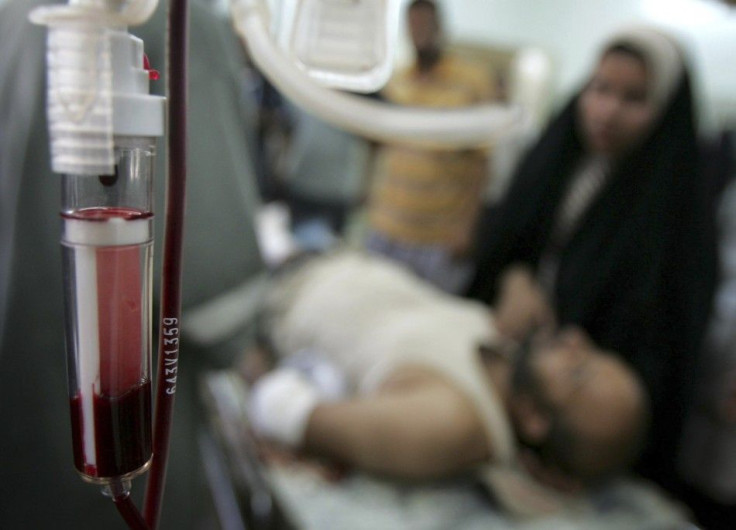 Surgeons overuse blood transfusions to patients who do not need additional blood, a trend that increases health costs and put patients at unnecessary risk, according to a new study.
Many doctors ignore blood transfusion guidelines and instead base the procedure on previous experiences, researchers said. In order to curb unnecessary transfusions, doctors need to be educated while they are still in school, the experts argued.
A lot of our practices are just handed down through the generations, Dr. Steven Frank, study author and associate professor of anesthesiology at the Johns Hopkins University School of Medicine, said in a statement.
Researchers examined medical records of almost 3,000 surgical patients who received a blood transfusion during surgery and found a wide variation among the point at which doctors ordered a blood transfusion.
Surgeons make individual decisions based on a patient's level of hemoglobin, the molecule that carries oxygen throughout the body.
Guidelines vary as to how much hemoglobin needs to decrease in a patient before doctor should request a blood transfusion.
A deciliter of red blood cells in a healthy adult typically contains 14 grams of hemoglobin. The American Association of Blood Banks recommends blood transfusions when hemoglobin levels drop to 6 grams per deciliter; other guidelines cutoff at 10 grams per deciliter, according to the study.
Since no consensus exists, many doctors administer a blood transfusion just to be on the safe side, researchers said.
Over the past five years, studies have supported giving less blood than we used to, and our research shows that practitioners have not caught up, Frank said in a statement. Blood conservation is one of the few areas in medicine where outcomes can be improved, risk reduced and costs saved all at the same time. Nothing says it's better to give a patient more blood than is needed.
Trauma or hemorrhage cases are exempt, Frank said, since quick transfusions can be lifesaving.
Blood is in short supply and expensive, researchers said. Doctors transfuse over 30 million units of blood each year in the United States, but clinicians collect only 16 million units annually, according to the American Red Cross.
One unit of blood costs a hospital $278 from the American Red Cross, and costs the organization up to $1,100 to acquire, test, store and transport, according to the study. Medicare and other insurances typically pay up to $180 of the cost.
Blood transfusions come with risks such as immune reactions that can increase the difficulty for future transfusion matches, researchers said. In addition, cancer patients who receive a blood transfusion during surgery have a 42 percent increased risk of cancer reoccurrence, according to a 1994 study.
Exact guidelines for blood transfusions would be impossible, since each patient and surgery is different, the researchers said. Instead, doctors should endeavor to transfuse blood as seldom as possible.
The journal Anesthesiology published the study on Monday.
© Copyright IBTimes 2023. All rights reserved.
FOLLOW MORE IBT NEWS ON THE BELOW CHANNELS