Book Releases 2017: 11 New Titles To Look Forward To In The New Year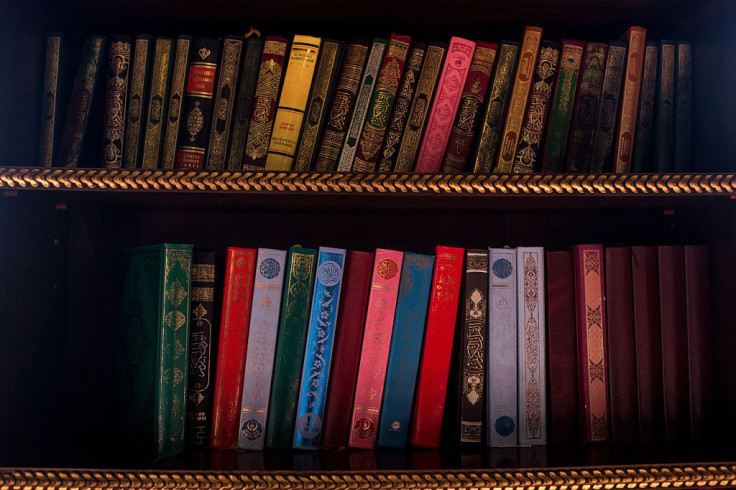 Reading fanatics rejoice! A new year brings another 365 days to indulge in literature. Whether you are all about science fiction or want full-fledged drama on your bookshelf, there are plenty of books to read in 2017.
Check out 11 new titles that you should look forward to reading in the New Year below.
1. "Her Every Fear" by Peter Swanson
Struggling with fear and anxiety after being kidnapped by her ex-boyfriend, Kate swaps apartments with her distant cousin Corbin and makes the trip from London to Boston. Upon her arrival, she learns that her cousin's neighbor has been murdered. Although several people suggest that Corbin committed the deed, as he was seen coming and going from the murdered young woman's apartment, he denies the accusations. Jet-lagged from her trip and still struggling with her past, Kate is unsure who to trust. Find out what lies ahead for this troubled young woman when "Her Every Fear" is released Jan. 10.
2. "Carve the Mark" by Veronica Roth
In a galaxy where vengeance and violence reign supreme and where individuals are gifted with unique powers, Akos and Cyra find themselves caught between their countries and families. While Akos comes from the loving nation of Thuvhe, Cyra lives under her tyrant brother who rules Shotet. As their individual powers work against them, the two must make a choice on whether they will destroy each other or help one another survive. Find out the life-changing decision that Akos and Cyra will make when the book is released Jan. 17.
3. "This Is 3. "How It Always Is" by Laurie Frankel
Claude is a five-year-old boy who wants be a girl when he grows up. Although his family keeps this secret from others, as time goes it explodes and the family learns that not all secrets can be kept.
4. "Behind Her Eyes" by Sarah Pinborough
Single mom Louise finally gets a spark in her life after meeting a handsome stranger named David in a bar. After they share a kiss the two part ways only to cross paths when Louise meets her new boss, David. After learning he is a married man, Louise moves on only to meet a new friend in town Adele, who happens to be David's wife. While looking to be the perfect couple, their marriage is full of secrets that Louise is determined to uncover. Find out the truth when "Behind Her Eyes" is released Jan. 31.
5. "We Are Okay" by Nina LaCour
Marin left her life in California and never looked back or addressed what happened during the last weeks while she was living in her hometown. Months later, lonely in a New York college dorm room, Marin is expecting a visit from her best friend Mabel where she will be forced to address her empty life and all the things she attempted to leave behind. "We Are Okay" will be released Feb. 14.
6. "The Hate U Give" by Angie Thomas
The book, inspired by the Black Lives Matter Movement, follows the life of 16-year-old Starr whose world is torn apart when she witnesses her unarmed friend's fatal shooting by a police officer. The teen, who is from a rough neighborhood, must enter a fight for justice that can damage her community and put her life in danger. "The Hate U Give" will be released on Feb. 28.
7. "The Tea Girl of Hummingbird" Laneby Lisa See
After having a daughter out of wedlock, a young Chinese woman defies tradition and abandons her little girl, but not before wrapping her in a blanket and placing a tea cake inside. Years later, the little girl named Haley grows up dearly loved with a family in California. However, the mother and daughter long to learn more about one another and piece together the past to reunite. "The Tea Girl of Hummingbird" will be released March 21.
8. "Into the Water" by Paula Hawkins
When a teenage girl is found dead at the bottom of the river followed by a single mother, it is clear that the past is back to disrupt the citizens living in a small town full of secrets. All alone now is a 15-year-old girl who now lives with her aunt, a woman terrified to be back in the town she once fled from. Find out what secrets are lurking in this thriller when "Into the Water" is released on May 2.
9. "Lord of Shadows" by Cassandra Clare
Clare is back with the sequel to her page-turning novel "Lady Midnight." In the latest book, Emma learns avenging her parents wasn't what she thought it would be. Expecting to find peace, Emma instead finds herself in the middle of a love triangle between two brothers. Although she is still dating Mark, who is trapped in Faerie, she is developing feelings for Julian, who can face severe consequences for a parabatai relationship. Up against the law and other obstacles, the three must set aside their differences and fight for what they love. "Lord of Shadows" will be released May 23.
10. "Hunger" by Roxane Gay
In a battle within herself, Gay brings readers along on a journey in which she discovers how to properly care for oneself without overindulging and learns to take pride in her appearance. The author details her psychological struggles and ventures into her past to share the good, the bad and the ugly. Enter Gay's mind on June 13 when "Hunger" is released.
11. "The Breakdown" by B.A. Paris
Haunted by the sins of her past after not helping a woman in need, Cass slowly begins to unravel and becomes forgetful about the most simple things in life. Despite not being able to remember much, it seems she can't forget that woman who she could have saved. Dealing with the guilt of it all and the feeling that she is being watched, Cass will eventually have to face her problems, but how? "The Breakdown will be released June 20.
© Copyright IBTimes 2023. All rights reserved.